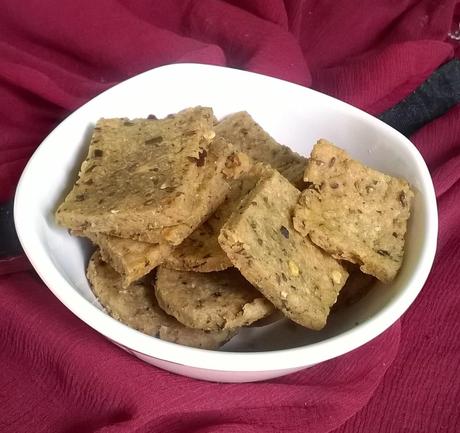 Easy crackers are joy to make and we can relish it in minutes too.Here comes a South Indian Spiced crackers which has all south Indian flavors in it.I took the recipe from Divya's space there she announced a giveaway contest for reaching a milestone in Facebook.She is a lovely friend of mine and we just started to chat on phone and we already chat through mail.So i selected a baked goodie from her site ,Wheat CrackersThat is super crunchy crackers and this is a perfect snack for party and also perfect tea time snack.I already done soda crackers which is my  most favorite recipe and that is yeast based recipe.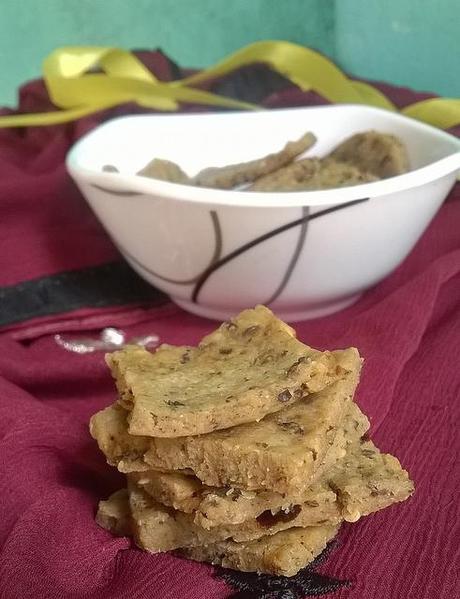 The crackers are made with whole wheat flour and all the Indian flavors are there especially curry leaves,red chilli ,peppercorns and cumin seeds.All are roasted and ground and they are directly added to the flour.This is really a spicy cracker and we enjoyed a lot.Actually i thought of choosing a cake but due to some issues,i am not able to do that.Sure am going to make a cake from her space soon.she really had a fantabulous collection of recipe in her space and am a big fan of her drinks and dessert recipes.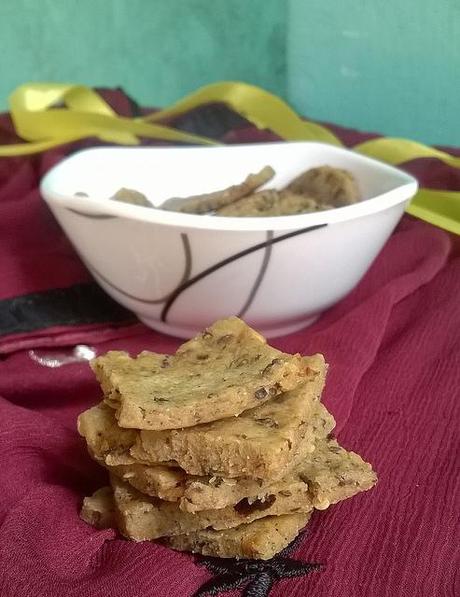 The dough did not butter or egg for binding for the dough.You need to add water and oil to make the stiff dough and did not refrigeration too.Make the dough and roll upto your desired thickness and make squares or any other shapes using knife or cutter.I baked these spiced goodies at 180 degrees for 12 minutes and they turn out really crispy and spicy.Adjust the peppercorns according to your spice levels.If you do not want to add red chilli then add chilli flakes separately.The oil may be vegetable oil or olive oil.I simply used refined oil for the recipe.Lets move on making this,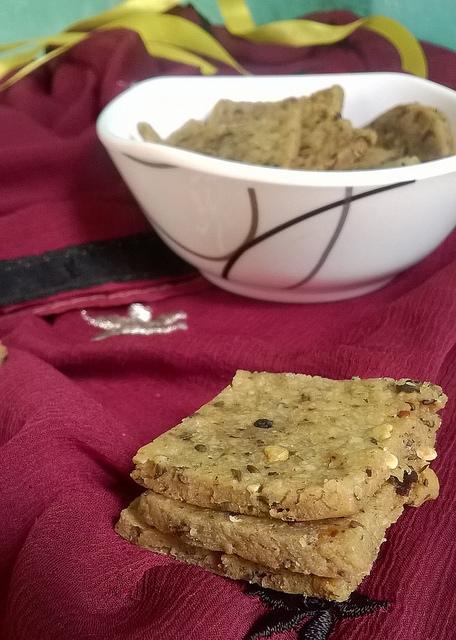 WHEAT SPICY CRACKERS
\Ingredients for making
Whole whaet flour - 1 cup
Peppercorns - 5 nos
Cumin seeds - 1 teaspoon
Red chilli - 1 no
Curry leaves - 1 sprig
Oil- 2 teaspoons
Warm water -as needed
Sal t - a pinch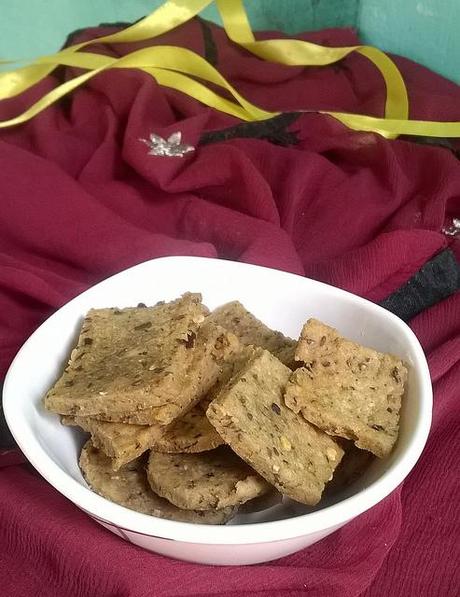 How to make
Take a dry wok and roast curry leaves,red chilli ,peppercorns and cumin seeds.After roasting it individually take that in a bowl and cool for few minutes.Then grind in the blender into coarse powder.Now take the flour in a mixing bowl and add a pinch of salt and mix evenly.Now add the powder and mix well.Add oil and make a crumble like texture.Now add warm water and make a stiff dough from it.Wrap and rest it for 10 minutes.Then roll the dough along with the wrap itself to avoid sticking.Make pieces from it with your desired thickness using cutters or knife.Preheat the oven to 180 degree celsius for 10 minutes.Prepare the baking tray.Bake the crackers for 12 minutes approximately.Remove after 12 minutes and cool it on a wire rack along with the tray.Serve with tea or coffee.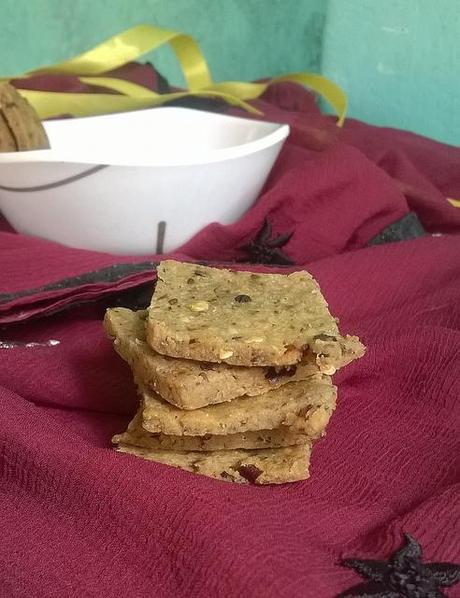 Cooking tips
#1Use your own desired mix of spices for the recipe.#2Serve this as a snack at tea time.