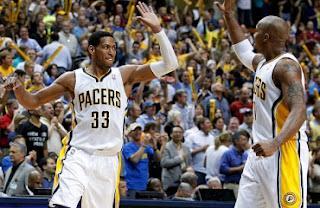 Photo: NY Daily News
- Troy Ballard
Just a few days ago, the entire world was ready to accept that the Indiana Pacers were going to silence and eliminate the behemoth in South Beach known as the Miami Heat.
Then, over the course of 72-hours, LeBron James turned into well.. LeBron James. Indiana quickly went from having a promising lead in the series to being down one-game and facing elimination.
There have been numerous injuries to both teams, leaving back-ups to fill starting roles in a playoff atmosphere.
Due to the injuries sustained in the series, it has presented multiple interesting scenarios, and due to the added difficulty, players have been throwing some cheap shots to 'get even.' The NBA has suspended both Udonis Haslem and Lance Stephenson for mis-conduct during Game Five, and combined with the injuries, have left both squads incredibly short-handed.
The blunt truth of the situation is that Indiana is totally buried -- the Miami Heat are going to win Game Six and end the series. Most fans will chalk this season up as another let-down and a disappointment.
Here's a reality check for Pacers fans -- this season was a total success.
It's easy for fans to watch perennial teams make deep playoff runs every single season, while their team is either totally eliminated or gets bounced early on. The best word to describe the feeling is -- envy. And the moment the season ends, that envy is immediately converted to frustration.
When that team that has been nothing but frustrating makes the playoffs, advances and shows positive signs of jumping past a super power like the Heat -- expectations shoot through the roof. It's such a natural human instinct, like needing to drink water when thirsty.
Then, when things fall apart, the crash is 100x worse than it would have been had the team missed the playoffs all together or been swept. That
tease of winning
! So close, but yet so far away. The team leads you on, and then BAM!
Season over.
Indiana, I feel you. My favorite sports team is the Philadelphia Eagles (aka
the biggest tease in all of professional sports
).
The mere idea of advancing and taking one step closer to that ever elusive Final appearance and Larry O'Brien trophy is so amazing that anything short of it seems like a total failure. That chance of making it that far and feeling that triumph is tantalizing and unmistakably satisfying.
But, to bring things back to reality -- the Pacers aren't going to win this series. 
And, that's just fine. 
Keep in mind, this is a Pacers team that has either missed the playoffs in its entirety or have been cursed with the one-and-done since the 2004 season. The fact that Indiana was able to advance past the first round and 
compete
 with a team like the Heat is a massive leap forward for the franchise. 
Not to mention, this is a very young group of guys that will only grow and develop in the future. The only way to go from here, Indiana, is up. Danny Granger, Roy Hibbert and Paul George are a three-punch combo that will carry the Pacers into the playoffs for the next five-years, and possibly even beyond that. 
Larry Bird is coming off a season in which he won Executive of the Year (and with good reason), showing that Indy has a solid front office -- key to any eventual championship run. Thus far, Bird has been a magician of keeping talent long-term and bringing in new pieces to help an already stable and solid roster. Don't expect that to change anytime soon. 
Listen, losing blows. That's just the truth. But when a team has leap-frogged past pre-season goals like the Pacers have, there is no reason to be down. The Heat are the better team, and that's because of James and Dwyane Wade -- two future Hall of Famers. 
Give it one or two more seasons, then every other fan base will be feeling that envy.
Be sure to follow Beard and Stache on Twitter 
@BeardAndStache
, and also Troy 
@TroyBallards
, Like our Facebook page 
HERE
!