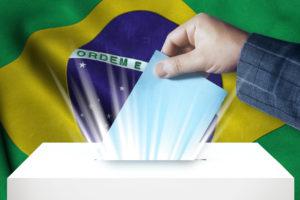 After a highly polemic campaign, on October 28, 55% of voters chose far-right candidate Jair Bolsonaro as the next president of Brazil. Bolsonaro, a former military paratrooper and federal congress member since 1990, ran a campaign focused on stopping crime and corruption. Though his campaign rhetoric was divisive, Bolsonaro's acceptance speech focused on coming together. He vowed to respect "the teachings of God, alongside the Brazilian constitution" and said that his policies would "serve the interest of everyone."
Bolsonaro's presidential campaign was racked by the very violence that Bolsonaro claims he will crack down on. In at least two confirmed cases, supporters of another candidate were murdered by Bolsonaro backers. Even Bolsonaro himself was stabbed during the campaign. Brazil is home to some of the most violent cities in the world, and Bolsonaro has promised to change that statistic.
One of the most popular platforms he ran on was loosening restrictions on gun ownership, giving citizens the means to defend themselves from criminals. During his second term, former President Lula launched a nation-wide disarmament campaign and passed strict gun laws, limiting civilian access to firearms. Bolsonaro plans to reverse the policy. Bolsonaro has also talked about giving the military police the license to kill, legalizing the death penalty and decreasing the age of criminal responsibility from eighteen to sixteen.
In addition to the violence and corruption, Bolsonaro is inheriting a country marred in an economic crisis. He chose investment banker Paulo Guedes, a free market supporter who has proposed aggressive privatization of state firms and reduction of government spending as well as a level tax rate. Bolsonaro has stated that he would like to form a closer economic alliance with the United States, but he is wary of China's foothold in Brazil. China is not only the largest consumer of Brazilian soybeans, iron ore and other goods, but it has also been buying up Brazilian energy and infrastructure companies. "The Chinese are not buying in Brazil. They are buying Brazil," he said.
Bolsonaro has been dubbed "The Trump of the Tropics" and, in fact, Bolsonaro has compared himself to Trump. He praised Trump's campaign slogan and said "Just like he wants to make America great, I want to make Brazil great." And, like Trump, Bolsonaro says exactly what he thinks. Though he has gained many supporters with his candid, anti-establishment speeches, several of his statements have alienated minority and woman voters. He has stated, for example, that he does not think women deserve to earn the same amount as men.
For some time the markets in Brazil were shaking as investors were awaiting the results of the presidential election. But international investors seem to be expressing support now for a Bolsonaro presidency. Just look at the Brazilian currency, the real. It gained 10 percent against the dollar as the likelihood of Bolsonaro winning the election grew. Now we will just have to wait and see if Bolsonaro can make good on his promises.