"At some point, you have to make a choice: Do you want journalism to be your job, or do you want it to be your life?" – Chris Jones, Esquire Magazine
By now, you may have heard how veteran war correspondent Marie Colvin died — but do you know what she lived for?
Colvin was, among other things, an indefatigable voice for women and children caught in the merciless grip of war. Over the years, she covered conflicts in the Balkans, Chechnya, East Timor and Lebanon — to name a few.
The 56-year-old's trademark eye patch was itself a testament to her resolve. Colvin lost the use of her left eye to shrapnel while reporting in Sri Lanka in 2001 — but no close call was enough to make her "hang up her flak jacket."
This is an excerpt from her final report, posted outside of the Sunday Times paywall.
February 19 2012
Marie Colvin in Homs
'We live in fear of a massacre'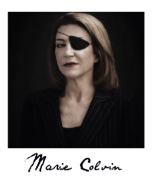 They call it the widows' basement. Crammed amid makeshift beds and scattered belongings are frightened women and children trapped in the horror of Homs, the Syrian city shaken by two weeks of relentless bombardment.
Among the 300 huddling in this wood factory cellar in the besieged district of Baba Amr is 20-year-old Noor, who lost her husband and her home to the shells and rockets.
"Our house was hit by a rocket so 17 of us were staying in one room," she recalls as Mimi, her three-year-old daughter, and Mohamed, her five-year-old son, cling to her abaya.
"We had had nothing but sugar and water for two days and my husband went to try to find food."
It was the last time she saw Maziad, 30, who had worked in a mobile phone repair shop. "He was torn to pieces by a mortar shell."
For Noor, it was a double tragedy. Adnan, her 27-year-old brother, was killed at Maziad's side.
Everyone in the cellar has a similar story of hardship or death. The refuge was chosen because it is one of the few basements in Baba Amr. Foam mattresses are piled against the walls and the children have not seen the light of day since the siege began on February 4. Most families fled their homes with only the clothes on their backs.
The city is running perilously short of supplies and the only food here is rice, tea and some tins of tuna delivered by a local sheikh who looted them from a bombed-out supermarket.
A baby born in the basement last week looked as shellshocked as her mother, Fatima, 19, who fled there when her family's single-storey house was obliterated. "We survived by a miracle," she whispers. Fatima is so traumatised that she cannot breastfeed, so the baby has been fed only sugar and water; there is no formula milk.
Fatima may or may not be a widow. Her husband, a shepherd, was in the countryside when the siege started with a ferocious barrage and she has heard no word of him since.
The widows' basement reflects the ordeal of 28,000 men, women and children clinging to existence in Baba Amr, a district of low concrete-block homes surrounded on all sides by Syrian forces. The army is launching Katyusha rockets, mortar shells and tank rounds at random.
Snipers on the rooftops of al-Ba'ath University and other high buildings surrounding Baba Amr shoot any civilian who comes into their sights. Residents were felled in droves in the first days of the siege but have now learnt where the snipers are and run across junctions where they know they can be seen. Few cars are left on the streets.
Almost every building is pock-marked after tank rounds punched through concrete walls or rockets blasted gaping holes in upper floors. The building I was staying in lost its upper floor to a rocket last Wednesday. On some streets whole buildings have collapsed — all there is to see are shredded clothes, broken pots and the shattered furniture of families destroyed. [Continue reading . . . ]
Colvin in her own words:

Last conversation with the BBC, posted on Tuesday: "I watched a little baby die today. Absolutely horrific."

Last conversation with CNN, also on Tuesday: "This is the worst … for many reasons. … There's no where to run."