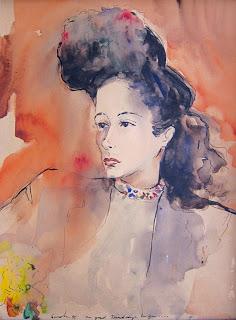 Gaby a la Pompadour.
There is only one kind of designer bag that can bring me to my knees, and that is anything by Chloé
—
preferably a Paraty. Recently, while I was cyber-stalking Bergdorfs (yet again), a small bio on the founder of Chloé caught my eye. I must admit that I have only ever associated the house with the famous designers who began careers there: Phoebe Philo, Stella McCartney, and of course, who could forget Karl Lagerfeld. I'd given very little thought to the person behind the name, but once I learned about this extraordinary woman, I knew I had to share her story.
Surprisingly, her name was not Chloé at all, but Gabrielle Aghion (née Hanoka), born to a well-to-do and well-educated family in
Egypt
in 1921. An admiration for French fashion was ingrained in her early, as her mother would have a seamstress create clothes for the family based off of looks in Parisian magazines. Gaby married young, to a wealthy friend of the family she'd known since childhood, and they moved to post-war Paris and quickly made themselves at home in intellectual circles. But Gaby couldn't quite shake her desire to design, and she began to translate her personal style into a capsule collection of dresses, much to the bemusement of some friends and chagrin of others. At that time, it was deemed unseemly for a woman to work if she didn't have to, though Gaby decided that she was uncomfortable with living off of her husband's money, and anyway, she loved what she was doing. She admired her friend's name
—
Chloé
—
and with the friend's permission, began selling her clothes under the Chloé label to the very same boutiques in which she shopped, where they promptly sold out.
Gaby was enamored with French style from the moment she set foot in France as a newlywed, but that didn't mean that she forgot about her native country. Declaring that the sand in Egypt was the most beautiful of any sand in the world, both its rosy beige hue and silky texture inspired her collections and continue to pop up in Chloé as signatures today. Like Coco Chanel, Gaby believed that a woman should be able to move in her clothes, and in a rebellious move against the stiff, formal couture of the 50s, launched the revolutionary idea of prêt-à-porter: clothing that was ready to wear. The world is fortunate enough to still have Gaby with us, though she retired from her involvement with Chloé in 1985. Like any icon worth her status, Gaby has left behind not only her style to emulate, but her raison d'être. As classic and timeless as the archives of her designs and the legacy of Chloé, it is, "I lived the life I wanted."