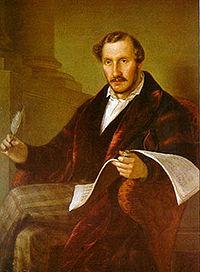 Gaetano Donizetti
Today is composer Gaetano Donizetti's birthday!  He was born on November 29, 1797, in Bergamo, Italy.
Some wonderful links to recordings, broadcasts, publications, and performances of Donizetti's work have been posted at the Donizetti Society web page and a worth a visit.
To celebrate the occasion of this marvelous opera composer's birth, I thought would revive my Donizetti poll.
So, gentle readers and bel canto buffs. Would you like to weigh in on your favorite Donizetti opera? Write-ins welcome in the comments, of course.