A few weeks ago, I asked you all what you wanted to hear from me and a few of you emailed me asking about what was in my make up (and gym) bags–so I figured I would start with my make up bag. I will preface this with I am pretty much the most low maintenance woman on the planet, I can shower, do my hair and makeup and be dressed and ready for work in under 20 minutes–so when you see the contents, you will understand why…there really isn't much in there.  So, here we go!
This is my make up bag, emptied out.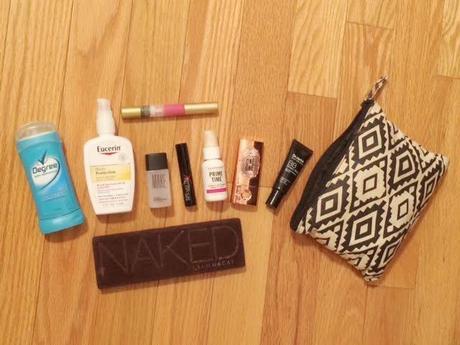 I am not like most of my girlfriends, I don't worship make up or know all that much about it.  For most of my life, I just bought whatever was on sale at CVS, but in the past few years, I have learned (mostly through my subscription to Birchbox/Ipsy and my teenage niece drilling it into me) that having a few higher quality items is more important, so I now have a handful of really good quality items and that's it.
1. Degree Women's Invisible Solid Anti-Perspirant & Deodorant in Shower Clean
I'm not too picky about my deoderant. I bought Degree because it was on sale and I liked the scent.  I'm pretty simple, as long as its both an antiperspirant and a deodorant, I am good to go!
2. Eucerin Daily Protection Moisturizing Face Lotion SPF 30
I ALWAYS use a moisturizer with SPF, I burn just thinking about the sun, so this is a must have for me. This is a really lightweight moisturizer and I have been using it for years, it was recommended by my dermatologist and I love it.
3.MAKE Dual Phase Eye Make up remover
This is the best eye makeup remover I have ever used. You only need a tiny little bit and it removes everything so easily.
4. Eyeko Black Magic Mascara
This is another product I am not really too picky about, so I usually just use what is sent to me in my subscription boxes.  This one came a few months ago and I am still using it. I have a few more in a box waiting to be used when this one is empty. It works great, makes my lashes dark and long and it is water-resistant.
5. Prime Time Foundation Primer
Because I don't use a traditional foundation, I really like this primer because it makes my BB cream stay put.
6. Benefit Fine One One Cream Blush
This goes on super easy and lasts all day. The best part, its an all in one cheek & lip tint that blend together for a sheer color that stays.  I have had the same stick since June 2013 (and I use it 5 days a week) and it's just now starting to get really low.  It probably helps that I don't need a lot because the color really shows on my light skin tone but I really love it and will definitely get another stick when this one is out!
7. Dr. Jart+ Black Label Detox BB Beauty Balm
Luckily, I don't have any problems with my skin, so I don't want to wear heavy face makeup. I love BB cream and I especially love how lightweight this BB cream is. I only use less than a pea size and I feel like I get great coverage without changing the color of my skin (I'm super pale, the freckles are deceiving) or feeling like I have makeup caked on.
8. Urban Decay Naked Eye Shadow Palette
I was told that I HAD to buy this by my then 15 year old make up maven niece and she was right, this is by far the best investment in eye shadow I have ever made.  It has 12 awesome neutral colors that go from matte to shimmer to glitter and is perfect for all situations. I use this shadow every single day and it barely looks touched (it's been almost 2 years). You use so little of it because the colors are so concentrated, it will last me years, which makes the price tag a bit easier to swallow.
9. Mally Beauty High-Shine Liquid Lipstick Pens
I love that this lipstick is more like a lip gloss than a lipstick.  It goes on really easily with a brush (you turn it and the liquid is pushed up to the pen), doesn't make my lips sticky and the color is subtle and appropriate for work. It comes in like 10 colors so there is likely a color for everyone.
Well, that's it for my make-up bag..and now, it's time to announce the winner of the red Cordskinz!  And the winner is……
LINDA
Congrats Linda, I will be in touch for your shipping address!! I hope you love the Cordskinz!
—————————————————————
Question of the day
Tell me what is in your bag? What are your favorite products? Do you have subscription boxes to Birchbox and/or Ipsy? Others?