Hello Loves
Well the sun has decided to shine today and you would think that spring has finally arrived! but no don't be fooled things are set to take a turn for the worse over the weekend so i thought i would show you all what products i will be wearing today.
Also as i'm just new to the blogging world i would love for you to get involved and share any of you're tips and all feedback is greatly appreciated.
So lets get on with it!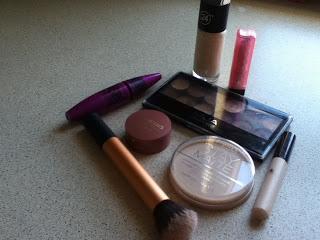 Collection Lasting Perfection Concealer in Fair, Rimmel Stay Matte Pressed Powder in Transparent, Revlon Lip Butter in Strawberry Shortcake, Revlon Colorstay Foundation in Buff, Real Techniques Buffing Brush, MUA EyeShadow Palette in Heaven and Earth, Bourjois Little Round Pot Blush in Rose The, Maybelline Falsies Mascara in Black Drama
I have not been wanting to apply alot of products to my face recently as my skin has been playing up and i have a few blemishes so keeping things to a minimal! and since it's spring (supposed to be) i think it's nice to have a fresh face instead of having alot going on.
I was in a mega rush this morning so only took me about 10 minutes to get ready which is really good for me usually takes longer!I love all these products and a few of them are my go to essentials like Revlon's colorstay foundation, Rimmel's stay matte pressed powder and Collection Lasting Perfection Concealer along with Maybelline's Falsies Mascara, all i could not live without.
I am on the look out for another concealer as i find the collection one is starting to settle and crease into the fine lines under my eyes so if you have any recommendations i would love to hear from you, also tell me you're favorite "go to products" and what you are loving.
Hope you all have a lovely day
Claire xx