BEAUTY
❤ ❤ ❤ ❤ ❤ ❤ ❤ ❤ ❤ ❤ ❤ ❤ ❤ ❤ ❤ ❤ ❤ ❤ ❤ ❤ ❤ ❤ ❤ ❤ ❤ ❤ ❤ ❤ ❤ ❤ ❤ ❤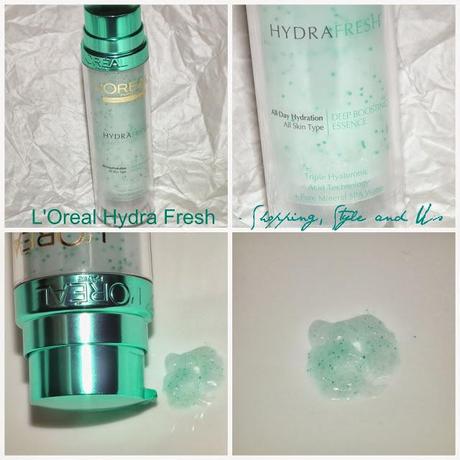 For any skin type and a regimen that a skin type follows, moisturizer that deeply hydrates is very important. Not only hydrates but keeps the level of skin-hydration balanced. Too much of it and it may cause oiliness, too less of it and it may cause dryness. Ingredients also matter because this what works and not the name of the brand, or the appearance of moisturizer. In same sort of hunt for a good moisturizer, I got my hands on L'Oreal Hydra Fresh Deep Boosting Essence. After a thorough test drive in different types of seasons, I came to this conclusion -
CLAIMS
Triple Lock-in moisture of 3 Hyaluronic Acids and Pure French SPA water that helps diffuse water into multiple layers of skin.
• Triple Hyaluronic Acid technology:
Moisture is continuously diffused through the skin and locked at several layers
• Breakable Vitamin E beads:
Protect skin from external aggressions.
• Pure French Spa water:
Boosts skin's natural ability to lock in more moisture
• Provides 48 hrs of hydration
Use twice a day
- Morning and Evening
PRICE
INR 599 for 50 ml
L'Oreal Paris Hydra Fresh Deep Boosting Essence
's
first thing
that struck me in the store was its packaging in refreshing color. It automatically draws you towards itself. You are bound to check it out and do a test in the store when you look at the product peeking out in the bottle. Honestly, this was the first thing that I noticed. So, a good packaging is a must for brands when they want to attract a buyer.
Second thing
that pushed me to buy it was the word "halyuronic".
Halyuronic Acid
is a substance that is naturally present in human body, acts like a cushion for the joints and is widely used in skincare products now a days, specially anti-aging products like moisturizer, skin oils etc. And Deep Boosting Essence doesn't have single or double but tripe layer technology of halyuronic acid.
Third thing
was the price that I thought it not too much if something promises to give you so much  of hydration.
Now comes the experience
- L'Oreal Paris Deep Boosting Essence is
water-like gel
in texture that spreads and changes into liquid when you apply it on face. It is very light in
texture
, light on skin and has light, subtle scent to it. I just love these points in it that I just said. It takes a little to apply, just 3-4 pumps are enough for the whole face and take some more for your neck.
The result
- It ONLY hydrates your skin as it claims. It doesn't do anything else like giving your face a glow, making your face blemish free etc. Whatever your skin has gone through is going to remain the same except the dryness, aging-dryness that I personally get time to time. What it is good for is that you won't face skin problems that your normal/oily/sensitive skin may get due to dryness like my skin gets rashes, acne and lines.
Am I happy with this product?
It's a little funny for me. At first, I didn't like the product because I was expecting too much out of it. What I was not looking at is what it actually claims, I am so much into products that promise multi-skin-benefits. It's not my fault, it's the fault of brands. But later on, as I started getting into makeup routine for the sake of product reviews, I used
Deep Boosting Essence
as the moisturize as it is not thick and seeps into the skin and keeps it hydrated. This is when I started liking it. So, yes I am very happy with it. It does what it claims!
To Buy Or Not To Buy
BUY
If you are looking for a product that genuinely hydrates the skin - go for it. You get the product worth your money. It will last for months as it takes a little.
Don't BUY
Are you looking for a moisturizer that provides hydration, gives an immediate glow to your face, fights wrinkle, erases blemishes and thousands of other claims - please do not waste your money on this.
L'Oreal Deep Boosting Essence
is a product that claims to keep your skin hydrated and keep skin aggressions away that we get due to the lack of proper hydration. I have used it in summer when it's too hot, monsoon when it was too humid and now when climate is getting a bit colder during mornings/evenings and hot during day time. It is working the way it is supposed to, for me.
A to Z of Skincare Ingredients/Products That I Think You Should Also Know About