Piano Man and Dirty Apron have proven to be a game changer in the food and nightlife scene in Delhi. The Piano Man Jazz Club situated on the ground floor and is a place where there are performances and gigs happening everyday. Dirty Apron is the restaurant situated on the second floor that serves an elaborate menu of food and drinks. Both of these are owned by the same people, and the cocktail and food menu to quite an extent is also the same. The former is for a chilled out evening with gigs, the latter is for a chilled out meal with great food. Together they have educated the audience of Delhi with its phenomenal concoctions, a vibe and energy that the place lends with its gigs, and the kind of food they serve. They've brought jazz music to the forefront and brought music enthusiasts a very classy place to chill at.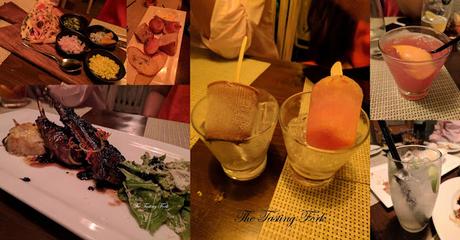 Headed to Dirty Apron a couple of weeks back for an evening with friends. Started off with 2 salads- Smoked Baby Spinach with feta salad (with bacon), and Chargrilled Watermelon, Caramelised Onion, Mint and Feta Salad. The ingredients worked like magic together in both the salads. So much of bacon in the first one, so fresh and crunchy. Pine nuts and balsamic reduction uplifting the flavor of the salad and feta cheese doing what it does best to salads- balance them with creaminess and saltiness. For the watermelon salad, imagine a watermelon which is naturally sweet and has a lot of water, and then has a slight beautiful char on it. You devour it with caramelised onions that lend their sweetness, and feta cheese that lends its creaminess and saltiness, and then have some mint for the freshness. Mind-blowing flavours!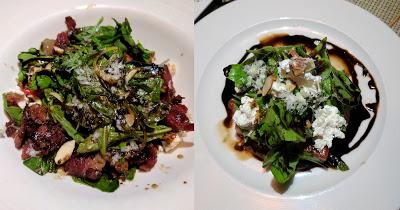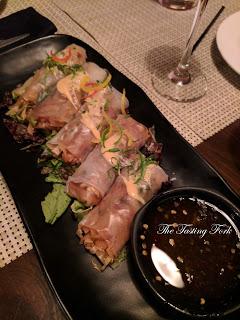 The Rice paper rolls were wrapped in a thin sheet stuffed with veggies. Served chilled and balanced well with Thai flavours. A perfect bar nibble was also the Cajun Chicken in a crepe net. Cajun spice rubbed on the chicken, spicy and very slightly pungent, and a nicely done chicken. Some veggies for the crunch and a net which was like soft roti with uneven circles (hence forming a net). Filling, and so good! The most amazing thing about this dish? The raw mango Balinese sauce made with chillies, garlic, pepper and the likes, and a tinge of sour sweetness from the raw mango. You need to mix it all together with a proportion you feel is right to see what turns out. Yum!
Also ordered for the Zucchini Fries and TPM Nachos with Minced Chicken with our drinks, and both the dishes were superb! The Zucchini Fries, a healthy version of fries, though still fried, is crisp and thick on the outside, with the juicy zucchini inside. Great stuff! The Minced Chicken Nachos were with nachos made in-house. Something like a pizza to look at- the nachos were that loaded, but a beautiful mix of pizza and nachos together. They weren't nachos however, they were tostada chips, hence very light. Came with sour cream and a salsa dip, and the nachos were wiped clean from the plate within minutes- that good.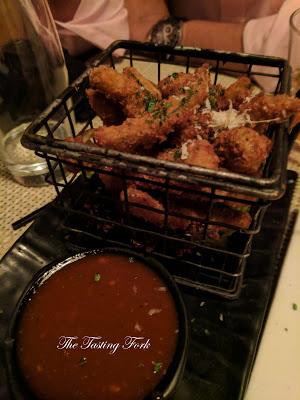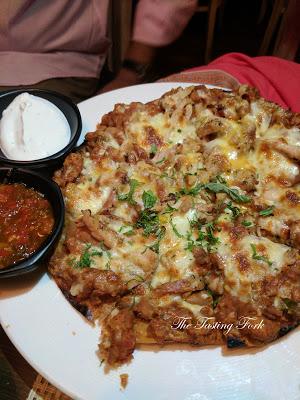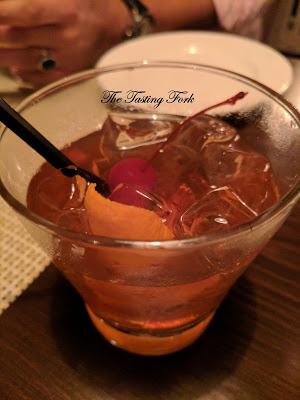 The place is damn famous for its cocktails. Though the food deserves to be equally famous, because people coming to Piano Man don't eat as much as they try the different cocktails, the cocktails have ended up becoming more famous. The Gin Rickey with gin, lime and bubbles can be made with vodka or any other spirit too. A favorite throughout the evening, there were multiple of this well-balanced goodness ordered. Ordered multiple rounds of Old Fashioned which was superlative according to my friend.

But my favorite was Pot- elderflower based vodka cocktail which was not overly sweet, and very refreshing! For someone who really adores blueberry, Blueberry Hill with blueberry puree inside it will be your poison. There's cointreau because of which the drink tastes more pungent, but for the ones who have a taste for such kind of cocktails, it's bliss for them.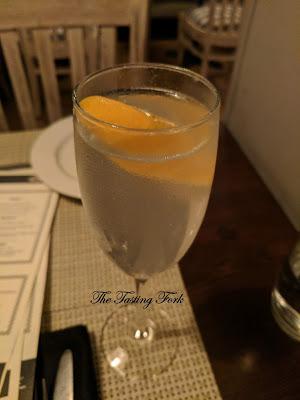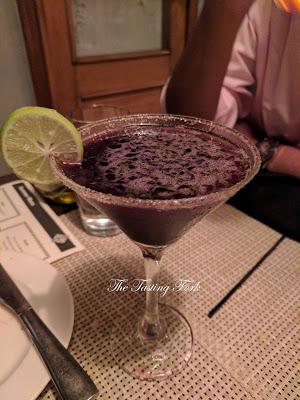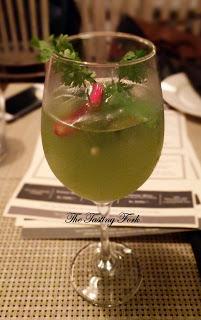 The servers will recommend you to go with My Thai, one of the classics here. I hate coriander but I still liked this drink, so someone who's indifferent towards coriander or likes it even, this gin and kaffir lime based drink will blow you away. If you're not in an adventurous mood and would just like something simple, potent and good, go with 'Knickers Down'. Crazy name right? :P Vodka, ginger, bubbles (best part about it) and basil leaves. Pretty basic right? But the trick lies in the balance.
I liked all their cocktails, but I don't know why the Sangria is priced at 575/-. It's good, but nothing great for this steep a price point.
Main course consisted of two delicious pieces of Lamb Chops glazed in a honey balsamic sauce. The flavor of honey we all know but the flavor of balsamic I cannot describe. It's just very well balanced and strong, if that gives you any reference into the flavor profile. The Sous Vide Coriander Chicken was a hit on the table as well. Very well made, juicy, flavoured perfectly, and I particularly loved the mashed potatoes that came with it. Creamy and so good!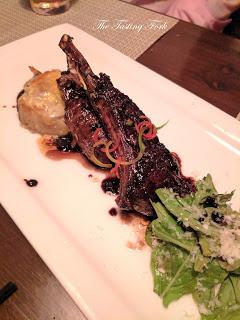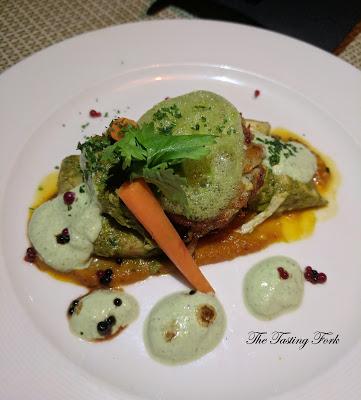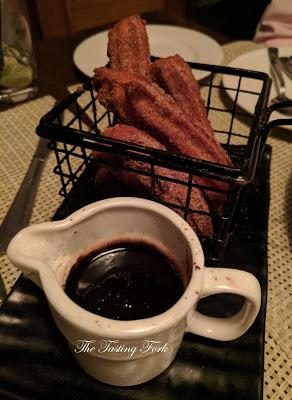 Dessert was a lavish affair of Nutella Popsicle and Raw Mango and Guava Popsicle, Churros, and Chocolate Meltdown (yes, we can really eat). The Nutella Popsicle is nothing like you can imagine. You'd expect a popsicle to be supremely ice, and at least for me the chocolate wasn't fitting in the head. But oh my, what incredible stuff! Chilled, not too heavy, astonishingly great-tasting. The Churros are yet another something to kill for on Dirty Apron's Menu. Dusted with cinnamon, comes with a thick luscious chocolate in a small jar. The churros are soft on the inside and crisp on the outside, and I really believe the cinnamon is the game-changer here.
I'd only like to end by saying- Dirty Apron is one hell of a place when you're looking for something with great food AND great cocktails. A place that should definitely be on your wish list.
Note: Refer to the Facebook page of Piano Man to know what gigs they're playing and when. Also, when there's live music at Piano Man, the speakers at Dirty Apron play the same music :)
Disclaimer: The review was done on an invitation from the restaurant. All views expressed are unbiased in nature but readers are advised to exercise their own discretion.Connect with me on:
Twitter: @sahibagursahane
Instagram: 
@thetastingfork
Facebook: 

www.facebook.com/thetastingfork
Snapchat: @thetastingfork