Roseate House opened in Aerocity last year, and there was a lot of excitement about the hotel opening after its counterpart The Roseate garnered a lot of praise for itself. But the two hotels cannot be compared. Roseate House is more contemporary and has a different outlook. You see that from the moment you enter the hotel. They have an Indian restaurant that was the first one to open here, called Kheer. I went to Kheer when it opened for pre-launch at an event, and saw the who's who of the food industry attend that dinner. But I recently had a dining experience here which qualified as a proper dining experience at a restaurant, and that's when I really experienced the food and service.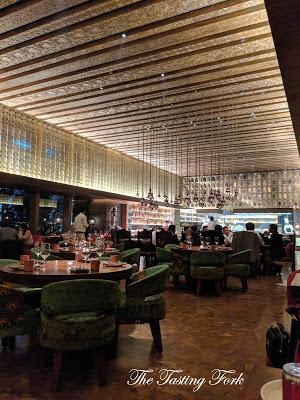 Kheer has a menu that's not high on butter and ghee, it's not the typical Indian menu, but every Indian dish has its own take on it. The menu is concise, not very big to confuse the diner, yet has enough options to choose from.
The place is huge, and the centrepiece hanging from the ceiling are a lot of bells coloured in copper. At the far end of the restaurant is the open kitchen, and right when you enter is the bar. Dimly-lit, bustling but not in a bad way, and a certain calm feel to the experience. Totally qualifies for a nice date venue too.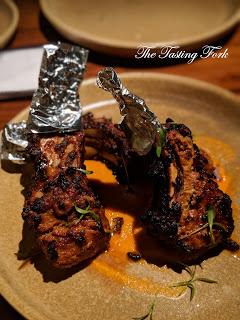 As soon as we took our seats we were given the menu. Went with a Mutton Barra, Paneer Tikka and Chicken Tikka. The Mutton Barra was outstanding! Perfectly flavoured, a lot of masala on it, grilled to perfection, the meat not chewy but just right, and flavor infused till the very center. The Chicken Tikka had activated charcoal coated on it. Tasted fine but not something I'd go for again. Nice pieces of chicken but the charcoal flavor camouflaged the real flavor of the chicken tikka. Both these dishes came on a bed of saffron tomato sauce. I really liked the Paneer Tikka, which was flavoured really well and was still kept subtle. Only wish it didn't have a center filling with cashews and raisins. But a very different Paneer Tikka.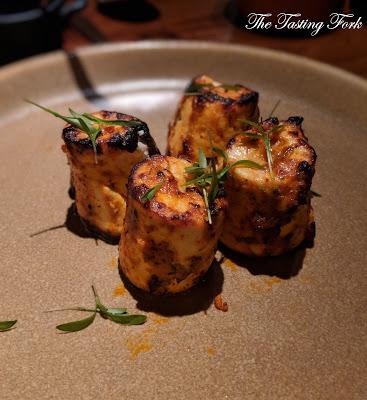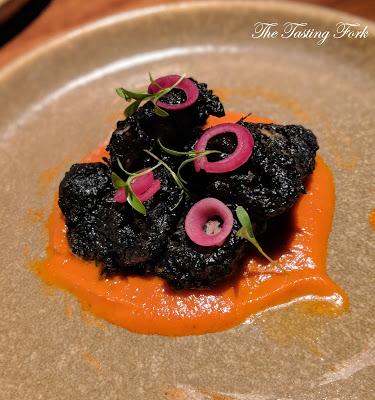 We also tried a dish from the Snacks menu called Machhalee, which was chopped pieces of raw tuna mixed with onions, tomatoes, ginger and mustard oil. Once again a very different take on tuna, and a very healthy one at that. Refreshing and not at all heavy.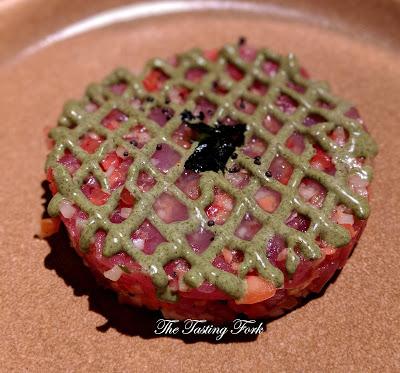 Main course was a typical affair of Dal Makhni, but a twist of an order for me where I ditched the usuals and went with Kolhapuri Chicken. Both these dishes were really good in taste, but they were on the milder and subtler side. Please leave your notion aside of Kolhapuri dishes being relentlessly spicy when you go here. They're yummy and not overtly spicy. The Dal Makhni could have done with being a little saltier and spicier, but it's still a good main course dish to order. When you go to dine at Kheer, you must try their Bakarkhani, Sheermal and Reshmi. These are their signature breads and you'll know what I mean by 'must order' when you give them a try. Killer breads! Can be had without any curries too.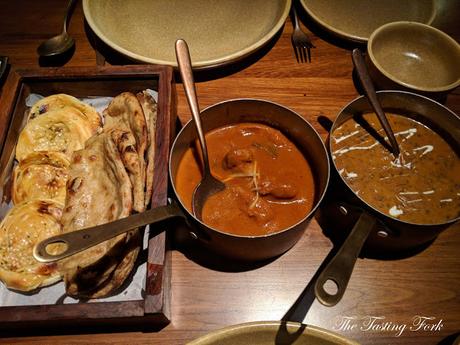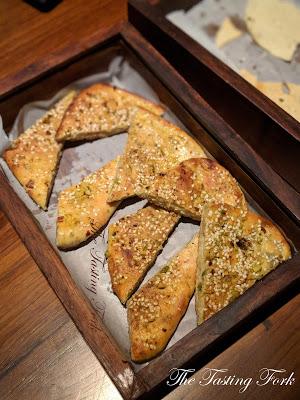 There's no dessert menu at the restaurant, only a trio of special kheers, one of which I remember as lauki. But I had to wait for my dessert for almost 20 minutes, and then had to tell the person serving us that he can cancel the order because it's been more than 20 minutes. So I didn't get to try the dessert, and this was the only time the service flawed.
Overall, it was a good experience and the Mutton Barra, Chicken Kolhapuri and the breads remain my highlights.