The warm winter Sun, a stunning alfresco area, fresh ingredients, delicious dishes, an extravagant spread of Italian food, flowing wine and prosecco- that's what the brunch at Sorrento, Shangri-La Ero's Hotel New Delhi feels like. A brunch that's on a Saturday instead of a Sunday is a great idea I think. Saturday is a day people don't have any brunch options to choose from, and they usually head out for an ala carte dining experience for lunch. Having Sorrento offer a stunning brunch on a day when nobody else is, is a win-win for them either ways, and a winner for you because you get such a superlative brunch.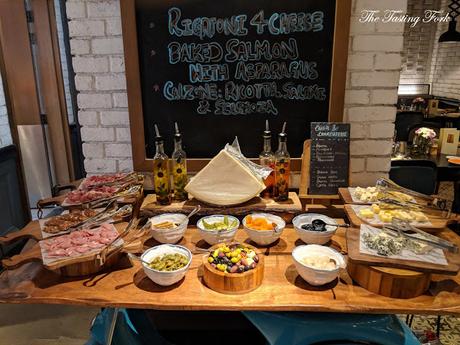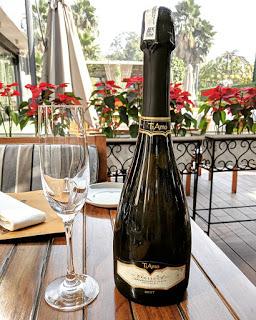 The concept of a brunch is eating and drinking to your heart's content, and the drinking part at Sorrento's brunch is about wines. A list of some great wines- whites, reds, and sparkling, are given for you to choose from. Sip on a red, try a deeper red then, or switch to a white. If you fancy, enjoy your brunch only with prosecco, like I did, but be sure to be in for a crazy time with the superb list of wines on offer.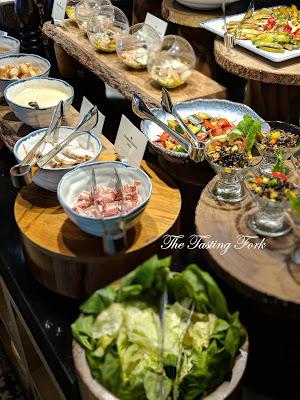 By now you would have understood how much I liked the brunch, but now I must tell you why I liked it so much. You can choose to start your brunch with the huge antipasti counter, or the fresh cheese and cold cuts counter. The antipasti counter screams freshness in every single dish and salad. Things like Prosciutto Melon, Tenderloin Carpaccio, Baked Sardines, Shrimp Salad, DIY Caesar Salad and Salmon Tartare were there in non-vegetarian, and the vegetarian spread had asparagus, mixed pepper salad, bell peppers with black rice, Calabrian Tomato Salad and Zucchini with Goats cheese. While all the salads were extremely appealing, the shrimp salad, prosciutto, carpaccio and Caesar Salad were my favourites.
They also had a live bruschetta cart which had different combinations of bruschetta being made fresh.
Mushroom, chicken, avocado mash, parmesan cheese, and such comforting options for those crisp
golden bruschettas. The cheese counter had pecorino, burrata, parmesan, gorgonzola, and had
alongside it crackers, pickled olives, dates and the likes. A cheese counter is of course incomplete
without cold cuts, and this one too had some lovely fresh fare like parma ham, salami and more.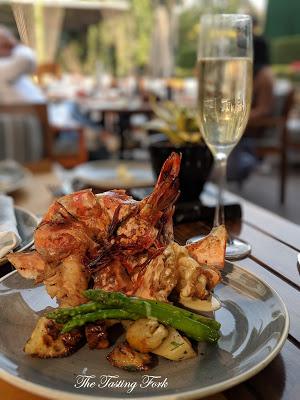 They have a counter for grills, where you choose your protein and the chef grills it, pairs it with a sauce that goes best with it, and serves it with some greens and carbs (read potatoes) on the side. A well-balanced plate which is prepared fresh on order and is brought to your table, really ups the game at Sorrento's Sunday Brunch I feel. Do try the grills!

What's an Italian brunch without breads? A section devoted to fresh breads like garlic loafs, ciabatta,
focaccia, and has pizzas on the same section. The chef prepares pizzas in front of you from scratch,
starting from the dough spreading into the pizza base to taking it out of the wood oven. The breads are top notch, and the pizzas are the best you will find in Delhi. Ordered a Pepperoni Pizza and was
unsurprisingly floored by it. Must have had half of it at least, owing to the beautiful cheese, the thin
crust, the lovely tomato sauce and the pepperoni that were all delightful elements of it.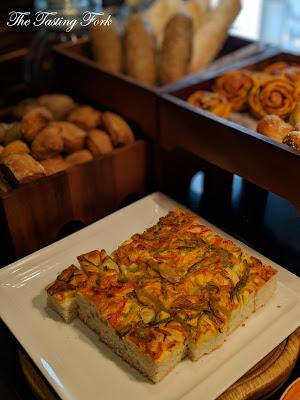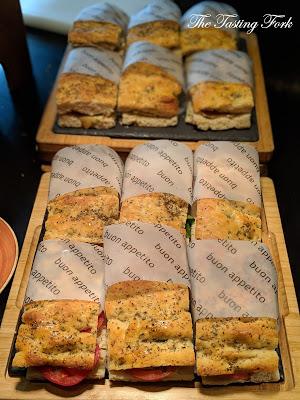 There's a table menu as a part of the brunch where everything is made to order. This includes the pastas with various stuffings and sauces, and the risotto of the day. Had the Lamb Ragoutine and a Mushroom Risotto, both of which were so indulgent, so comforting, and so flawless in taste. Couldn't do justice to both of them because of how much I had already eaten, but I believe 'almost' wiping the plate clean is also good enough on a full tummy.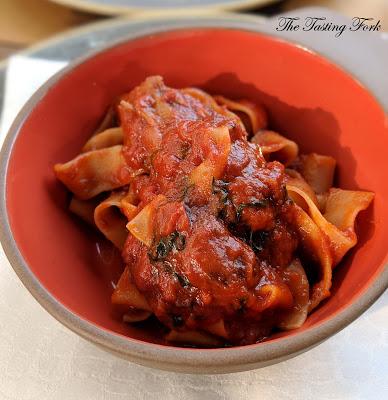 We come to the most favorite part of the brunch- the desserts. Winters mean strawberries in desserts,
and I'm glad Sorrento too lives by this. The dessert spread is beautiful and lavish, has classics like the
panacotta, the chocolate mousse, Tiramisu, Lemon Cake, but also has strawberry mousse, strawberry
cake, strawberry with chocolate, and what not! The dessert counter is a real treat for someone who has a sweet tooth.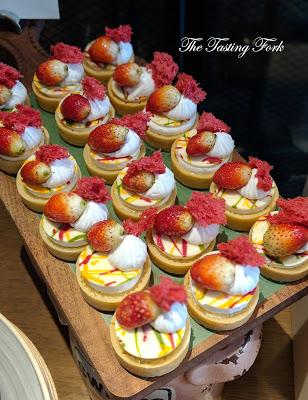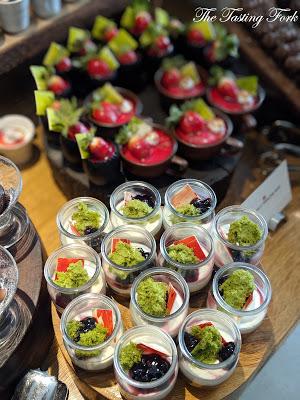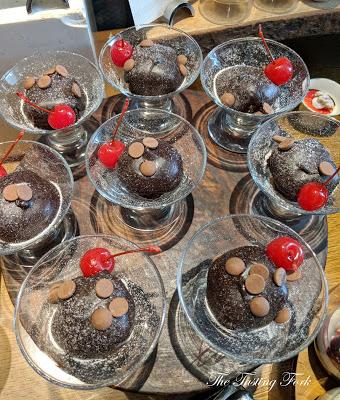 End the brunch with tea or coffee, and if you're like me, have it while you dig into your desserts.

The staff deserves a special mention for making your brunch a super pleasant experience. They're so alert, always on their toes, so swift in their actions, always looking out for your glass of prosecco and come promptly when it's about to get over, clear tables as soon as they see you're done eating from a particular plate. Basically, the service staff is impeccable and really well-trained.

I will strongly suggest you all to try the Saturday Brunch at Sorrento, and ditch Sunday Brunches and crowded places. You're in for some delicious food, fresh produce, and great hospitality and service! Let the wines flow, let the food keep coming, and have yourself a brilliant afternoon at Sorrento. Wouldn't be suggesting it had it not been this good.