The newest place in town, one that's much talked about as well, has everything going in its stride. It's a brand that is well known all over the globe, and has made its way into India with stepping in the waters of Delhi first. Yes, we are talking about none other than Wok To Walk.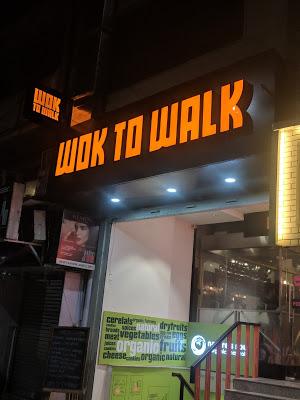 People who have tried Wok To Walk abroad aren't able to contain their excitement and are flipping over the fact that their favorite Chinese place is here, and people who haven't tried the place before are flipping over the fact that there's another Chinese place that's opened, but this one is all about woks!
But what is Wok To Walk all about? It's a new Chinese place that works on the concept of 'create your own wok'. You choose everything that goes into your wok- the rice/noodles, the veggies and proteins, the sauce, and finally the toppings (if any). They have 2 sides on the menu and the usual aerated beverages and juices in drinks, and that's just about it.
Wok To Walk opened their second outlet in Delhi at Defence Colony last week. I haven't been to the first one in Connaught Place but I'm told that is six times the size of the Defence Colony one. But I have a feeling I will still like this one more. Cozy and intimate. Also, the crowd that will visit Defence Colony will be more about on-the-go eating and quick eating. A small place with a separate section for making the wok, a separate one for the ingredients and rice/noodles, and an open fridge counter for the drinks. The space is done up in orange and white, the brand colours, and it looks very inviting and interesting (read about the importance of colours in marketing a brand). There are some 6-7 stools and a long wooden table lined along the wall where you can have a quick grub, and a very small space on this wooden slab for the cutlery.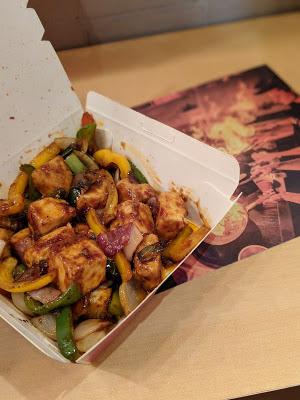 You place your order, go collect it from the counter when your name is called out, turn around and grab cutlery, and choose to either sit over there and enjoy it or get it packed. Went on Day 2 or 3 of their operations and I was impressed through and through with their service and promptness. The place has zero teething issues. The staff is so well informed, they're so swift and flawless in taking your order and preparing it. No confusion about the order, no order going to the wrong person, no issue with the quality or quantity. Every single customer that I saw eating food over there was more than happy with their food.
Step 1 is choosing your base- white rice, brown rice, hakka noodles, wheat noodles, udon noodles and so on. All the rice and noodles come with carrots and cabbage and are included in the price. So if you choose not to take any veggies, this will do too.
Step 2 is choosing your ingredients. For every vegetable or protein that you choose, you pay for one serving of that. The quality of their vegetables is outstanding! Fresh, clean and not like the QSR vegetable quality at all. The same also applies for their shrimps, chicken, bacon, etc. The quality is too impressive. They recommend you shouldn't go beyond 4 ingredients, so I'd suggest you listen to them. Veggies are for 49 per serving, meats for 99, and shrimps for 149. If you're a non vegetarian, you have to try their shrimps!
Step 3 is choosing the sauce. They have 8 varieties of sauces, with different flavor profiles like spicy, sweet and sour, coconut-flavoured, sharp and pungent, and so on. Each sauce has a name given to it, but under that they also describe what the sauce contents are.
Step 4 is choosing your toppings (if you'd like to add anything). This one has options like fried onion, fried garlic and sesame seeds.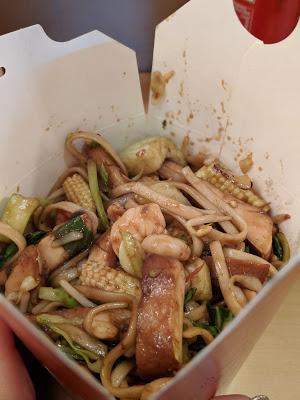 I tried the Udon Noodles with 2 non veg and 2 veg ingredients, and the Teriyaki sauce. A damn nice wok! So comforting yet so indulgent. The quantity of the wok is a lot for one person. I could only manage to finish 75% of it and that too when I forced myself. But this was after sharing my side orders. Even without eating anything before the wok, a person with a medium appetite cannot finish it. Immense value for money in my opinion! My sister tried the white rice with Saigon sauce- garlic and pepper, and veg and non veg toppings almost the same as me. Try this sauce if you like something less spiced. She added sesame seeds for an extra crunch and they were lovely! The mushroom oyster sauce with hakka noodles and bacon is on my list next!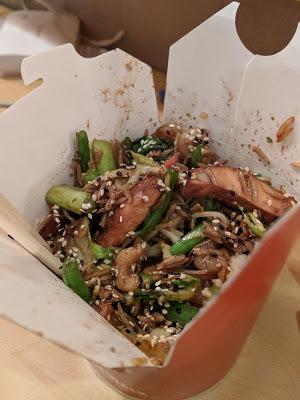 There are two options for sides, priced at 99 each, Chilli Paneer and Chilli Chicken. The portion size is pretty decent for 99 bucks. Liked both the side dishes, and they're actually 'side dishes' here and not a complete dish in itself.
The whole process of making a wok is standardized and how! The same measuring bowls are used for all vegetables and proteins. Because shrimps are expensive, they will not keep a small measuring bowl for it. The same portion size of each ingredient is added to your wok, the sauce quantity is not compromised with, the wok doesn't taste too dry or with too much gravy, and the best part is they maintain this consistency with every order of theirs. Wok To Walk opening so close to home is going to be my regular haunt now. Loved it every bit!