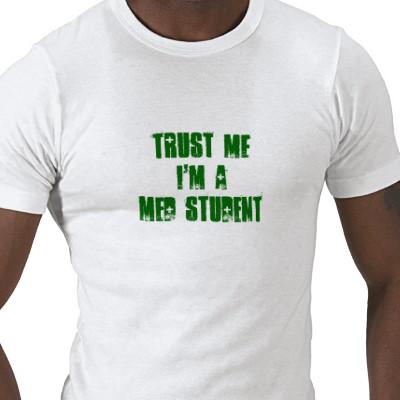 In my quest to write a rhetorical post, I came up with this question in twitter yesterday. Today I asked some of my co-meds the same question and here are some answers.
Answer1:
I will be the perfect housewife the world has seen. She further explained, I know something more better than the regular housewives. I know about immunization, about sanitation and I virtually can sense who and when a person will get sick. So that will make me Super – House wife and a Super- Mom!
Answer 2:
I will have a sense of achievement, like the fact that I will have a degree in my bag. People will start calling me Dr shaheeb and I will just beam with pride.
Besides that I get a Dr in front my name, a stamp, my own prescription pads. Pharmaceutical companies will just wander around me.
Answer 3:
The value of MBBS, hmm I would say that it lies in the place of practice. If you work in a five star hospital like the Apollo Hospitals then your value will automatically decrease and If you work in village your value is twice as that.
So, another perspective that I see is that most people are so aware and conscious now-a-days that they always want a second opinion. If I tell a PUD patient that he requires the triple drug regime, he /she requests a referral to a Gastroenterologist. We become tools for senior doctors; we write history and endure the night long night duties. We have no value unless and until we become specialized doctors.
Answer 4:
I could write prescriptions for myself and my family. No hassle to get meds in the house.
Answer 5:
We have so much value. A surgeon knows surgery only and medicine specialist only knows that. But a MBBS passed student has the combined knowledge of all the topics, so I would say a MBBS passed doctor is more knowledgeable.
Conclusion:
What is your value in the society?
We look up for diseases and we help the community as a whole and in return we ask for respect and faith. We spend an entire decade from class 10 to 12 plus six and half years into this field, mastering it in the best possible way. And I do not think that medical boards just certify us without hard work.
Please be patient and avoid any conflict in the hospital and we have value if "You"- the people come to us.
Happy Grading People!