The Common European Framework of Reference is a standard way of defining someone's language ability. It exists to make it easy for learners, teachers, schools and universities and employers see what level of a language someone has.
As there are many different types of exams, CEFR creates a clear way to compare exam results and levels between institutions and countries. In all, there are six possible levels starting with A1, A2, B1, B2, C1 and finishing with C2 and eight recognised official exams.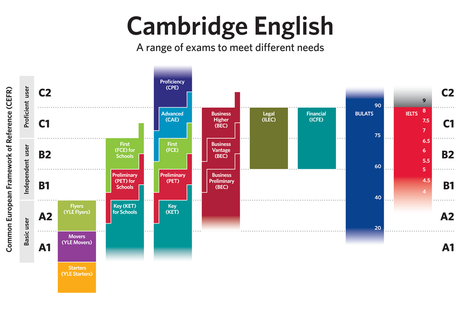 The table shows how exam scores in different tests relate to each other. For example, an IELTS score of 7.5 is the equivalent of a Cambridge English Advanced Certificate or a C1 level in English.
CEFR is mostly used by language academies, school and universities, though some employers do specify a level of language ability as a requirement for getting a job. Most places ask for a specific type of exam with a specific score but if you are asked for a B2, for example, it is possible for you to take any exam recognised by CEFR and it should be accepted by the institution.
CEFR does not recommend one type of exam over another, it is simply a reference point to be used by anyone who is interested in obtaining a certain level of language ability.
If you have any further questions about CEFR, Harper Morgan English can explain and give advice on the right exam for you. Contact us for more information.