Tweet
8
Share
3
+1
2
Pin
2
Share
0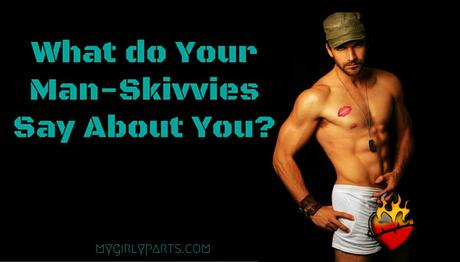 Yes, believe it or not there is a science that has determined your skivvies say a lot about your personality.
What? You must be joking!
Seriously!
I couldn't let this one slide because I honestly believe men's skivvies DO say a lot about them.
Do you remember way back when you were dating? You had not been intimate with your boy toy yet and your mind anxiously tried to imagine the moment.
What kind of underwear did you imagine him in?
brief's
tightie whities
boxers
boxer briefs
au naturale
thong
So when you finally got to that very special intimate moment, were you pleasant surprised by his boxer briefs OR highly disgusted by his Superman Underoo's that were so small you couldn't possibly imagine a penis being in those roo's!
There is a Science!
Check it out below and see if you're surprised. I thought long and hard about this and here are my summations.
Style
Boxers – Lacking confidence and self-esteem. Letting the twig and giggle-berries hanging loosely is not going to build your morale either
Boxer Briefs – Assertive. This is a man that knows what he wants, isn't afraid to show it off in his tight boxer briefs. The twig and giggle berries are cuddled softly and kept from damage.
Briefs – Childish. This is the man who would still wear Superman Underoo's if he could find him in a size 42. Grow up little man!
Trunks – Foreign. This man is from a foreign country where these are popular. The ladies like them so the men wear 'em.
Y-Fronts – Absolutely no clue other than dude desperately needs a Fashion Consultant.
Mankini – Borat. Absolutely Father Guido Sarducci. The innocent and virgin like bust out in a mankini because they really are dirty little bastards at heart!
Color
Black/White – Neutral. No fashion sense. Wears black on high flatulence days.
Red – Pimp Daddy still living in the 70's with his round or heart-shaped bed and red shag carpetting.
Blue – Gentle, compassionate, over all gentleman.
Plaid – This isn't the 80's dude. Go buff or don't do it at all!
Let's see how well I did by looking at the infographic below

Find more
great infographics
on NerdGraph Infographics
How do you think I matched up?
I think I did pretty good and considering I'm not sure what Country this infographic was representing, I can safely assume mine may be pretty spot-on for America.
Over to you
Now it's your turn. Share below what your summations would be. Oh and if you're a MAN and reading, please share below too!
Tweet
8
Share
3
+1
2
Pin
2
Share
0