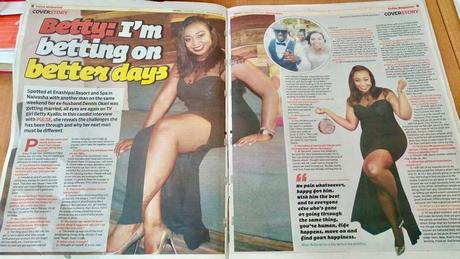 TV news anchor Betty Kyallo has called out Standard Newspaper's Pulse Magazine for republishing an interview she did nearly seven months ago to make a story appear fresh.
Pulse Magazine published an article alleging to have spoken to Betty concerning her plans to settle down; seeking her comment on Dennis Okari's wedding. The piece has been recycled now that the two ex-lovers have been opening up about their new relationships.
Betty took to social media to call out her former employers, saying that they are desperate to sell copies.
"What a shame Pulse Magazine. You used an interview I did 7 months ago just to make a story relevant now. How unprofessional and uncouth. Steve Muendo we did an interview August last year, but in this article you deliberately decided to make it sound like we did the interview recently which is misleading and a lie,. Even fabricated lies about what I said in the last one week just to make a connection to unrelated event. What a shame for a publication like yours. Desperate to sell copies by using my name."

 reads part of Betty Kyallo.
Angry
Betty was also angry that some of the photos used were current and Pulse made up a quote that Betty claims never said.
"Some of the pictures You used Were from a recent event I attended, you referred to a trip and supposed relationship that I've never discussed with you. I just want to tell the public that I didn't comment recently on any of the things in this article and that the writer Steve whom I actually considered a friend fabricated a lot of this article. The last time I spoke to the writer was in August 2018 during a previous recorded interview but he's used that to fabricate a story relevant For now. Just unfortunate and disappointing!

" wrote Betty Kyallo.