This is a great dish to enjoyed during your healthy lunch ideas. Not only is this Spicy Chicken Fillet Sandwich great to taste it is just easy to make as well. That is the one thing I like about this Spicy Chicken Fillet Sandwich if you don`t think it is spicy enough, than you can just add a few extras chilies and or other spicy sauces to make up for the lost taste. I leave that to you. But more importantly this Spicy Chicken Fillet Sandwich is just a divine recipe one that can be enjoyed anytime. Give this Spicy Chicken Fillet Sandwich from healthy lunch ideas a try and let us know what you make of it.
Ingredients:
6-8 cups vegetable oil
1/3 cup Frank's Original Red Hot Pepper Sauce
2/3 cup water
1 cup all-purpose flour
2 1/2 teaspoons salt
4 teaspoons cayenne pepper
1 teaspoon coarse ground black pepper
1 teaspoon onion powder
1/2 teaspoon paprika
1/8 teaspoon garlic powder
4 chicken breast fillets
4 plain hamburger buns
8 teaspoons mayonnaise
4 lettuce leaves
4 tomato slices
Directions:
Preheat 6-8 cups of oil in a deep fryer to 350 degrees.
Combine the pepper sauce and water in a small bowl.
Combine the flour, salt, cayenne pepper, black pepper, onion powder, paprika and garlic powder in another shallow bowl.
Pound each of the chicken pieces with a mallet until about 3/8 inch thick.
Trim each breast fillet if necessary to help it fit on the bun.
Working with one fillet at a time, coat each piece with the flour, then dredge it in the diluted pepper sauce.
Coat the chicken once again in the flour mixture and set it aside until the rest of the chicken is breaded.
Fry the chicken fillets for 8-12 minutes or until they are light brown and crispy.
Remove the chicken to a rack or to paper towels to drain.
As chicken is frying, prepare each sandwich by grilling the face of the hamburger buns on a hot skillet over medium heat.
Spread about 2 teaspoons of mayonnaise on the face of each of the inverted top buns.
Place a tomato slice onto the mayonnaise, then stack a leaf of lettuce on top of the tomato.
On each of the bottom buns, stack one piece of chicken.
Flip the top half of each sandwich onto the bottom half and serve hot.
Makes 4 sandwiches.
Enjoy!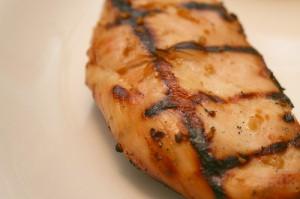 Photo by: CandyTX