Good morning!! How is everyone doing today?  Did everyone have a great weekend?  We had another busy, but really wonderful weekend.  The weather was perfect, we spent a lot of time outdoors, hanging with friends, eating good food and laughing.  I always feel really refreshed when our weekends are like that.  Now, I am back to work and ready to take on a busy week at work.  I am heading to Philly for a few days tomorrow morning, so I have a lot of work to get done in the office today before I leave.  So, let's dive right into the Weekly Wrap Up!
Week 6/16-6/22
Monday: I started week two of T25 Beta with the T25 Dyanmic Core workout.  I followed it up with a 5 mile run right after it and was feeling really great.  I think that T25 and my core work is helping my running a lot, I didn't feel taxed at all during this run.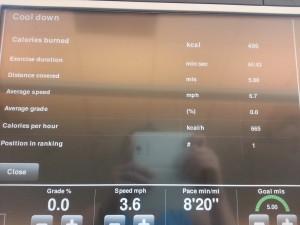 In the afternoon I did my usual yoga class at lunch.  All in all, it was a good day!
Tuesday: I did the T25 Beta Core Cardio video and then lifted bis, tris and shoulders and my muscles were feeling it!  I  finished off the workout with Blogilates Victoria's Secret Model abs video.
Wednesday: Started with the T25 Rip T Circuit video and then went directly to  Spin class.  I was a sweaty mess after that class and logged almost 18 miles on the bike!!  After Ashton went to bed I did Blogilates Abs on Fire video.  
Thursday: Thursday is usually my busiest day.  I did my T25 Beta Upper Focus video followed immediately by a vinyasa yoga class.  In the evening I taught my Group Power and went heavier on the weights to test out a new "normal" weight factor.  I was surprised to see that I was able to easily go up in weight without much extra fatigue.
Friday: I did my double T25 videos, the Rip T Circuit and Speed 2.0 and followed it with another 5 mile progression run.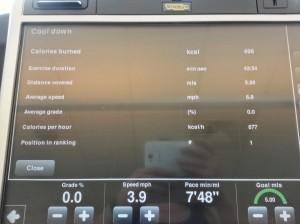 Again, I pushed the speed a bit and felt really strong.  I haven't been running all that much so having this feel relatively easy was kind of scary! HA!
Saturday: Rest day (with the exception of swim lessons and running after Ashton all day long!)
Sunday:  On Sunday a few of us drove out to Boston and did a 3 hour kayaking tour in the Boston Harbor.  It was a GREAT shoulder, arm and ab workout.  We couldn't have asked for better weather and it was the perfect way to end the weekend!
Overall, I had a great week. I was able to log some faster miles and felt really good doing so. I kept up with my core workouts and all in all, I am happy with the progress this week.  I am going to be traveling this coming week, so I have to give a bit with my workouts, but I am still planning on getting in my T25 videos at the very least for the 2 days I am gone.  I have a race this weekend, so hopefully I'll be ready!  
Have a wonderful week friends!!
—————————————————————
Question of the day
What did you do this weekend? How's the weather where you are?