Hey friends, how are you doing? How was your week?  The weekend?  It was really busy here with lots of fun activities.  I really liked the Weekly Wrap up in pictures last week so we are going to do it again!  So let's take a look at how the week unfolded!
5/11-5/17
Monday: I did an upper body lifting circuit and then ended with some box jumps and step ups.  Then I proclaimed my new-found love of…..One Direction!  Eek! While listening to Pandora over the past few weeks, I kept "liking" their songs when they came on, so I decided to give them a try to I have to say, their stuff is catchy. I have been listening to them a lot in the office.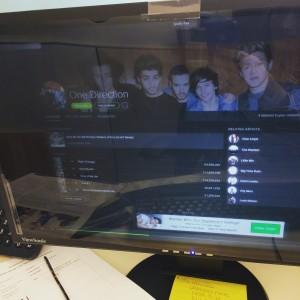 After work I picked Ashton up from daycare and he was complaining that his feet hurt him. We had been talking over the weekend about getting Ashton some new sneakers, so I took him to pick out a pair. We went to 3 different stores before he picked a pair he liked.  A cool looking pair of Spiderman New Balances.  He went up a whole shoe size–growth spurt??  He is modeling them for my mom you!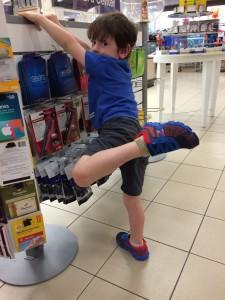 He wouldn't take the shoes off, so I brought the box up and paid for them and he walked out with his new shoes. He said no less than a dozen times how much he loved his new shoes #momforthewin
Since he was so patient in all the stores, we finished our mall trip with a ride to space in his favorite spaceship!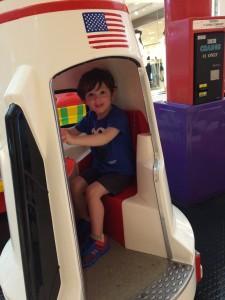 Tuesday: In the morning I did a 4 mile run. I felt like I was running in quick sand, it wasn't pretty but I got it done with an average pace of 8:45.  I was surprised my pace was in the 8's since I felt like I struggled every single step of the way.  After my run, I was rushing around. It was a HUGE day at work, we had a FDA Advisory Committee meeting. I ran down and got a Starbucks and joined my colleagues in our auditorium for a full day of sitting and watching. We were all anxious, but it turned out fantastic!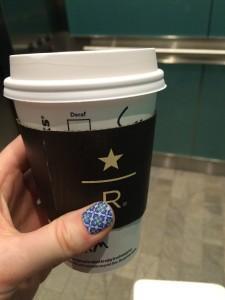 Wednesday: I had a heavy leg day in the gym.  I have been pushing my squat weight lately, I was in a comfort zone of doing the same thing every week but I warmed up with 100 lbs on the bar and it was, dare I say, comfortable!?! Next time I'm going to increase it a bit and see how it goes! I also noticed I was the most colorful person in the gym that day! I kind of loved it!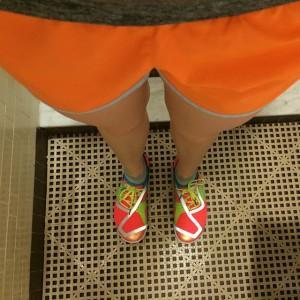 Thursday:   I wanted to run outside but it was barely 50 degree and raining and I was being a baby, so I did 2 mile hill HIIT on the treadmill, 10% incline with a 9.0/4.0 speed, I wanted to die, the last few rounds felt like they weren't going to end..but of course, they did.  Afterwards I did some glute work and called it a day
I went to my beloved Starbucks in the afternoon and I was happy that I FINALLY remembered to bring my own cup!  I have a few of these at home for both hot and cold drinks but always forget to bring them to work. I love drinking out of my own cups–yeah, I'm a little weird, we have already established this!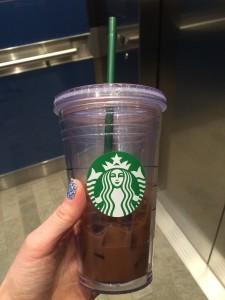 After work, it was gorgeous out so I took the monster to the park.  He was very daring and was playing with the bigger boys on the monkey bars. He was having a blast!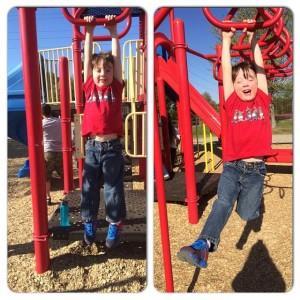 When we got home, I had a package waiting for me…new Jamberry wraps!!  If you follow me on IG, you know I love my wraps!!  I already have way too many, but I couldn't help myself, especially since Robyn just bought me a gift card for our anniversary!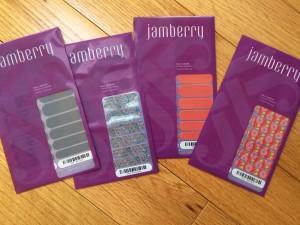 Friday:  Friday was an insane day. I was off of work but I have a million things I had to do but I started the day by lifting upper body, back and glutes. I was spent after my workout but the day was just getting started. I won't bore with you all the details, but after my running around, I picked Ash up from daycare and brought him to soccer.  Robyn met me there and I had to run to my evening plans…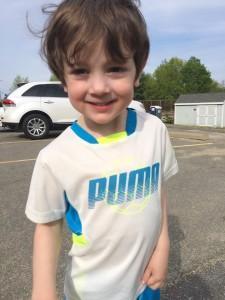 My sister-in-law was graduating with her Master's Degree so I had her ceremony to attend, She also graduated at the top of her class, so I was SO SO proud of her.  Not only does she work full-time, but she is raising 3 teenage kids (and 2 VERY high maintenance dogs!)   I sat with my two nieces during the ceremony and despite it being ridiculously long, we made it through.  Afterwards we all went out for a very late dinner. I didn't get home until after 10 p.m. and then went right to bed.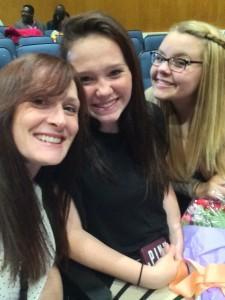 Saturday: Saturday morning brought swim lessons for Ashton and an impromptu trip to an Asparagus Festival. I would by lying if I said I was initially excited to go to this since it wasn't really super close to our house, but it ended up being pretty awesome. There were a ton of vendors with lots of food (with and without asparagus.) I had an asparagus pesto grilled cheese on sourdough bread that was INCREDIBLE!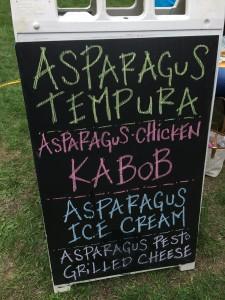 We got home kind of late so Ashton only had a short nap, so I didn't really have time to run, so decided I would use Saturday as my rest day and run on Sunday instead.
Sunday: Ashton and I slept in until almost 9 am, it was GLORIOUS.  We must have been exhausted. I woke up feeling really refreshed.  Robyn made us pancakes for breakfast and we headed out to the Brimfield Fair.  If you haven't heard of it before, it is the largest outdoor antique show in New England, with over 5000 dealers from all over the country.  These shows happen 3 times a year for a week each. Vendors set up in 21 fields each approximately 3 to 5 acres. It's pretty awesome and has EVERYTHING you could possibly think of/want. I grew up going each year with my family so I loved being able to go with my boys.  However, I wish we would have went on Saturday when it was cloudy and cool. It was SUPER hot out (over 90 degrees) and the sun beating down on you for a few hours, no matter how much you hydrate is never fun.  We brought Ashton's stroller with sun cover to protect him but it was a lot. We left earlier than we wanted to because of the weather and stopped in at a local shop for lunch.  The boys were really hungry and tired and were getting antsy waiting for our sandwiches.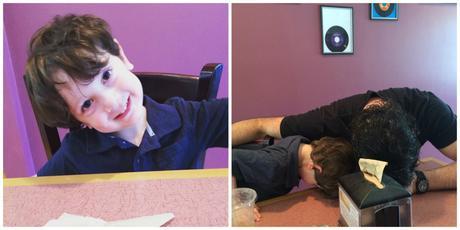 We finally got our food and headed home.  Ash went down for a nap and I got in a run. Another run where I struggled with every stride. I felt pretty dehydrated and bad and ended up cutting my run short when Ashton started crying out for us 1/2 way during his nap which never happens.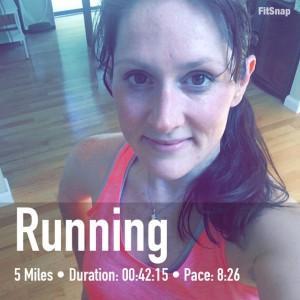 He was complaining his stomach hurt. After about 20 mins, he was lying back down and Robyn was rubbing his stomach and he puked all over the place

 Thankfully, that seemed to help him. After a quick shower, some fluids and some cuddle time on the tv watching Frozen, he was good as new. We think it may have been the heat, but he rallied.  We went grocery shopping and then played outside until dinner time.

We ate dinner on the deck and wrapped up the weekend by watching An Idiot Abroad.  Have you seen it? Thoughts?  Robyn and I only watched the first episode that took place in China, but we had a ridiculous amount of laughs. I didn't realize this wasn't a spoof kind of show, the main character is not acting at all, which kind of terrifies me.
So, there you have it my friends, the Weekly Wrap Up ! I hope you all had a great weekend, and that have a great week ahead of you and I will see you on Wednesday!
—————————————————————
Question of the day
How was your week/weekend?