Happy Monday my friends!  Did you have a good weekend? I am pretending we didn't get more snow/ice last night and that Spring is still making it's way to us!!  Ignorance is bliss and all that, right?  Anyways, let's chat about what happened last week in the Weekly Wrap Up!
Week: 3/9-3/15
Monday:  I did 4 miles @ an 8:37 pace…my stomach still wasn't 100% from whatever was lingering this weekend but my run went really well and it was a great way to start the week off!
Tuesday: I started the morning off with box jumps and push ups, the I lifted shoulders, bis, tris, and back and did 1 quick mile to round out the workout.
Wednesday: I had my usual Wednesday spin class and I got in 16.5 miles of speed work and hills the did some abs at night. I need to start making this a more regular part of my workouts.  I have been slacking big time when it comes to ab work.
Thursday: I ran an easy 5 miles before work and it felt really good.  I am glad I am starting to add a bit more mileage to my week, but I am doing it slowly so I don't get injured.
Friday:  I ran another 5 miles while watching Thursday night's episode of Greys!  I'm telling you, watching a show/movie while running makes the time go by so quickly, before I knew it, my run was done and I cooled off and stretched so I could finish up the episode.  I had a really tough day at work and left the office feeling kind of down but when I got home..this beautiful box was waiting for me!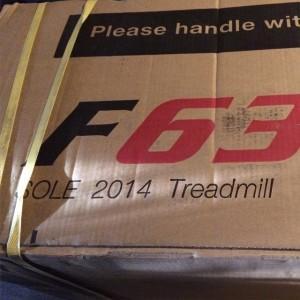 I don't think I have ever received another package that made me as happy as this one did!  Yup, I pulled the trigger and bought a treadmill!!!  I cannot wait to use it!
Saturday: Rest day. We all got up late and were running around to get ready for soccer.  I drove separately because after soccer I had a dentist appointment. They were running late so it took MUCH longer than I had anticipated and when I got home, Robyn left to run errands so I didn't get a chance to workout out.
Sunday: Another rest day.  We woke up really late again and my friends texted to see if we wanted to come over so Ashton could play with their 3 year old son and then go visit the Easter Bunny so we quickly had breakfast and got changed and headed over. The boys had a blast playing together, we all had lunch and then headed over to wait in line to see the Easter Bunny. It was FREEZING outside and we had to wait for about 30 minutes until the line reached indoors, but it was worth it to see Ashton so happy.  He gave the Easter Bunny a hug and was all smiles, it was adorable.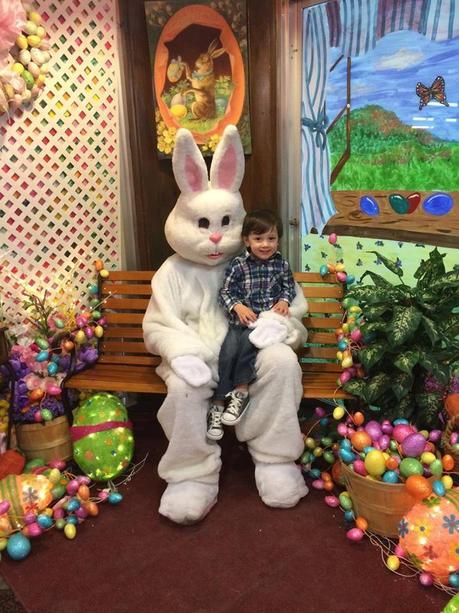 Afterwards, we walked around (they host the visit at a local chocolate shop) and we bought a few things for Ashton's Easter basket and then got home so Ashton could nap.  I was planning on working out when he went down for a nap but he asked me to nap with him, so I did.  I know these moments/times are fleeting and it's important for me to spend these moments with him, so we cuddled up and napped together and it was wonderful.
Overall, it was another really good week of workouts and with the exception of the two rest days this weekend, I was really happy with my workouts and the fact that I am increasing my weekly mileage slowly. We didn't have time to put my treadmill together because it ended up being a busier weekend than we anticipated, but we will do it this week and I think that will also help me get in some extra mileage, especially on the weekends!
Whatever you do today friends, make it great! I will see you on Wednesday!
—————————————————————
Question of the day
How was your week?  Highs? Lows?  How was the weekend?