Hey, hey–happy Monday! Is anyone else psyched for an extra hour of daylight like I am?  I absolutely LOVE when we change the clocks and it gives us more daylight.  Going to work when it's dark out and coming home when it's dark out really weighs on me in the Winter so even though I "lost" an hour of sleep this weekend, I am okay with that if it means more light!! Anyways, let's chat about what happened last week….
Week: 3/2-3/8
Monday:  When I woke up, I had high hopes of getting in a longer run, but my calves were not having it, I ran 1.5 miles and had to stop.  I know my limits and made the smart move to just stop.  I ended up lifting upper body and did heavy weighted squats.  I also stretched my calves a lot hoping they would feel better for Tuesday!
Tuesday: Thankfully my calves felt better and I did a progression run of 4 miles at an overall 8:37 pace–it felt great and I couldn't stop smiling…good runs = a happy Sara!
Wednesday: I had my usual Wednesday spin class and it was pretty great.  I clocked in 18.5 miles of speed work and hills which may be my highest mileage during a 45 min class ever! My legs felt pretty dead afterwards but I had that high endorphin feeling for a long time!
Thursday: I wanted to run 4-5 miles but I only made it 3, I just wasn't feeling it (maybe my legs were still fatigued from yesterday?) so I stopped running and then lifted shoulders, back and biceps. I really like being able to do both running and strength training in one session, but that of course means that neither workout is as long as I would like them to be–first world problems, I know!
Friday: I did 5 easy miles before work and I felt on top of the world! I hit my stride really early into the run and I felt great the entire run!  I was watching Scandal on my phone and before I knew it, the treadmill was stopping and I was cooling down. I wish every run felt this great and effortless!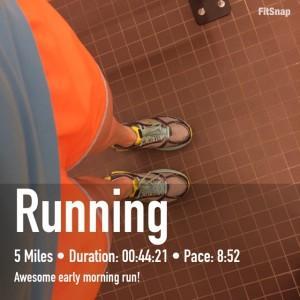 After work, I picked Ashton up from daycare and then dropped him off to Robyn when he got out of work so I could spend the night with some friends.  We went to a Paint Night event to support a friend's fundraiser.  She is walking the Avon breast cancer walk and there were over 40 of us who showed up to support her and donate to her fundraising campaign. If you follow me on IG, you saw some of the pics of our night–I just love these girls!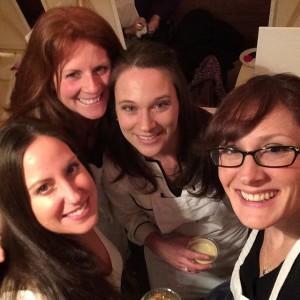 I was in tears laughing for most of the night, I forgot how much fun a girls night out is and how badly I needed one!
Saturday: Rest day. We got up and Ashton was starting a new soccer session so we quickly ate some breakfast and headed out to soccer.  Ashton had a blast and he is doing so well with dribbling and shooting the ball.  I wish I could describe the feeling I get when I see him out on that soccer field laughing and loving a game that I spent so much of my life playing.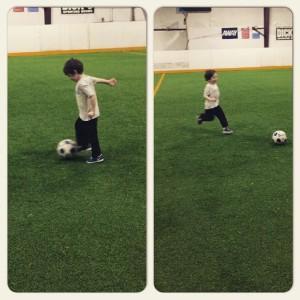 After soccer he begged us to take him to an indoor play place, we didn't have any other plans for the morning so we did and he worked up quite a sweat.  We got home just in time for some lunch and a nap. I wasn't feeling 100% so instead of working out, I ended up laying on the couch under my heated blanket and got caught up on Grey's Anatomy and watched the first episode of Secrets and Lies–I knew that was a bad idea because I am already hooked….and I need a new show to watch like I need a hole in the head! Ugh! Why do I do this to myself??
Sunday: It was essentially another rest day.  We all slept in really late and we wanted to get out to Trader Joe's to go grocery shopping.  With the time change, by the time we got there it was almost 11 and I had a hair appointment at 1:30 p.m. so it just didn't happen. I did do some abs in the evening to get something in, but it wasn't anything too crazy. I still didn't feel 100% but it was something and that's always better than nothing, right?
Overall, it was another really good week and with the exception of the two rest days this weekend, I was really happy with my workouts.  I am still beating my water goal everyday too, which I think really helps my energy levels!
Well, I hope you all have a great Monday!  Don't forget to enter my giveaway for a free pair of Cordskinz!  I will see you all on Wednesday!  Until then…
—————————————————————
Question of the day
How was your weekend? Any big plans? Long runs? Races?