Don't have the time to read all the marketing news, blog posts, announcements, and other content related to SEO/social media/online marketing published each week?
I've got you covered.
I sift through trillions (well, hundreds) of online publications to stay on top of marketing news that might affect your online business.
And I package them neatly in bite-sized chunks in my Weekly Marketing Skinnies right here at Traffic Generation Café every Saturday morning.
Now grab your cup of coffee and let's catch up on the marketing news that matter to your business.
In the marketing spotlight this week:
♨
♨
♨
♨
♨
♨
♨
♨
♨
♨
♨
♨
Let's start with the news from Traffic Generation Café.
At TrafficGenerationCafe.com
Search
By the way… to stay on top of marketing news as they happen, be sure to follow me on Facebook.
http://tgcafe.it/2jDjTzQ
Social Media
[share]Finding this Weekly Marketing Skinny valuable so far? Please share it:[/share]
THANK YOU.
On a Side Note…
If you find tremendous value in my Weekly Marketing Skinnies, like thousands of other readers of Traffic Generation Café do, you should consider joining them and sign up to receive the weekly notifications of when a fresh Skinny is published.
Plus, you'll get complimentary access to my "Mommy, Where Does My Traffic Come From?" traffic hacks report and traffic hacks newsletter: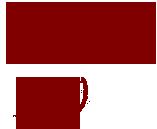 "Ana has a unique insight into running an internet business."
- Yaro Starak, Entrepreneurs-Journey.com
Needless to say, your information is completely safe with me.
See you in your inbox!
Marketing This & That
Thank You
To all of you who mentioned Traffic Generation Café in any shape or form in the past week, my whole-hearted THANK YOU.
Traffic Generation Café would NOT be what it is today without you.
And I am not the only one who thinks that, by the way.
Take a look at the comment Kurt Frankenberg of Shoestring101.com (one of my favorite blogs, by the way) left on a recent Weekly Marketing Skinny: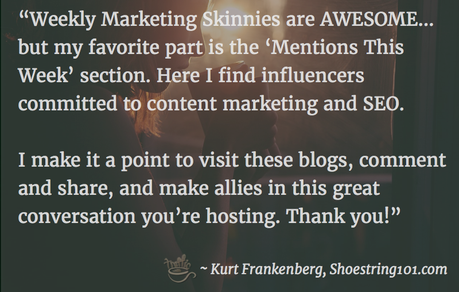 Here are just some of the mentions I came across in the past week:
Have I missed your mention? Let me know in the comments!
Want to see your name here? Mention Traffic Generation Café in your next blog post!
Subscribe to Stay Ahead
Don't you hate that nagging feeling that every marketer around you knows something you don't?
Chances are they know it because they are following my updates on social media.
Here's how you can do it as well: follow me on my Facebook profile.
http://tgcafe.it/2jDjTzQ
To an even better next week,

Share
1
Tweet
Share
+1
Pin
Buffer
Shares

1