Don't have the time to read all the marketing news, blog posts, announcements, and other content related to SEO/social media/online marketing published each week?
I've got you covered.
I sift through trillions (well, hundreds) of online publications to stay on top of marketing news that might affect your online business.
And I package them neatly in bite-sized chunks in my Weekly Marketing Skinnies right here at Traffic Generation Café every Saturday morning.
Between you and me, I have no idea why I bother investing hours of my time weekly reading all these marketing news just to boil them down for you in my Weekly Marketing Skinnies, other than the fact that I know you don't have the time to keep up with the fast-paced marketing industry on your own, yet you DO need to be in-the-know to remain competitive.
Plus, your enthusiastic comments and social media shares show me just how much you truly appreciate being kept in the marketing loop in just a few minutes per week.
If you appreciate what I do, share this Marketing Skinny:
Tweet
38
Pin
1
Share
2
+1
10
Total Shares

51
THANK YOU.
Now grab your cup of coffee and let's catch up on the marketing news that matter to your business.
Search
Do rich snippets actually make a difference in search results? This study shows that rich snippets can provide a 26% lift in clicks for search position #2. To learn more about rich snippets and how to implement them on your site, read this post at Traffic Generation Café.
Google to SEOs: Don't try to rank for keywords or for terms that the site doesn't have great value content for.
Social Media
Facebook Pages eye-opener: page owners mostly post content that yields the least engagement (study.)
Facebook Pages are updated to look better on mobile, plus new 'Shop' section added.
Facebook Dislike (?) button might soon become a reality.
Twitter's shortened t.co links will move to HTTPS October 1; non-HTTPS sites may see 10% drop in referral traffic.
You can now make a political donation through a Tweet.
Periscope web profiles are finally here! Plus, it now lets you broadcast in landscape mode (huge!) and more.
Pinterest discloses user numbers for the first time, says it crossed 100M monthly active users.
Further Google+ demise: Google drops Google+ links and reviews from search.
Snapchat now lets you pay 99 cents to replay any snap.
Klout now takes into account YouTube stats, in addition to sites such as Facebook, Twitter, Google+ and Instagram.
Now I've seen it all… Tumblr now has its own fashion line.
On a Side Note…
If you find tremendous value in my Weekly Marketing Skinnies, like thousands of other readers of Traffic Generation Café do, you should consider joining them and sign up to receive the weekly notifications of when a fresh Skinny is published.
Plus, you'll get complimentary access to my "Mommy, Where Does My Traffic Come From?" traffic hacks report and traffic hacks newsletter: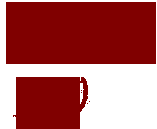 "Ana has a unique insight into running an internet business."
- Yaro Starak, Entrepreneurs-Journey.com
Needless to say, your information is completely safe with me.
See you in your inbox!
Teach Your Way to a Thriving Business [FREE EBOOK]
The world is primed for a true revolution in online business. It's going to sweep away the traditional "guru" marketers with their information products that over-promise and under-deliver.
Instead, it will pave the way for a new breed: The Educator Entrepreneur.
Want to be one of them? Visit this page to take the first step.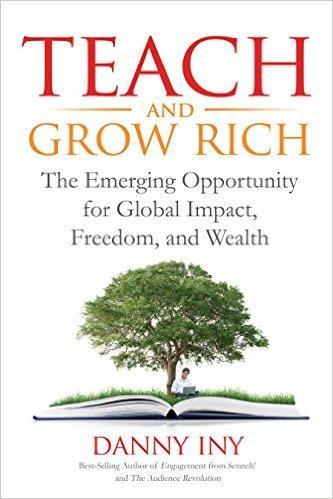 They don't waste time selling ebooks, reports, and other stuff. Instead, they focus on online courses, which are vastly superior to traditional information products:
With little to no investment, you can create a guided experience that will lead people to specific outcomes and results they want.
You can set a much higher price for an education product. Hundreds, or even thousands of dollars aren't uncommon. Because you're selling the result, and not the product itself, price becomes a non-issue for the right customer.
Just like anything digital, you can sell it unlimited number of times. You can expand and update your course as many times as you want, increasing its value and (ultimately) price.
All of this stacks the deck heavily in favor of…
The educator entrepreneur (go here to learn more).
If you want to learn about how to survive and thrive in this changing marketplace, my friend Danny Iny will show you how in his new book.
"Teach and Grow Rich" is a superb examination of the unstoppable shift towards education products, which Danny examines expertly from his point of view as the owner of a 7-figure company selling online courses.
Until September 21st you can grab the ebook version for free:
Get it here and learn how YOU can be a part of this online business revolution
In addition to the book itself, you'll get a bonus video where Danny goes deeper into the ideas of "Teach and Grow Rich", as well as a downloadable summary of the book that you can come back to and refresh what you've learned.
Enjoy!
"Start a New Site and Double Your Money" Challenge
Just spotted a new blogging challenge/contest with lots of potential.
It's called "Start a New Site and Double Your Money Challenge" and run by the omnipresent Ann Smarty.
This is a great opportunity for an established blogger to go for "that big idea" that's been keeping you up at night or a great way for newbie bloggers to find the way to succeed.
Here's what this new challenge is about:
Start a brand new site
Build it up it for 6 months (Ann's team will be there to help with anything! Free!)
Do a better job than the rest of the group and get Ann's (and her team's) time to build up your new site TWICE as big!
The participants will also be sharing the results regularly and learning from each other.
The deadline to enter is October 5; you can enter the challenge here.
Thank You
To all of you who mentioned Traffic Generation Café in any shape or form in the past week, my whole-hearted THANK YOU.
Traffic Generation Café would NOT be what it is today without you.
And I am not the only one who thinks that, by the way.
Take a look at the comment Kurt Frankenberg of Shoestring101.com (one of my favorite blogs, by the way) left on a recent Weekly Marketing Skinny: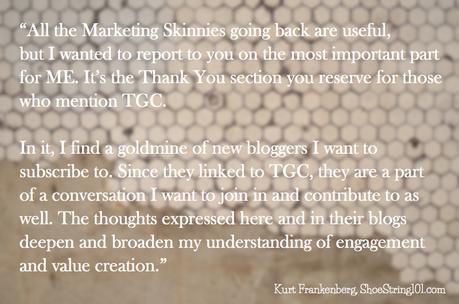 Here are just some of the mentions I came across in the past week:
Why Your Blogging Community Wants More Than Just Quality Content – Andrew Warner at shadeofinfo.com
You Have an Exciting New Website. Now What? – Ingrid Cliff at heartharmony.com.au
Are You Creating Opportunities for Your Audience to Discover Your Business? – Don Purdum at unveiltheweb.com
117 Tips On How To Set Goals From Successful Entrepreneurs – Tor Refsland at timemanagementchef.com
The Blog Commenting Superstars of Adrienne Smith Community – Dan Ewah at danewah.com
Secret Social Media Strategy Used by 39 Experts to Promote Their Blog – Iqbal Pratama at ageofonline.com
Marketing Link Roundup – Johnson Emmanuel at koriefusion.com
Have I missed your mention? Let me know in the comments!
Want to see your name here? Mention Traffic Generation Café in your next blog post!
Subscribe to Stay Ahead
I share a lot of marketing news as well as the best posts I read throughout a week on my Google+ profile.
To read them as they come out and stay ahead of your competition, as well as become a social media star and share the best with YOUR followers (you'd be surprised how much it'll do for your credibility and online presence!), join me there:
You can also subscribe to my G+ feed through your RSS reader of choice; just add the following link like with any normal blog RSS feed: http://tgcafe.it/anahoffman-gplus-feed
To an even better next week,