Don't have the time to read all the marketing news, blog posts, announcements, and other content related to SEO/social media/online marketing published each week?
I've got you covered.
I sift through trillions (well, hundreds) of online publications to stay on top of marketing news that might affect your online business.
And I package them neatly in bite-sized chunks in my Weekly Marketing Skinnies right here at Traffic Generation Café every Saturday morning.
…Or Monday morning, like today. 😉
Now grab your cup of coffee and let's catch up on the marketing news that matter to your business.
This will be a very quick read!
Social Media
Facebook has introduced instant videos into Facebook Messenger.
Facebook is giving Page owners a new way to collaborate: video cross-posting.
Do you use Facebook Ads? Better make sure your pages load fast on mobile, or else…
What might be the optimal Facebook video length? Here are some interesting insights.
Twitter wants to be a messaging app? Twitter Direct Messages now have read receipts, typing indicators, & web link previews.
It's FINALLY here: Instagram photos and videos get pinch-to-zoom!
Instagram now recommends Instagram Stories at the top of the Explore tab.
Three Google+ updates released: links and images in comments, Google+ Communities update, new Notifications center.
LinkedIn ProFinder freelance marketplace is now available throughout the U.S.
Speaking of LinkedIn, did you see the new LinkedIn Publishing interface yet?
Finding this Weekly Marketing Skinny valuable so far? Please share it:
Share
5
Tweet
22
Pin
+1
3
Share
Buffer
4
Shares

34
THANK YOU.
Marketing This & That
Dropbox hacked; reset your password.
Yahoo's Tumblr is getting into affiliate marketing.
Thank You
To all of you who mentioned Traffic Generation Café in any shape or form in the past week, my whole-hearted THANK YOU.
Traffic Generation Café would NOT be what it is today without you.
And I am not the only one who thinks that, by the way.
Take a look at the comment Kurt Frankenberg of Shoestring101.com (one of my favorite blogs, by the way) left on a recent Weekly Marketing Skinny: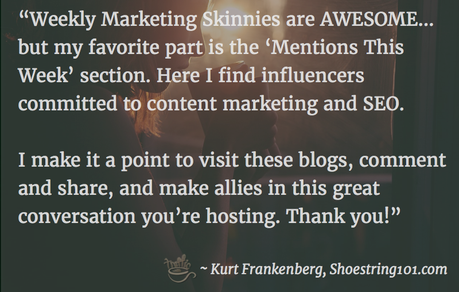 Here are just some of the mentions I came across in the past week:
Over 100 Internet Business Ideas To Make Your Millions Online – Ashley Faulkes at madlemmings.com
15 Insanely Actionable Content Marketing Tactics for Startups – Michael Karp at blondtv.com
The Frugal Guide to Content Marketing (Part 3): How To Promote Your Content With ZERO Budget – Dennis at coredna.com
Serious Business: How to Fuel The Growth of Your Blog Every Single Day – Bill Acholla at billacholla.com
Is Content Dead or are You Just Missing Something That's Promising? – Don Purdum at unveiltheweb.com
Have I missed your mention? Let me know in the comments!
Want to see your name here? Mention Traffic Generation Café in your next blog post!
Subscribe to Stay Ahead
Don't you hate that nagging feeling that every marketer around you knows something you don't?
Chances are they know it because they are following my updates on social media.
Here's how you can do it as well: follow me on my Facebook profile.
To an even better next week,