Don't have the time to read all the marketing news, blog posts, announcements, and other content related to SEO/social media/online marketing published each week?
I've got you covered.
I sift through trillions (well, hundreds) of online publications to stay on top of marketing news that might affect your online business.
Social Media
Say Hello to Ello
Had to start with Social Media section today due to all the buzz/excitement/frustration with the new social media darling/villain: ELLO.
To help you navigate Ello waters, I put together the following Slideshare presentation, as well as a more in-depth look at Ello in my (first!) post on LinkedIn: with overview, resources, useful people to follow, etc.
Say Hello to Ello: the tidy anti-Facebook from Ana Hoffman
You can find my Ello post on LinkedIn here:
Say Hello to Ello: The Tidy Anti-Facebook
I'd really appreciate your comments, social media shares, embeds of my Ello Slideshare presentation, as well as comments and shares of my first LinkedIn post.
Your active participation will help me tremendously: the more noise, the better chance I'll have to get on their Home Page and be seen by thousands instead of… a dozen of you, my faithful readers? lol
THANK YOU!
Here's my final food for thought on Ello: if nothing else, join Ello to claim your name/your business name and take a look around.
Chances are you won't love what you see. It's awkward, annoying, constantly breaking – all the growing pains of something new.
But then again, most of us hated Twitter the first time we tried it, right?
Let me know your thoughts on Ello. And yes, I still have a couple invites left – reserved for my Traffic Generation Café readers who actually read my posts.

Onto other marketing news of the week.
Google+ has given page owners with content that is inappropriate for young people or illegal in certain countries a way to restrict their audience.
Here's a quick G+ tip on how to easily switch between commenting as you to commenting as your brand page.
LinkedIn's latest update adds Pulse news integration and a revamped design, although many are not liking it.
RIP Orkut – Google has shut down Orkut, its first attempt at a social network.
SEO
Panda 4.1 was a big update and many sites were impacted. Glenn Gabe has analyzed a number of such websites and published his findings; here's my skinny.
During an open Q&A at SMX East with Bing's Vincent Wehren and Google's Gary Illyes, Danny Sullivan asked Vincent from Bing if they will be adding a ranking boost for sites that went HTTPS. Vincent almost laughed.
Speaking of going HTTPS, my favorite SEO, Eric Enge of Stone Temple Consulting, spoke about HTTPS as a Ranking Factor at SMX East. Mark Traphagen took notes, definitely worth a read.
Also, Google's John Mueller stated in a recent Google Webmaster Help Office Hours session that using https will not visibly increase your rankings.
Promise, done with https news for this week… Phew!
According to the Mozcast features tool, the Answers box tracker shows a huge increase in the Google search results – 60% more often than last week.
Would you like for Google to help you improve your rankings? At least know how to ask for it the memorable way.
By the way, you should share this post right now before you forget – much appreciated!
On a Side Note…
If you find tremendous value in my Weekly Marketing Skinnies, like thousands of other readers of Traffic Generation Café do, you should consider joining them and sign up to receive the weekly notifications of when a fresh Skinny is published.
Plus, you'll get complimentary access to my "Mommy, Where Does My Traffic Come From?" traffic hacks report and traffic hacks newsletter: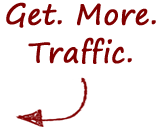 "Ana has a unique insight into running an internet business."
- Yaro Starak, Entrepreneurs-Journey.com
Needless to say, your information is completely safe with me.
See you in your inbox!
Marketing This & That
Apple users with iCloud Drive enabled: AVOID using the "Reset All Settings" option on your devices – the critical vulnerability discovered in iOS 8.0.1 seems to be deleting data stored in iCloud Drive without the user's permission.
Microsoft's Windows 10 preview build is now available for download – good feedback in the comments so far.
Thank You
To all of you who mentioned Traffic Generation Café in any share or form in the past week, my whole-hearted THANK YOU.
Traffic Generation Café would NOT be what it is today without you.
Here are just some of the mentions I came across in the past week:
Yahoo Directory Ending, Panda Update, Converting Visitors, Speedlink 40:2014 – Francisco Perez at iblogzone.com
30+ Blogger-Sharks Spouting Oceans of Knowledge – Lorraine Reguly at wordingwell.com
Invest Yourself: How To Create A Blog That Pays Dividends – Thomas Hanna at blogphoto.tv
How To Gain Links and Traffic Through Influencer Based Content Repurposing – David Arrington at findearnings.com
10 Awful Mistakes That Keep You Away From Success on Twitter – Tim Soulo at basicblogtips.com
Have I missed your mention? Let me know in the comments!
Want to see your name here? Mention Traffic Generation Café in your next blog post!
Subscribe to Stay Ahead
I share a lot of marketing news as well as the best posts I read throughout a week on my Google+ profile.
To read them as they come out and stay ahead of your competition, as well as become a social media star and share the best with YOUR followers (you'd be surprised how much it'll do for your credibility and online presence!), join me there:
You can also subscribe to my G+ feed through your RSS reader of choice; just add the following link like with any normal blog RSS feed: http://tgcafe.it/gplus-feed
To an even better next week,