Don't have the time to read all the marketing news, blog posts, announcements, and other content related to SEO/social media/online marketing published each week?
I've got you covered.
I sift through trillions (well, hundreds) of online publications to stay on top of marketing news that might affect your online business.
And I package them neatly in bite-sized chunks in my Weekly Marketing Skinnies right here at Traffic Generation Café (almost) every Saturday morning.
First…
On a Personal Note
This past weekend turned out to be quite a challenge for our family – my daughter ended up in an emergency room with acute sinusitis and conjunctivitis with suspicion of the infection spreading to her brain.
Not the kind of news any parent ever wants to hear. What made it worse was the fact that my husband was away and it was just the two of us hugging each other and praying for the best.
All turned out well though. Nothing that two weeks of antibiotics won't take care of.
This is the long story behind this Weekly Marketing Skinny being published on a Monday instead of a Saturday.
And now I am thinking "Maybe Monday is not such a bad day for a Weekly Marketing Skinny..."
Personally, I like Saturdays because they seem to be the perfect days to catch up on things we can't find time for during the week.
If we still were newspaper-reading people, this would be an equivalent to leisurely sipping your coffee with a morning issue of… whatever.
But hey, I don't write these for me. 😉
What do you think?
Also, might not be around for the next couple of Saturdays – will be too busy cruising Europe. Yippee!
Will spend some time in Sweden, Denmark, Germany, and Paris, getting back home October 17th.
Well, enough of the personal; let's get back to the news.
At TrafficGenerationCafe.com
How to Turn a Blog Post into a Video in 5 Minutes [Traffic Hack]
Just in case you need yet ANOTHER chance to learn this awesome traffic hack, here it is.
Search
Google turned 18.
Google has begun rolling out the Penguin real-time algorithm. Two main things to know: 1. since it's now real-time, changes will be visible much faster, typically taking effect shortly after Google recrawls and reindexes a page; 2. Penguin is now more granular. It devalues spam by adjusting ranking based on spam signals, rather than affecting ranking of the whole site (more on that in the next story.)
This one is definitely a must-read (including the comments): the newly real-time Penguin algorithm devalues spammy links to a site or its pages instead of demoting site rankings. Yes, DEVALUES spammy links coming to your site vs DEMOTES your site rankings. This is GREAT news!
Accelerated Mobile Pages (AMP) are officially moving beyond the "Top Stories" section of Google mobile search – they now make a lot more sense for non-news sites. Important to note: AMP pages won't get a special boost in mobile results – this is NOT a rankings change.
By the way… to stay on top of marketing news as they happen, be sure to follow me on Facebook.
Social Media
Facebook
Facebook has launched Marketplace, a Craigslist-like service to buy and sell items in your community. Looks pretty simple to use. At the moment, available to everyone over 18 years old in the US, UK, Australia, and New Zealand on the Facebook app for iPhone and Android.
Apparently, for the past two years Facebook only counted video views of more than 3 seconds when calculating its "Average Duration of Video Viewed" metric, thus overestimated average viewing time for its video ads by 60-80% for two years. Just to be clear, this metric has nothing to do with Facebook's infamous 3 billions video views per day stats.
Twitter
Twitter Moments, originally announced last October are collections of tweets on certain subjects. Until now Moments have been curated by Twitter staffers, but as of now, anyone is be able to curate Moments based on their own as well as on other people's content. You should definitely give it a shot; I know I will!
Twitter has introduced an "I don't like this tweet option" for iOS users – seems to be helpful if you elected to view Twitter's (new) algorithmic timeline instead of its traditional chronologically-ordered one. If you are not sure what I am talking about, you'll find out more here. Personally, I am not a big fan of anyone telling me what posts should/shouldn't see on social media; I'll make my own decisions thank-you-very-much.
Just in case you missed it: photos, videos, GIFs, polls, and Quote Tweets no longer count toward your 140 characters. Yay to longer tweets!
Twitter ads news: if you are a Twitter advertiser based in the U.S., you'll now be able to narrow down what exactly you are willing to pay for: website visits or website conversions specifically.
Instagram
Once you start creating an Instagram post, you can now save it as a draft and share it later. Here are instructions on how to do it. Not very intuitive, Instagram!!!
Snapchat
Snapchat has been christened Snap Inc and has released its first hardware product: Spectacles – video sunglasses instead designed to record up to 10 seconds of video at a time. Why use a pair of video sunglasses instead of holding up your smartphone like everyone else? Good question; we'll have to wait and see. But for now, check out what sets Spectacles apart.
Livestreaming
Are you a Periscope broadcaster? Become a Periscope VIP. Enrollment in the program is free, but there are some requirements that must be met – for instance, the bottom tier requires 10,000 followers. There are definitely great perks to being a VIP though.
Periscope has also updated its website, Periscope.tv, with curated broadcast channels. Wow, that site makes me dizzy…
The maker of the once-so-popular-now-all-but-forgotten Meerkat, Life On Air, launched Houseparty, a group video chat app for Android and iOS. Not sure if it has enough to set it apart from the rest of the pack, but we'll see…
Finding this Weekly Marketing Skinny valuable so far? Please share it:
Share
Tweet
Pin
+1
Share
Buffer
Shares

0
THANK YOU.
Marketing This & That
I am sure you've heard of the massive data breach at Yahoo by now. Well, once I'd started doing some research for this Weekly Marketing Skinny, things turned out to be MUCH worse than I'd previously thought. As in 'criminal negligence' kind of worse. Read the Skinny on it here: Yahoo's massive data breach: what you need to know/do.
WOW… YouTube will shoot a FREE professional video for your business when you spend $150 to advertise on YouTube. If you ask me, $150 is nothing for a quality video, plus you'll get traffic out of it as well! The catch: the service is only available in six major metropolitan areas for now: San Francisco, Los Angeles, Washington D.C., Atlanta, Chicago, and Boston.
Google has launched the Keyword – Google's new and ONLY central source for ALL news and stories about Google. The Keyword is all the stuff Google had across 19 blogs, in one place — so you don't have to hop from one blog to another to find the latest update. FINALLY!
I am really excited to get my hands on this one… Google Optimize, a landing page testing and optimization tool that integrates directly with Google Analytics, is a free version of Google's enterprise-class testing and personalization product, Google Optimize 360. It will be available next month; you should request an invite to get in.
Google Search introduced a new way to quickly find content from installed apps on your Android phone. For instance, are you looking for the name of the new sushi place that your friend told you about last month? Easy – just search for [sushi] and find the message. Today this search works with apps like Gmail, Spotify and YouTube; more coming.
Now you can see your Google Calendar and Gmail events, plus Google Contacts in Google Maps – whether you're heading to a family dinner or getting subway directions to a birthday party. Just make sure to enter the address in the "Where" box when you create an event in Google Calendar.
Say Hello to Google Allo, Google's new messaging app. Core difference? Google's new Google Assistant. From what I can tell, a bit of a letdown in every other way.
Are you a Google Apps user? Fear not, Google Apps is here to stay, just under a different name to "better reflect this mission": G Suite. Nothing else has changed – yet, but a lot more is promised to be on the way.
Cool Tool of the Week
Actually, I'd like to mention two awesome tools this week.
Skimlinks
I've been noticing monthly deposits into my bank account from Skimbit lately – a payer I couldn't quite recall.
Not that I am THAT clueless about what's going on with my back account, mind you; just never took the time to see where the money was coming from… I am sure it would've been all over it had those been withdrawals! 😉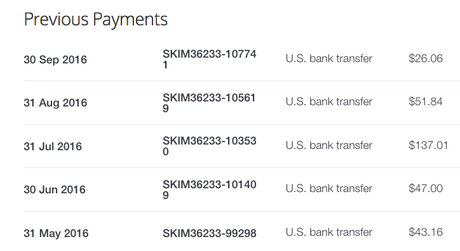 Sure these are not earth-shuttering numbers, but considering I wasn't actively doing anything to earn it… this is not bad at all!
A quick search into where the payments were coming from and I was very pleasantly surprised.
A while ago, I explored ways to earn passive income from Traffic Generation Café. We all could use more of those, can't we?…
That's when I found Skimlinks: an affiliate marketing platform that converts normal product links from thousands of retailers into their equivalent affiliate links so you can earn a commission effortlessly every time a purchase is made.
All you do is sign up, add a script to your site, and let Skimlinks do the rest.
&setTimeout;
I've also written a thorough review of Skimlinks, although they've come up with a whole lot more cool features since then – definitely will be updating it soon.
So yes – this is one of those 'perfect' tools: costs you nothing, yet passively makes money. 😉
Amazon Prime
Honestly, if you are still dragging your feet about Amazon Prime – DO it. It'll boost your productivity in many unexpected ways!
Thank You
To all of you who mentioned Traffic Generation Café in any shape or form in the past week, my whole-hearted THANK YOU.
Traffic Generation Café would NOT be what it is today without you.
And I am not the only one who thinks that, by the way.
Take a look at the comment Kurt Frankenberg of Shoestring101.com (one of my favorite blogs, by the way) left on a recent Weekly Marketing Skinny: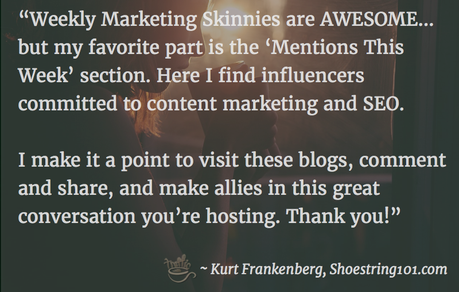 Here are just some of the mentions I came across in the past week:
61 Social Media Marketing Tips From the Pros – Caleb Cousens at socialmediawizard.com
Website Copywriting to Win You Buyers: the Definitive Guide – James Mawson at handsomegenius.com.au
How to Use SlideShare to Drive Traffic to Your Blog – Leslie Samuel at becomeablogger.com
15 Of The Best Articles I've Read This Week About Growing Your Online Business – Babs at babsreviews.com
Have I missed your mention? Let me know in the comments!
Want to see your name here? Mention Traffic Generation Café in your next blog post!
Subscribe to Stay Ahead
Don't you hate that nagging feeling that every marketer around you knows something you don't?
Chances are they know it because they are following my updates on social media.
Here's how you can do it as well: follow me on my Facebook profile.
From Ana with ❤️,