Don't have the time to read all the marketing news, blog posts, announcements, and other content related to SEO/social media/online marketing published each week?
I've got you covered.
I sift through trillions (well, hundreds) of online publications to stay on top of marketing news that might affect your online business.
And I package them neatly in bite-sized chunks in my Weekly Marketing Skinnies right here at Traffic Generation Café every Saturday morning.
Between you and me, I have no idea why I bother investing hours of my time weekly reading all these marketing news just to boil them down for you in my Weekly Marketing Skinnies, other than the fact that I know you don't have the time to keep up with the fast-paced marketing industry on your own, yet you DO need to be in-the-know to remain competitive.
Plus, your enthusiastic comments and social media shares show me just how much you truly appreciate being kept in the marketing loop in just a few minutes per week.
If you appreciate what I do, share this Marketing Skinny:
Tweet
0
Pin
0
Share
0
+1
0
Total Shares

0
THANK YOU.
Now grab your cup of coffee and let's catch up on the marketing news that matter to your business.
Search
Is there an SEO benefit to linking out to other sites? Google answers.
Moz results of the 2015 Local Search Ranking Factors Survey are in.
Social Media
Facebook redesigns mobile profiles, adds temporary profile pictures, and tests looping video profile pictures.
Facebook updates Notes with cover photos, captions, and text formatting. Looks like it's all set to compete with Medium!
Facebook now supports 360-degree videos.
Facebook users beware: Facebook "Dislike" scams are back.
Facebook will now begin using information from pages that use Like or Share buttons to better target ads.
Twitter debate: will Twitter change its spots and go beyond 140-character limit?
Twitter announced it would be launching redesigned "Follow" and "Tweet" buttons next month (and lose share count while at it?…)
Google says it will begin changing up the default 'Blue head' avatars for Google Account holders who have signed up for Google+.
Blab has introduced the ability to co-host shows.
On a Side Note…
If you find tremendous value in my Weekly Marketing Skinnies, like thousands of other readers of Traffic Generation Café do, you should consider joining them and sign up to receive the weekly notifications of when a fresh Skinny is published.
Plus, you'll get complimentary access to my "Mommy, Where Does My Traffic Come From?" traffic hacks report and traffic hacks newsletter: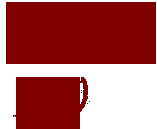 "Ana has a unique insight into running an internet business."
- Yaro Starak, Entrepreneurs-Journey.com
Needless to say, your information is completely safe with me.
See you in your inbox!
Marketing This & That
Google is rolling out a new interface for both Google My Business and Google My Business Locations.
Google makes a push to get small business listings verified.
Introducing Google's Customer Match: a new AdWords product that allows you to upload a list of email addresses, which then can be matched to signed-in users on Google in a secure and privacy-safe way.
Google announced the new Chromecast Audio and Chromecast 2.
Google Photos updates with Chromecast support, shared albums, and ability to tag people by name.
Google's appeal against the global enforcement of "right to be forgotten" removals has been rejected. Wonder what will happen next?…
The new Office 2016 is here.
Apple releases OS X El Capitan, featuring full-screen Split View, new Notes, revamped Spotlight Search, Safari 9 and more.
Apple has launched a new privacy policy website to explain in detail how it users customers' data.
Great (and free!) resource: free Infographics Diagrams and Symbols (PPT icons and shapes).
Thank You
To all of you who mentioned Traffic Generation Café in any shape or form in the past week, my whole-hearted THANK YOU.
Traffic Generation Café would NOT be what it is today without you.
And I am not the only one who thinks that, by the way.
Take a look at the comment Kurt Frankenberg of Shoestring101.com (one of my favorite blogs, by the way) left on a recent Weekly Marketing Skinny: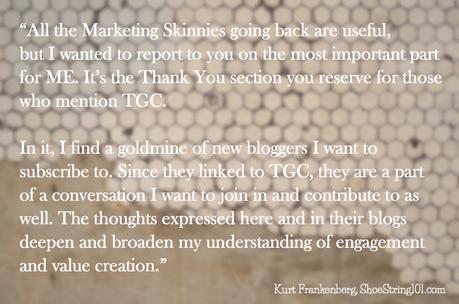 Here are just some of the mentions I came across in the past week:
Why You Have Branding Wrong and How to Get it Right for Massive Growth – Don Purdum at unveiltheweb.com
The 7 Best Ways to Include Influencers in Your Content – Brent Jones at successfulblogging.com
Find Periscope Followers to Consume Your Marketing – Kurt Frankenberg at shoestring101.com
30 Social Media & Blogging Influencers you should follow – Ashley Faulkes at madlemmings.com
Monthly Marketing Roundup Gold – Social Media & Blogging – Robin Strohmaier at r-rwebdesign.com
Have I missed your mention? Let me know in the comments!
Want to see your name here? Mention Traffic Generation Café in your next blog post!
Subscribe to Stay Ahead
I share a lot of marketing news as well as the best posts I read throughout a week on my Google+ profile.
To read them as they come out and stay ahead of your competition, as well as become a social media star and share the best with YOUR followers (you'd be surprised how much it'll do for your credibility and online presence!), join me there:
You can also subscribe to my G+ feed through your RSS reader of choice; just add the following link like with any normal blog RSS feed: http://tgcafe.it/anahoffman-gplus-feed
To an even better next week,