Don't have the time to read all the marketing news, blog posts, announcements, and other content related to SEO/social media/online marketing published each week?
I've got you covered.
I sift through trillions (well, hundreds) of online publications to stay on top of marketing news that might affect your online business.
Let's start with the news from Traffic Generation Café.
At TrafficGenerationCafe.com
What do you get when you put a neuroscientist, a Wallstreet banker and a highly successful AIG sales professional all in one?
Ryan Levesque.
His first online business going from ZERO to $25K per month in its first 18 months was only the beginning.
HOW?
Ryan takes your basic survey and turns it around on it's head, creating a distinct survey funnel strategy that guarantees to SKYROCKET your conversion rates and your business revenues as well.
I loved Ryan's Survey Funnel Formula so much that I asked him to teach us his unique funnel strategy that he's used it to generate 2.8 million leads and 175 THOUSAND customers across 17 different markets. (in other words, it'll your for YOUR business too!)
WHAT: 'Survey Funnel Formula' webinar with Ryan Levesque and Ana Hoffman.
WHEN: This Thursday, October 16th, at 11am PST/2 pm EST.
HOW MUCH: Free (you'll even get a FREE copy of Ryan's step-by-step Flow Chart documenting his entire funnel formula valued at $47 – just for attending this training)
HOW: sign up for this free webinar at this link (sign up even if you can't make it live – I'll make sure you get a replay link if you do).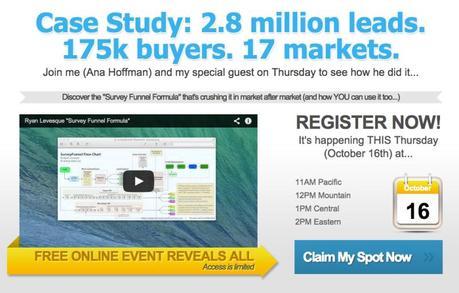 And check this out: traffic sent to this funnel includes
Google Adwords,
Facebook Ads,
Media Buys,
Blog Posts,
SEO,
Video Marketing,
Email Marketing,
any Social Media platform…
…which means this is working with virtually ANY online traffic source.
Sign up for the free Survey Funnel Formula webinar NOW.
SEO
Goodbye Toolbar PageRank: "We Won't Be Updating Toolbar PageRank".
Google: bad user experience for mobile users may lead to ranking issues? Barry Schwartz reports.
By the way, you should share this post right now before you forget – much appreciated!
Social Media
In this week's interview with Re/Code, head of Google+ David Besbris says "Google+ is thriving" …but refuses to give user figures.
That interview was followed by a few Google+ updates rolled out throughout the week:
Polls on Google+ introduced;
Hangouts for Chrome gets a complete overhaul;
Sharing your Google+ communities from your profile.
Twitter is suing the US Justice Department over restrictions imposed on Twitter and other companies that prohibits them from disclosing the number of national security letters (NSLs) and Foreign Intelligence Surveillance Act (FISA) court orders received.
"Would you abandon Facebook for a new social network that had no advertising?" – the survey was partly inspired by the recent Facebook LGBT exodus and the subsequent explosion of the ad-free Ello (you can learn more about it here: http://tgcafe.it/linkedin-hello-ello).
Increased views on LinkedIn? Good for you! But which action led to an increase in views by the type of people you want to get in front of? Now LinkedIn will tell you.
Did you know you can now: Schedule your Instagram posts with Latergramme?
#FeelingNuts is the latest challenge-driven social media campaign for a good cause, and it doesn't even require pouring ice water over your head. Gotta love the sense of humor behind it!
On a Side Note…
If you find tremendous value in my Weekly Marketing Skinnies, like thousands of other readers of Traffic Generation Café do, you should consider joining them and sign up to receive the weekly notifications of when a fresh Skinny is published.
Plus, you'll get complimentary access to my "Mommy, Where Does My Traffic Come From?" traffic hacks report and traffic hacks newsletter: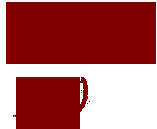 "Ana has a unique insight into running an internet business."
- Yaro Starak, Entrepreneurs-Journey.com
Needless to say, your information is completely safe with me.
See you in your inbox!
Marketing This & That
"Hey, how do I get my business on the web?" – that's what Google's new video series is about: bringing your local business online.
Whoa! The Great Knowledge Box Showdown: Google Now vs. Siri vs. Cortana.
Yes, HP is splitting into two companies and here are Five questions for CEO Meg Whitman about the split.
Can't believe I've lived without it this long! AdBlock Chrome extension – Blocks ads all over the web. Try it; you'll love it.
Rumor has it that Google will announce monstrous 5.9-inch Nexus phone this month – codenamed "Shamu" (you know, the whale).
Time to update Chrome! This release is pretty much just a massive security update.
Skype redesigns Windows and Mac clients with focus on chatting and file sharing – looks great!
Turn your TV screen into a beautiful backdrop with Google Chromecast – it's been updated with a new feature called Backdrops, which enables you to select your photo albums on Google+ (and so much more) to be displayed on your TV.
Thank You
To all of you who mentioned Traffic Generation Café in any share or form in the past week, my whole-hearted THANK YOU.
Traffic Generation Café would NOT be what it is today without you.
Here are just some of the mentions I came across in the past week:
The Unexpected Value of Social Media Posts #SocialMedia – Randy Hilarski at randyhilarski.com
Top Pinterest Tips to Attract Your Ideal Readers – Stacy Claflin at stacyclaflin.com
Transformational Changes in Online Engagement: Part 2 – Is Facebook In Decline? – Don Purdum at unveiltheweb.com
Dare to Be Different and Reach More Prospects, Buyers, and Earn Raving Fans – Don Purdum at unveiltheweb.com
14 Newsletters Startups Should Subscribe To – Scott Gerber at business.com
Have I missed your mention? Let me know in the comments!
Want to see your name here? Mention Traffic Generation Café in your next blog post!
To an even better next week,