Don't have the time to read all the marketing news, blog posts, announcements, and other content related to SEO/social media/online marketing published each week?
I've got you covered.
I sift through trillions (well, hundreds) of online publications to stay on top of marketing news that might affect your online business.
And I package them neatly in bite-sized chunks in my Weekly Marketing Skinnies right here at Traffic Generation Café every Saturday morning.
Between you and me, I have no idea why I bother investing hours of my time weekly reading all these marketing news just to boil them down for you in my Weekly Marketing Skinnies, other than the fact that I know you don't have the time to keep up with the fast-paced marketing industry on your own, yet you DO need to be in-the-know to remain competitive.
Plus, your enthusiastic comments and social media shares show me just how much you truly appreciate being kept in the marketing loop in just a few minutes per week.
If you appreciate what I do, share this Marketing Skinny:
Tweet
13
Pin
Share
1
+1
Total Shares

14
THANK YOU.
Now grab your cup of coffee and let's catch up on the marketing news that matter to your business.
This one will be short and sweet. 😉
Search
Google is using a machine-learning artificial intelligence system called "RankBrain" to help sort through its search results. Kicker? It's the third most important signal in the Google ranking algorithm.
Social Media
Facebook's Music Stories adds song clips from Spotify and Apple Music to your News Feed.
Facebook is now serving 8 Billion video views a day. Autoplay,autoplay, autoplay!
You can now customize Facebook's notifications tab on Android and iOS.
Twitter has changed the star icon for 'Favorites' to a heart and they'll now be called 'likes.'
YouTube makes every one of its videos compatible with Google Cardboard.
Periscope has come to Apple TV.
You can now embed a live Blab on your site (but I wouldn't recommend it; too resource-intensive.)
Skype launches a share button to help you share content from the Web. And now I've seen it all…
Marketing This & That
Firefox 42 arrives with tracking protection, tab audio indicators, and background link opening on Android.
Google launches Smart Reply: done-for-you email responses for Inbox by Gmail. Haven't seen it yet, but love it already.
Podcasts are coming soon to Google Play Music – a great way to reach people who have never listened to podcasts.
Thank You
To all of you who mentioned Traffic Generation Café in any shape or form in the past week, my whole-hearted THANK YOU.
Traffic Generation Café would NOT be what it is today without you.
And I am not the only one who thinks that, by the way.
Take a look at the comment Kurt Frankenberg of Shoestring101.com (one of my favorite blogs, by the way) left on a recent Weekly Marketing Skinny: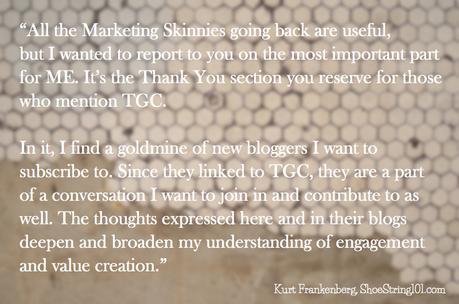 Here are just some of the mentions I came across in the past week:
Top 100 Business Blog Winners – bizhumm.com
Marketing Lessons From an Expert: Nobody Buys Paint-by-numbers Art – Martin Stellar at martinstellar.com
Tips Tuesday – Blab Explodes Visibility, Twitter Cards, Google Authorship – MaAnna Stephenson at blogaid.net
Monthly Marketing Roundup Gold – Social Media, Blogging & SEO – Robin Strohmaier at r-rwebdesign.com
Have I missed your mention? Let me know in the comments!
Want to see your name here? Mention Traffic Generation Café in your next blog post!
Subscribe to Stay Ahead
I share a lot of marketing news as well as the best posts I read throughout a week on my Google+ profile.
To read them as they come out and stay ahead of your competition, as well as become a social media star and share the best with YOUR followers (you'd be surprised how much it'll do for your credibility and online presence!), join me there:
You can also subscribe to my G+ feed through your RSS reader of choice; just add the following link like with any normal blog RSS feed: http://tgcafe.it/anahoffman-gplus-feed
To an even better next week,