Don't have the time to read all the marketing news, blog posts, announcements, and other content related to SEO/social media/online marketing published each week?
I've got you covered.
I sift through trillions (well, hundreds) of online publications to stay on top of marketing news that might affect your online business.
And I package them neatly in bite-sized chunks in my Weekly Marketing Skinnies right here at Traffic Generation Café every Saturday morning.
Between you and me, I have no idea why I bother investing hours of my time weekly reading all these marketing news just to boil them down for you in my Weekly Marketing Skinnies, other than the fact that I know you don't have the time to keep up with the fast-paced marketing industry on your own, yet you DO need to be in-the-know to remain competitive.
Plus, your enthusiastic comments and social media shares show me just how much you truly appreciate being kept in the marketing loop in just a few minutes per week.
If you appreciate what I do, share this Marketing Skinny:
Tweet
Pin
Share
+1
Total Shares

0
THANK YOU.
Now grab your cup of coffee and let's catch up on the marketing news that matter to your business.
Let's start with the news from Traffic Generation Café.
At TrafficGenerationCafe.com
How to Use [the New] Google+: Tutorial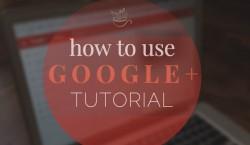 On November 17, 2015, Google-owned social media platform Google+ stepped into an unknown territory.
It went from being the 'everything-for-everybody site' to focusing on what Google+ is truly great at: passions.
The new Google+ is all about connecting around common interests (Collections and Communities) rather than people (Circles).
And it's definitely NEW. It's like using a completely different platform – for better or worse.
So if you never used Google+, this is a good time to start. If you have, but barely recognize what you see on it, you definitely need this Google+ tutorial.
Search
For the first time ever, Google has released the full and complete version of the Search Quality Rating Guidelines.
And here's a quick Skinny on what's new in Google's newest Search Quality Rating Guidelines.
Google now lets any live blog show up in its search results in a publisher carousel.
Google's new 'About me' tool lets you control personal information shown across Google's various products.
The partnership of two rivals: Facebook began allowing Google to crawl and index its mobile app.
The European Commission wants to hold site owners liable for linking to copyright infringed content – even if they had no idea it was stolen.
Social Media
Obviously, the new Google+ was the biggest social media news of the week.
Facebook Pages' engagement and reach continue to slide.
Notify, a Notifications App from Facebook, officially comes to the lock mobile screen near you.
Good for Zuck: Facebook CEO Mark Zuckerberg will take off two months for paternity leave.
Twitter introduced "ScratchReel" GIFs you can play with by dragging a finger or cursor. Yes, we definitely needed another way to be consumed by GIFs…
YouTube now lets creators crowdsource subtitles, add translated titles and descriptions.
Two major updates to Periscope: a revamped Global Map, Skip Ahead on replays, plus Zoom on Android.
LinkedIn just introduced a great publishing feature: ability to embed ALL kinds of rich media in your Pulse posts.
Pinterest has made some improvements to help you find and sort your Pins in a more intuitive way.
Buffer's new calendar view helps you schedule social posts.
Tumblr has launched a full-fledged threaded, instant messaging.
On a Side Note…
You really should get your Weekly Marketing Skinnies delivered to your inbox every (almost) Saturday morning, don't you think?
Click here to stay ahead of marketing news instead of always being left behind.
See you in your inbox next Saturday!
Marketing This & That
Google Hangouts rolls out ability to add users without a Google account to video calls by sending an invitation link.
Did you hear about Yahoo blocking ad-block users from their email? Well, now Yahoo says it's just a test.
Microsoft Windows turns 30 (you heard me right!) years old!
The other side of the coin: the Yahoo Directory is finally absolutely dead… It now redirects to to aabacosmallbusiness.com.
Google Maps search and turn-by-turn navigation are now available offline.
Love it… A cop pulled over Google self-driving car for driving too slowly.
Thank You
To all of you who mentioned Traffic Generation Café in any shape or form in the past week, my whole-hearted THANK YOU.
Traffic Generation Café would NOT be what it is today without you.
And I am not the only one who thinks that, by the way.
Take a look at the comment Kurt Frankenberg of Shoestring101.com (one of my favorite blogs, by the way) left on a recent Weekly Marketing Skinny: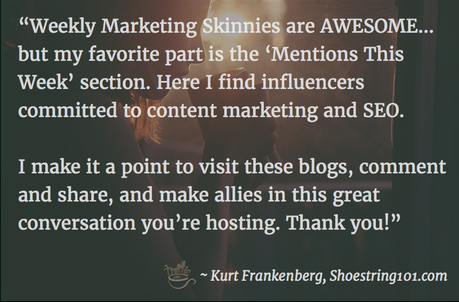 Here are just some of the mentions I came across in the past week:
13 Tactic Checklist To Drive Blog Leads And Sales – Heidi Cohen at heidicohen.com
Episode 23—Ana Hoffman-Community, Traffic Generation, and One Amazing Journey – Craig McBreen at craigmcbreen.com
You Can't Build a Business by Yourself! – Don Purdum at unveiltheweb.com
Have I missed your mention? Let me know in the comments!
Want to see your name here? Mention Traffic Generation Café in your next blog post!
Subscribe to Stay Ahead
I share a lot of marketing news as well as the best posts I read throughout a week on my Google+ profile.
To read them as they come out and stay ahead of your competition, as well as become a social media star and share the best with YOUR followers (you'd be surprised how much it'll do for your credibility and online presence!), join me there:
You can also subscribe to my G+ feed through your RSS reader of choice; just add the following link like with any normal blog RSS feed: http://tgcafe.it/anahoffman-gplus-feed
To an even better next week,