31 Flares
31 Flares
×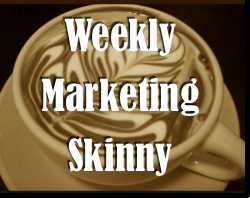 In the spotlight this week:
the future of Google SEO;
slew of Google+ changes;
Facebook fun;
Google Glass (who cares anyway; most of us won't see one any time soon!);
Rob Schneider (yes, that one) and Microsoft bashing Google Docs;
and more.
But first, an update from Traffic Generation Café.
At TrafficGenerationCafe.com

10 Ways to Explode Your Web Traffic Conversions Today
Consider this scenario:
Your blog is getting 10,000 new unique visitors per month and is converting 1% of them to email opt in (100 signups). This is a common conversion rate for unoptimized blogs.

Pretty easily, without using aggressive techniques, you should be able to boost that to 5% or higher (500 signups).
If you focused on traffic for your low converting blog instead of focusing on the conversion rate, you would need an additional 40,000 monthly new unique visitors to boost your optins to 500.
I can tell you boosting your conversion rate from 1-5% is infinitely easier and cheaper than acquiring 40,000 targeted new visitors.
Here are 10 things you can do right now to get more visitors converting.

Weekly Marketing Skinny: May 11, 2013
Catch up on the previous week's news:
Paid YouTube?
Klout Experts answers shoot to the top of Bing results;
new Twitter API restrictions that affected Tweet Adder;
The complete history of social media;
responsive web design;
and much more.
SEO
The Future of Google SEO
Google has a lot of stuff in the works that will have a direct impact on webmasters and the search engine optimization community.
In a seven-minute "Webmaster Help" video, Google's Matt Cutts ran down much of what Google's webspam team has planned for the coming months, and what it all means for webmasters.
It involves the Penguin update, the Panda update, advertorials, hacked sites, link spam, and a lot more.
Social Media
Google+ Changes
Google announced dozens of changes and upgrades to Google+, its social network, today.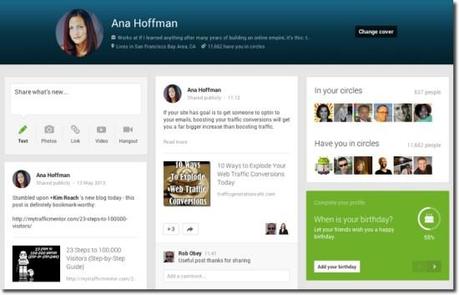 Some of the changes include:
More "Pinteresty" look
Multi-column layout
Left menu slides out, top navigation bar "sticks"
Related hashtags:  here's an interesting big:  Google will actually tag your content with hashtags for you.  You can remove the Google hashtags if you wish. Learn more about related hashtags.
Hangouts get improvements
Photos get more storage, smarter features
Here's a great post from Kimberly Castleberry on the new G+ updates:
15 Things You Need To Know About The #NewGooglePlus
Google+: Content Recommendations for your Mobile Website
Google has brought together elements of Google+ and Google Search to suggest the right content from your mobile website.
For example: Forbes visitors can now more easily discover other Forbes articles based on Search Authorship signals and other articles with lots of Google+ activity (including +1′s and shares). In all cases, recommended content is based on the specific page the visitor is viewing, to boost the relevance of recommendations. And they only appear when people tap for more, so as not to interrupt their browsing experience.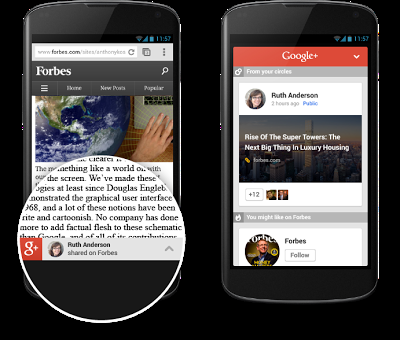 Facebook Exodus?
Guardian newspaper last month reported that Facebook was hemorrhaging members. The trouble is, the numbers were flawed.
SmallBizTrends.com delved into other numbers provided to them by Facebook and in Facebook's quarterly earnings call, to uncover the true state of small businesses using Facebook.
And they discovered 16 million small businesses have Facebook Pages, up 3 million in one quarter alone.
Buffer: Schedule Retweets
Buffer has finally released that long-awaited and requested feature: the ability to schedule retweets.
You can learn more about it on the official Buffer blog.
The Comedy Tour Of A Facebook Update [Video]
The folks from sketch comedy group Extremely Decent  have personified the frustration many users have felt upon seeing yet another update to the Facebook UI.
Marketing This and That
Microsoft Negative Campaigns
Silly me – I didn't expect to see any ads throwing mud at their opponents/competition till the next elections…
In a new series of ads, Microsoft is taking on the reliability and productivity of Google Docs.
The spots featuring Saturday Night Live alum Rob Schneider (and in one case retired baseball great Pete Rose) argue that Google Docs is too much of a "risk" and "not worth the gamble."
Congress Concerned about Google Glass Privacy
Google CEO Larry Page received a formal letter from eight-members of congress addressing Google Glass privacy issues. (more on the story)
It humors me to think that there's so much talk about Google Glass, yet at about $1,500 a pair, plus the exclusive pilot release, mean that most of us won't have to worry about seeing it in our surroundings for a long time.
Send Money through Gmail
You can now send money through Gmail with Google Wallet
Google Fiber
Google on Monday announced that Gladstone, Missouri will receive the company's Fiber Internet service.
Five days ago, Grandview, Missouri joined in a similar manner and five days before that, Shawnee joined the list of upcoming Fiber cities.
Thank You
To all of you who mentioned Traffic Generation Café in any share or form in the past week, my whole-hearted THANK YOU.
Traffic Generation Café would NOT be what it is today without you.
Here are just some of the mentions I came across in the past week:

23 Steps to 100,000 Visitors (Step-by-Step Guide) - 
Kim Roach at her new MyTrafficMentor.com 
Have I missed your mention? Let me know in the comments!
Want to see your name here? Mention Traffic Generation Café in your next blog post!
To an even better next week,