Don't have the time to read all the marketing news, blog posts, announcements, and other content related to SEO/social media/online marketing published each week?
I've got you covered.
I sift through trillions (well, hundreds) of online publications to stay on top of marketing news that might affect your online business.
And I package them neatly in bite-sized chunks in my Weekly Marketing Skinnies right here at Traffic Generation Café every Saturday morning.
Between you and me, I have no idea why I bother investing hours of my time weekly reading all these marketing news just to boil them down for you in my Weekly Marketing Skinnies, other than the fact that I know you don't have the time to keep up with the fast-paced marketing industry on your own, yet you DO need to be in-the-know to remain competitive.
Plus, your enthusiastic comments and social media shares show me just how much you truly appreciate being kept in the marketing loop in just a few minutes per week.
If you appreciate what I do, share this Marketing Skinny:
THANK YOU.
Now grab your cup of coffee and let's catch up on the marketing news that matter to your business.
SEO
Google updates Search Quality Guidelines on doorway pages AND promises a ranking algo change. Don't freak out if you have a couple of lead capture pages, but if it's more than that, you'd want to check this out.
The recently surfaced FTC report asserted that Google purposely demoted competing shopping sites.
An interesting FYI: feds release public analytics dashboard for .gov websites.
If you don't optimize your blog images, you throttle your site speed.
Social Media
Facebook video: How much of your marketing message can get through in three seconds? Plenty, according to a Facebook-commissioned study.
You can now send money to friends in Facebook Messenger.
Fair warning: if you decide you want to test Facebook's new suicide prevention/intervention tool, it may not go that well.
Facebook's Active Users percentage dropped in 4Q 2014.
On the other hand… How often do users access their favorite social networks? Facebook definitely leads the way.
YouTube update: you can now make your YouTube videos even more interactive with cards – the evolution of annotations.
Twitter is turning 9 – today.
Twitter has made it easier to report threats to law enforcement.
Rhapsody, the online music streaming service, announced that it's making 30 million songs from its catalog available for tweeting and instant listening by Twitter users.
The next Tsu is here: Sqeeqee, a "social networthing" site. Whoopty doo…
On a Side Note…
If you find tremendous value in my Weekly Marketing Skinnies, like thousands of other readers of Traffic Generation Café do, you should consider joining them and sign up to receive the weekly notifications of when a fresh Skinny is published.
Plus, you'll get complimentary access to my "Mommy, Where Does My Traffic Come From?" traffic hacks report and traffic hacks newsletter: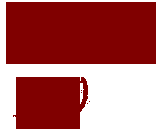 "Ana has a unique insight into running an internet business."
- Yaro Starak, Entrepreneurs-Journey.com
Needless to say, your information is completely safe with me.
See you in your inbox!
Marketing This & That
Ahhh, the irony… High-profile shushing by Google's Eric Schmidt during a gender diversity discussion.
Comtent.com curates the best examples of content that sells… literally. So if making money from your content (via aff links, etc) is your thing, I highly recommend you check out the post.
Microsoft Windows 10 is coming to 190 countries in 111 languages. It'll be a free upgrade for a year once it's released – including pirated copies!
Microsoft now has its own version of Yahoo Answers – Bing Distill.
This is the first time the Apple Watch sounds remotely attractive – with an app that turn it into a samurai grocery shopper.
On Thursday, Elon Musk, chief executive of Tesla, announced that the maker of high-end electric cars would introduce autonomous technology by this summer.
Wondering about the new Chromebook Pixel? Check this out.
Thank You
To all of you who mentioned Traffic Generation Café in any share or form in the past week, my whole-hearted THANK YOU.
Traffic Generation Café would NOT be what it is today without you.
And I am not the only one who thinks that, by the way.
Take a look at the comment Kurt Frankenberg of Shoestring101.com (one of my favorite blogs, by the way) left on a recent Weekly Marketing Skinny: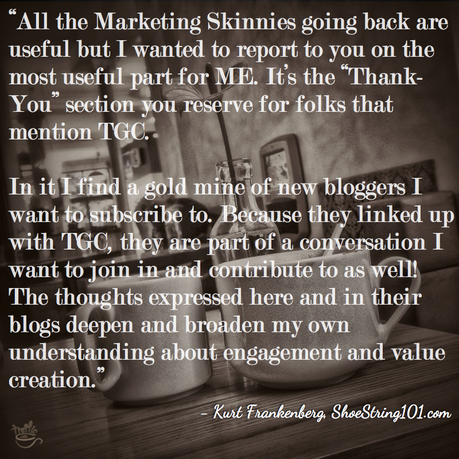 Here are just some of the mentions I came across in the past week:
How To Launch A Successful Business Blog – Heidi Cohen at heidicohen.com
Why Content Is Not The King You Think It Is – Thomas E. Hanna at blogphoto.tv
On-Topic Links For SEO, Yoast SEO Plugin Vulnerable, Youtube at 360, Speedlink 11:2015 – Francisco Perez at iblogzone.com
Have I missed your mention? Let me know in the comments!
Want to see your name here? Mention Traffic Generation Café in your next blog post!
Subscribe to Stay Ahead
I share a lot of marketing news as well as the best posts I read throughout a week on my Google+ profile.
To read them as they come out and stay ahead of your competition, as well as become a social media star and share the best with YOUR followers (you'd be surprised how much it'll do for your credibility and online presence!), join me there:
You can also subscribe to my G+ feed through your RSS reader of choice; just add the following link like with any normal blog RSS feed: http://tgcafe.it/gplus-feed
To an even better next week,