Don't have the time to read all the marketing news, blog posts, announcements, and other content related to SEO/social media/online marketing published each week?
I've got you covered.
I sift through trillions (well, hundreds) of online publications to stay on top of marketing news that might affect your online business.
And I package them neatly in bite-sized chunks in my Weekly Marketing Skinnies right here at Traffic Generation Café every Saturday morning.
If you appreciate what I do, share this Marketing Skinny:
Share
5
Tweet
20
+1
Pin
Total Shares

25
THANK YOU.
Now grab your cup of coffee and let's catch up on the marketing news that matter to your business.
Let's start with the news from Traffic Generation Café.
At TrafficGenerationCafe.com
List building was my primary focus as of late. Thus, I've published/updated two posts focused on helping you hone in your list building/email marketing strategies this week.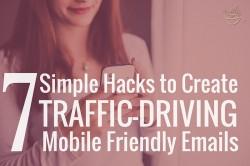 7 Simple Hacks to Create Traffic-Driving Mobile Friendly Emails
80% of smartphone users check their phones within 15 minutes of waking up.
A whooping 68% of all emails in 2015 was opened on mobile devices .
Yes, emails drive traffic.
…IF they are easy to read across multiple mobile devices.
Yet, only 61% of marketers optimize their emails for mobile devices.
I surely do hope you are NOT one of them.
Leaving so much money on the table by failing to make your emails mobile friendly?…
Especially when it's as simple as using these 7 email hacks?
Of course, not. You are too smart for that.
7 Simple Hacks to Create Traffic-Driving Mobile Friendly Emails
---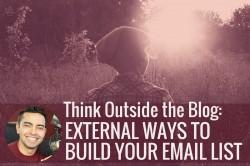 Think Outside the Blog: External Ways to Build Your Email List
Yes, this is a guest post from Pat Flynn. Yes, he's a big deal. That probably means you should listen to what he says…
In every aspect of successful blogging, there are two sides to the coin: the stuff you do on your blog, and the stuff you do outside of your blog.
When it comes to building an email list, however, there is so much focus on setting it up properly and promoting it internally, that the external factors that can drastically increase the number of subscribers are often overlooked.
If you've already set up your autoresponder, offered a lead magnet (i.e. a free eBook or course), and given your readers opportunities both in the sidebar of your blog and at the end of your blog posts to opt-in, you've done a great job so far.
You've got the internal stuff down pat, but here's what you can do to utilize stuff outside of your blog to explode your list.
---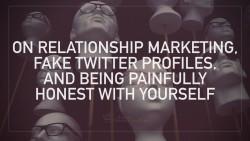 On Relationship Marketing, Fake Twitter Profiles, and Being Painfully Honest with Yourself
This post is from the week before, but if you haven't read it yet, I highly recommend you do.
I have mixed feelings about it: on the one hand, I completely understand and agree with what Aviva is talking about (I wouldn't have published the post otherwise!). And it's hard NOT to agree, don't you think?
On the other hand, I am just as busy as you are. There has to be a balance found between the necessary automation and being actually present on social media.
Read the post, let me know what you think in the comment section.
Search
Google will start ranking 'mobile-friendly' sites even higher in May. Not mobile-ready yet? Not sure what you are waiting for.
RankBrain is for understanding queries, not for crawling or ranking.
You can opt out of showing up in the featured snippets in Google Search. Here's how.
Google Image Search launched colorful filter buttons.
Google announced that about 25 percent of the top 100 non-Google sites on the internet are now on secure connections over HTTPS. TrafficGenerationCafe.com won't be one of them anytime soon (check the comments).
[surprising] It seems like Google's crawler and indexer does NOT understand the text embedded in an image.
New in Google Search Analytics: URLs with dynamic date range.
Google Analytics launched 360 Suite for Enterprise clients. (no prices announced yet)
Apple News quietly opens up to all small content publishers and bloggers.
Social Media
[lesson to learn] Over 93% of social content created by brands is 1:1 type content.
80% of Facebookers visit the service daily.
Did you know there is actually a list of Facebook's temporary profile picture frames?
Here's why Facebook acquired video-selfie startup Masquerade.
Stats: the ongoing video battle between Facebook and YouTube.
Twitter CEO Jack Dorsey says the 140-character limit 'is staying'.
Twitter begins switching its algorithmic timeline on by default.
Twitter for Windows 10 is now on mobile.
New Twitter/TweetDeck login, plus TweetDeck for Windows app will be shut down on April 15.
Where do the happiest Twitter users on Earth live? Find out!
Where do the happiest Twitter users in the U.S. live? In the Midwest and Northeast.
Instagram will start showing posts in order of 'relevance,' like Facebook's news feed.
Instagram interaction rates dropped 40% last year.
Instagram updates to display the exact dates of posts, rather than the number of weeks.
Google+ for iOS update: polls, 3D Touch support, and more.
Google+ for Android update: easier Circle Streams access, pinning posts to profiles.
On a Side Note…
If you find tremendous value in my Weekly Marketing Skinnies, like thousands of other readers of Traffic Generation Café do, you should consider joining them and sign up to receive the weekly notifications of when a fresh Skinny is published.
Plus, you'll get complimentary access to my "Mommy, Where Does My Traffic Come From?" traffic hacks report and traffic hacks newsletter: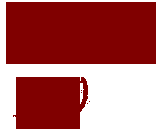 "Ana has a unique insight into running an internet business."
- Yaro Starak, Entrepreneurs-Journey.com
Needless to say, your information is completely safe with me.
See you in your inbox!
Marketing This & That
Medium updates iOS and Android apps to add topic- and theme-based collections, curated by trusted human testers.
Podcat is IMDb for tracking your favorite podcast hosts.
Google has introduced the ability to set an "expiration date" for specific user access to files in Google Drive, Docs, Sheets, and Slides.
Skype for Web gets phone calls, YouTube embeds, guest accounts, and notifications.
Microsoft has finally started rolling out Windows 10 Mobile to 18 devices running Windows Phone 8.1.  Here's what you will lose by upgrading.
What happens when you replace a text link CTA with a button CTA? 17X lift in click-throughs!
John Oliver explains the San Bernardino iPhone case so you can finally understand it.
Thank You
To all of you who mentioned Traffic Generation Café in any shape or form in the past week, my whole-hearted THANK YOU.
Traffic Generation Café would NOT be what it is today without you.
And I am not the only one who thinks that, by the way.
Take a look at the comment Kurt Frankenberg of Shoestring101.com (one of my favorite blogs, by the way) left on a recent Weekly Marketing Skinny: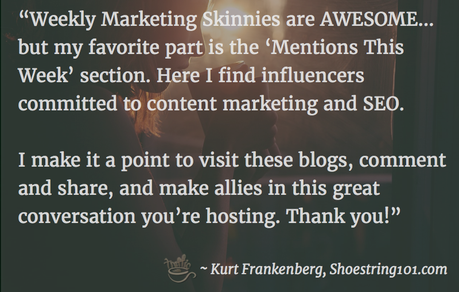 Here are just some of the mentions I came across in the past week:
Ways to Increase Website Traffic #SEOcafe – Anastasia Sidko at semrush.com
March Link Roundup: WordPress, Blogging and Social Media – Anna Bogushevskaya at digitaldrivewithanna.com
Have I missed your mention? Let me know in the comments!
Want to see your name here? Mention Traffic Generation Café in your next blog post!
Subscribe to Stay Ahead
I share a lot of marketing news as well as the best posts I read throughout a week on my Google+ profile.
To read them as they come out and stay ahead of your competition, as well as become a social media star and share the best with YOUR followers (you'd be surprised how much it'll do for your credibility and online presence!), join me there:
You can also subscribe to my G+ feed through your RSS reader of choice; just add the following link like with any normal blog RSS feed: http://tgcafe.it/anahoffman-gplus-feed
To an even better next week,