Don't have the time to read all the marketing news, blog posts, announcements, and other content related to SEO/social media/online marketing published each week?
I've got you covered.
I sift through trillions (well, hundreds) of online publications to stay on top of marketing news that might affect your online business.
And I package them neatly in bite-sized chunks in my Weekly Marketing Skinnies right here at Traffic Generation Café every Saturday morning.
Between you and me, I have no idea why I bother investing hours of my time weekly reading all these marketing news just to boil them down for you in my Weekly Marketing Skinnies, other than the fact that I know you don't have the time to keep up with the fast-paced marketing industry on your own, yet you DO need to be in-the-know to remain competitive.
Plus, your enthusiastic comments and social media shares show me just how much you truly appreciate being kept in the marketing loop in just a few minutes per week.
If you appreciate what I do, share this Marketing Skinny:
Share
6
Tweet
27
+1
6
Pin
2
Total Shares

41
THANK YOU.
Now grab your cup of coffee and let's catch up on the marketing news that matter to your business.
Let's start with the news from Traffic Generation Café.
At TrafficGenerationCafe.com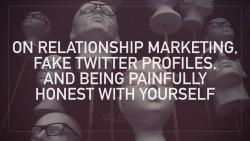 On Relationship Marketing, Fake Twitter Profiles, and Being Painfully Honest with Yourself
This was a marvelously refreshing guest post by Aviva Blumstein.
Here's a little taste (you'll HAVE to go read the post to get your emotions going!):
What kind of relationship can you form when your Twitter account automatically follows people who their algorithm says match the profile of your target audience?
And then if they follow you back, your account sends an automated direct message or welcome tweet?
And if you don't follow them back, the artificial intelligence apparently becomes insulted and unfollows you. I guess they were really interested in what you had to say, huh?
Be sure to read the rest and let Aviva and me know what you think in the comments.
Search
It's official: Google puts Toolbar PageRank to rest. For good. Para la buena. Pour de bon. Für immer.
Google says position 10 in SERPS gets more clicks than 8 and 9 combined.
Getting AMP'd: what you need to know about Accelerated Mobile Pages and Google.
Does your site follow the Google webmaster guidelines? Find out with this free tool.
Social Media
Facebook launched Your Business Story video-creation tool – free and open to all pages. You can even add a live link back to your site at the end. (thanks to +Michael Ginsburg for pointing it out in comments)
Facebook acquires video-selfie startup Masquerade (to keep up with Snapchat?)
Facebook tweaks its News Feed to feature live videos over recorded ones.
On the other hand, Facebook will soon let you disable seeing all notifications for live videos. [finally]
Facebook announced a WordPress plugin that lets publishers easily create Instant Articles.
And then… Facebook's Instant Articles open up to everyone through Steller iOS app. Look forward to trying it out. One of these days. Ahh… already tired just thinking of it…
By the way, did you know Facebook's new reactions also speak Pirate?
Instagram starts blocking 'add me' deep linking for Snapchat, Telegram – for now?
Instagram lovers, meet AppAction – "a better way to share your Instagram posts on social media".
The newly-launched Google+ Create is set to "give amazing content creators the recognition and audience they deserve."
Google+ has also received some Web Preview updates, plus some more updates. No, Google hasn't abandoned Google+.
And yippee for me: just got over 44K followers on Google+! Who would've thought…
[wow] Meerkat is ditching the Livestream – and chasing a video social network instead.
Blab has launched Tiny Player, and it's going to take embeds a step further.
Another new Blab feature – 'On Blab' – lets you find what conversations your friends are currently in.
What messaging app does your target audience use (thus you might need to be on)? Find out here.
Speaking of messaging apps, Facebook Messenger on Android gets a Material Design makeover.
Facebook Messenger now integrates with Spotify.
Snapchat CEO Evan Spiegel says Snapchat users view 8 billion videos a DAY.
WhatsApp adds support for document sharing, but only PDFs at launch.
On a Side Note…
If you find tremendous value in my Weekly Marketing Skinnies, like thousands of other readers of Traffic Generation Café do, you should consider joining them and sign up to receive the weekly notifications of when a fresh Skinny is published.
Plus, you'll get complimentary access to my "Mommy, Where Does My Traffic Come From?" traffic hacks report and traffic hacks newsletter: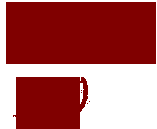 "Ana has a unique insight into running an internet business."
- Yaro Starak, Entrepreneurs-Journey.com
Needless to say, your information is completely safe with me.
See you in your inbox!
I'm speaking – your Free Access Pass
Where: The Email Success Summit, an online conference running from March 14-23.
How do I know it's going to be awesome for your business? Because I've been invited to be one of the 40+ speakers in an amazing lineup!
You can get a sneak peek of my session here:
I've got a bunch of free tickets to the event, and I'm inviting YOU! Go grab your free access pass here now.
Do you want more leads for your business but are getting tired of trying email marketing without seeing the results you really want? Have you ever felt like email holds so much potential, but you've been unable to utilize it? Then this event is definitely for you.
Get your free access pass to the Email Success Summit now
You will learn from experts that include proven entrepreneurs, authors and industry leaders who will transform the way you think about email marketing – whether you're a marketing expert or a total beginner.
After 8 days with a schedule packed with speakers who have skyrocketed their business using email, I can promise you that you will leave this event with transformational ideas and strategies ready to implement. You will be ready to use email to take your success to the next level.
Check out the lineup and get your FREE access pass to the Email Success Summit here.
I hope I'll see you on March 14-23 at the Email Success Summit.​
Marketing This & That
Do you use a WordPress plugin called Custom Content Type Manager (CCTM)? Read this NOW.
Here are best practices for bloggers reviewing free products they receive from companies to make sure to comply with with Google Webmaster Guidelines.
Google is migrating official Google blogs from blogspot.com to googleblog.com. You'll need to resubscribe to the new RSS feed.
Navigating lengthy, complex documents could be frustrating. To make that process easier, Google added an outline tool in Google Docs on the web and Android.
Apple launched an official Twitter support account @AppleSupport with tips, tricks, and customer service. The sky must be a-falling!
Medium plans to monetize within a month, considers paywalls and premium content.
Thank You
To all of you who mentioned Traffic Generation Café in any shape or form in the past week, my whole-hearted THANK YOU.
Traffic Generation Café would NOT be what it is today without you.
And I am not the only one who thinks that, by the way.
Take a look at the comment Kurt Frankenberg of Shoestring101.com (one of my favorite blogs, by the way) left on a recent Weekly Marketing Skinny: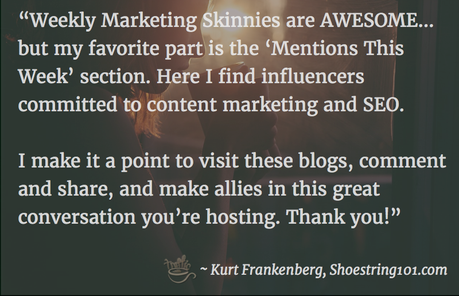 Here are just some of the mentions I came across in the past week:
20 Proven Tactics For Creating Content Search Engines Love – Will Blunt at beabetterblogger.com
5 Website Traffic Experts You Should Meet – Kristen Poborsky at kristenpoborsky.com
Blogger Outreach – How To Get On 158 Blogs In 14 Months – Tor Refsland at timemanagementchef.com
Best Marketing Stories of February 2016 – Bill Davis at internet-marketing-muscle.com
Have I missed your mention? Let me know in the comments!
Want to see your name here? Mention Traffic Generation Café in your next blog post!
Subscribe to Stay Ahead
I share a lot of marketing news as well as the best posts I read throughout a week on my Google+ profile.
To read them as they come out and stay ahead of your competition, as well as become a social media star and share the best with YOUR followers (you'd be surprised how much it'll do for your credibility and online presence!), join me there:
You can also subscribe to my G+ feed through your RSS reader of choice; just add the following link like with any normal blog RSS feed: http://tgcafe.it/anahoffman-gplus-feed
To an even better next week,