Don't have the time to read all the marketing news, blog posts, announcements, and other content related to SEO/social media/online marketing published each week?
I've got you covered.
I sift through trillions (well, hundreds) of online publications to stay on top of marketing news that might affect your online business.
Here's your marketing news skinny for this week.
SEO
Google pushed out a major local search algorithm update – dubbed 'Pigeon' by the folks at SearchEngineLand.com. The update has been pushed out to U.S. English based search results and seems to be big enough that many SEOs, webmasters and local business owners have taken noticed. The update impacts both the organic local listings within Google Map Search and Google Web Search.
Eye-opening: one of the YouMoz, the user generated content portion of Moz, contributors received a Google Manual action for a link violation and it cited an article posted on YouMoz. Does this go back to guest blogging being dead for SEO purposes?
With Matt Cutts on leave, who will be Google's punching bag? Barry Schwartz asked the question at in a Google+ webmaster hangout when Google's Michael Wyszomierski (aka Wysz) and John Mueller in the hangout.
By the way, you should share this post right now before you forget – much appreciated!
Google Search & More
Google is loved by customers. Bing? No so much? And Yahoo, the love is pretty much gone. That's according to 70,000 users who were surveyed as part of the 2014 American Customer Satisfaction Index (ACSI) E-Business Report.
Mark Traphagen says authorship photos aren't Gone…they're just more personal. I've not seen many results with author photos in them like Mark does. However, I do hope that he is spot on in his article (and he usually is); we all need a renewed hope that Google Authorship is alive, kicking, and here to stay.
Looks handy: new Google Maps "Explore" feature shows what's nearby along with reviews and travel times.
Also, Google Maps has added scroll bar to their search results interface.
Google Knowledge Graph quick answer results have recently added images to some of the answers.
More Google Knowledge Graph: when searching the word 'translate', Google now delivers a quick search option for entering text or choosing the translation language via a dynamic knowledge graph box. I tried to translate a letter to my Mom using it, and even though, not perfect, it the translation was good enough.
Even more Google Knowledge Graph: it seems Google added a 3D button to the knowledge graph results for molecules answers.
What should happen to your photos, emails and documents when you stop using your account? Google puts you in control with Inactive Account Manager (Yahoo has added a similar service to its living Japanese users – it's paid though; more about it below.)
Google announced their new form of AdWords sitelinks named dynamic sitelinks – automatically generated links that appear below your ad text.
Google Voice now offers web-based calls through Hangouts, no G+ profile needed.
Google definitely knows how to celebrate: Chromecast is a year old and Google is offering some goodies…
Google has announced the launch of the new Display Targeting report in Google Analytics. This new report allows advertisers to see how their advertising on the Google Display Network (GDN) is performing.
More ads: Google expanded more AdWords ads to the Google Maps desktop and mobile app interface. Now they may show ads within the search results for places like restaurants and hotels in a list view below the search box.
Handy way to use Google Search Calendar & Reminder Integration: did you know you can set up reminders from desktop as well as your phone? For example, just type "remind me to buy sunscreen when I get to Santa Cruz" in Google Chrome to get a reminder once you arrive.
Social Media
Facebook, while throttling organic page reach almost to oblivion, apparently still drives more page traffic than any other social network according to the new study by Shareaholic. I'll believe it when I see it…
Facebook now lets you 'save' links, music, and places for later.
It seems like there's nothing cyber crooks won't do to snatch users' financial information in order to make money as well as spread malware to victimize users – 'Real Footage of Malaysian Flight MH 17 Shot Down' Facebook spam spreads malware.
Similar to Facebook dark posts, LinkedIn launched a "dark" version of its Sponsored Updates ad product called Direct Sponsored Content. These new native-style ads don't get published to a company's LinkedIn page, so advertisers can customize and test ad messaging and creatives to targeted audiences.
Instagram Oopsie? Instagram reveals Bolt photo messaging app by mistake — or not.
On a Side Note…
If you find tremendous value in my Weekly Marketing Skinnies, like thousands of other readers of Traffic Generation Café do, you should consider joining them and sign up to receive the weekly notifications of when a fresh Skinny is published.
Plus, you'll get complimentary access to my "Mommy, Where Does My Traffic Come From?" traffic hacks report and traffic hacks newsletter: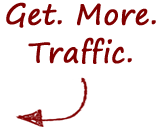 "Ana has a unique insight into running an internet business."
- Yaro Starak, Entrepreneurs-Journey.com
Needless to say, your information is completely safe with me.
See you in your inbox!
Marketing This & That
Apple fans: you can download OS X Yosemite beta right now. Apple kicked off its OS X "Apple Seed" beta program, enabling 1 million people to test-drive OS X Yosemite before it officially launches this fall.
Yahoo is getting into the death business. When a user who has signed up for the new 'Yahoo Ending' service dies, paying $1.80 per month for the honor, Yahoo terminates the account, deleting everything inside it, including accounts with Yahoo premium services, like Yahoo Box and Yahoo Wallet. Currently, available in Japan only.
This was bound to happen: apparently, european regulators don't like how Google is 'forgetting'. In many cases, when Google removes a link, ten other websites talk about it thus defeating the purpose of the "Right to Be Forgotten". And what would they like to see Google do about that?…
Microsoft CEO Satya Nadella has announced the company will merge all versions of its Windows operating system into one. This means developers will be able to make apps for one system that covers all screen sizes.
Hillary Clinton went on a whirlwind tour of Silicon Valley, giving public chats at Google, Facebook, and Twitter. As is tradition, Google chair Eric Schmidt sat town for an hour-long interview with Google's high-profile guest and peppered her with philosophical questions.
Looks interesting: Liberio is a new ebook publishing platform based on Google Drive. Liberio could be used to create anything from a eBook, magazine, school project, you name it, and from publishing to distributing the finished product.
This Chrome app helps you stop procrastinating. It replaces the new tab page of your Google Chrome with a real-time counter that displays your incrementing age, so every time you launch Chrome, or open a new tab in the browser, the extension works as a sobering reminder that the clock is ticking away. Tick, tock, tick, tock…
Microsoft has issued a warning to Skype users that certain older versions of Skype will retire in due time, which means that one ought to get on with the program and update it to the latest model as soon as possible.
Interesting: Google has registered a few "MusicKey" domain names, including YouTubeMusicKey.com. Hmm… could it be for a future music subscription business?
Bill Gates, the world's richest technologist has published a recommended summer reading list on his blog; it's a mix of policy, business, and fiction for the ambitious intellectual who wants to ponder world domination while sipping Mai Tai's in the shade.
Mark Zuckerberg has held preliminary talks with Uber CEO Travis Kalanick about potentially embedding the service into the Facebook Messenger app, according to sources who have been briefed on the discussions.
New York City has over 9,000 public pay phones and the city wants to find a new purpose for these ubiquitous devices. The plan so far, is to get a private company (possibly Google?) to step in and turn the entire fleet of pay phones into free Wi-Fi hotspots – at least free as in an "advertisement supported" kind of free.
Thank You
To all of you who mentioned Traffic Generation Café in any share or form in the past week, my whole-hearted THANK YOU.
Traffic Generation Café would NOT be what it is today without you.
Here are just some of the mentions I came across in the past week:
9 Blogs That'll Make You Better At Lead Generation – +Ron Sela at business2community.com
Do You Know What Makes YOUR Blog Unique? Learn From 17 Expert Bloggers Who Share Their Thoughts – Andrew Warner at shadeofinfo.com
Quality Rater Guide Leaked: What Businesses Need To Know – Jan Kearney at mylocalbusinessonline.co.uk
Mastering Your Business – 5 Areas You Must Perfect to Succeed [Free Webinar] – Don Purdum at unveiltheweb.com
32 Clever Lead Generation Ideas For Your Next Marketing Campaign – Josh Haynam at unbounce.com
My Ultimate Guide on How to Start a Blog and Dominate Your Niche – Ramsay Taplin at blogtyrant.com
Have I missed your mention? Let me know in the comments!
Want to see your name here? Mention Traffic Generation Café in your next blog post!
Subscribe to Stay Ahead
I share a lot of marketing news as well as the best posts I read throughout a week on my Google+ profile.
To read them as they come out and stay ahead of your competition, as well as become a social media star and share the best with YOUR followers (you'd be surprised how much it'll do for your credibility and online presence!), join me there:
You can also subscribe to my G+ feed through your RSS reader of choice; just add the following link like with any normal blog RSS feed: http://tgcafe.it/gplus-feed
To an even better next week,