Don't have the time to read all the marketing news, blog posts, announcements, and other content related to SEO/social media/online marketing published each week?
I've got you covered.
I sift through trillions (well, hundreds) of online publications to stay on top of marketing news that might affect your online business.
And I package them neatly in bite-sized chunks in my Weekly Marketing Skinnies right here at Traffic Generation Café every Saturday morning.
Between you and me, I have no idea why I bother investing hours of my time weekly reading all these marketing news just to boil them down for you in my Weekly Marketing Skinnies, other than the fact that I know you don't have the time to keep up with the fast-paced marketing industry on your own, yet you DO need to be in-the-know to remain competitive.
Plus, your enthusiastic comments and social media shares show me just how much you truly appreciate being kept in the marketing loop in just a few minutes per week.
If you appreciate what I do, share this Marketing Skinny:
THANK YOU.
Now grab your cup of coffee and let's catch up on the marketing news that matter to your business.
Search
It looks like it might be more doable to get a Google Knowledge Graph source link by writing a 'How to' Facebook post than a post on your own website.
This is what Bing's 'Super Bowl' search results page looks like (and Google's doesn't even come close…).
Accidentally deleted crucial reporting information from Google Analytics? Fear no more: Google has provided a safety net each time you delete a view, property or account from your Google Analytics account: the Trash Can.
Huge news for internationalized sites: Google may crawl your site from IP addresses outside of the US and with language settings outside of English-US.
How did Matt Cutts go from a mild-mannered PhD student to Google's spam-fighting machine? Quite an interesting trip down the memory lane…
Social Media
(New Shareaholic report) The shift from search to social: Social media continues to drive more traffic than search.
Facebook now has 1.39B monthly active users, 890M daily active users, and half a billion mobile-only users. Eye-popping…
Turns out Facebook has built a team of people to give detailed feedback about their daily interactions with the News Feed – now up to 600 throughout the U.S..
Facebook wants to show you location-based content at just the right place and time, so it launched a new feature called Place Tips.
Facebook has begun placing warnings over potentially violent video clips and photos. A step in the right direction…
A court in Turkey has ordered Facebook to block Pages deemed offensive for their depiction of the Prophet Muhammad.
On the same day Facebook announced their extremely impressive 3 billions video views per day stats, YouTube decided to join the 'who could get more views' game and started autoplaying videos at the end of the one you'd just watched.
YouTube now streams HTML5 video by default. So what? So it's time to stop using the old embed code – those videos won't work in the future.
Twitter video is officially here: now you can officially capture, edit and share videos right from your Twitter app.
Twitter launches Vine for kids app on iOS.
Twitter is apparently asking Twitter power users to stop using Instagram so much. Oh, boy…
Speaking of which: I bet you are dying to turn your Instagram photos into temporary tattoos… Wait no longer!
Pinterest announced it has started pushing Promoted Pins into the home feeds of users.
Tumblr joined the long-form content race with its 'Bloggy' update.
And so did Snapchat, believe it or not…
Imgur officially introduced a new tool that makes it easier to create animated GIFs from almost any online video. Apparently, we needed one more… They do promise the quality is much better though.
Another spotlight for Medium: Former Republican nominee Mitt Romney announced he would not be running for president in 2016 on Medium.com.
On a Side Note…
If you find tremendous value in my Weekly Marketing Skinnies, like thousands of other readers of Traffic Generation Café do, you should consider joining them and sign up to receive the weekly notifications of when a fresh Skinny is published.
Plus, you'll get complimentary access to my "Mommy, Where Does My Traffic Come From?" traffic hacks report and traffic hacks newsletter: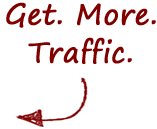 "Ana has a unique insight into running an internet business."
- Yaro Starak, Entrepreneurs-Journey.com
Needless to say, your information is completely safe with me.
See you in your inbox!
Marketing This & That
Google Fiber is coming to 18 cities in four metro areas: Atlanta, Charlotte, Nashville, and Raleigh-Durham.
Productivity hack: Google Now for Android now shows cards from third-party apps. Looks very helpful!
Amazon launched an email service: WorkMail – for workplace, not so much for personal use.
Microsoft released Word, Excel, and PowerPoint for Android tablets out of preview. And yes, they are free, and yes, just as useless as they are on iOS.
Apple announced record results in its fiscal first quarter ending December 14, pushed up by especially strong holiday sales of iPhones worldwide.
What a faux pas… Comcast is sorry that it changed one customer's name to 'Asshole'.
Thank You
To all of you who mentioned Traffic Generation Café in any share or form in the past week, my whole-hearted THANK YOU.
Traffic Generation Café would NOT be what it is today without you.
And I am not the only one who thinks that, by the way.
Take a look at the comment Kurt Frankenberg of Shoestring101.com (one of my favorite blogs, by the way) left on a recent Weekly Marketing Skinny: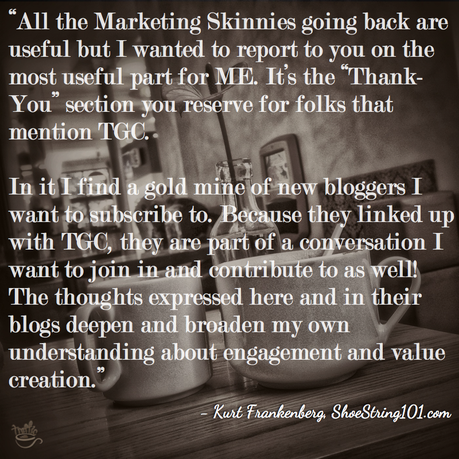 Here are just some of the mentions I came across in the past week:
80 Online Marketing Experts To Watch In 2015 (By Category) – Robbie Richards at robbierichards.com
30 Factors to Launch and Run a Successful Business Blog – Will Blunt at bloggersidekick.com
I Will Teach You How To Transform That Boring Topic Into an Interesting One – Peter Kanayo at compellingadverts.com
Mobile Friendly Test Tool, What Your Audience Wants, Blog Promotion Checklist, Speedlink 4:2015 – Francisco Perez at iblogzone.com
Have I missed your mention? Let me know in the comments!
Want to see your name here? Mention Traffic Generation Café in your next blog post!
Subscribe to Stay Ahead
I share a lot of marketing news as well as the best posts I read throughout a week on my Google+ profile.
To read them as they come out and stay ahead of your competition, as well as become a social media star and share the best with YOUR followers (you'd be surprised how much it'll do for your credibility and online presence!), join me there:
You can also subscribe to my G+ feed through your RSS reader of choice; just add the following link like with any normal blog RSS feed: http://tgcafe.it/gplus-feed
To an even better next week,