Don't have the time to read all the marketing news, blog posts, announcements, and other content related to SEO/social media/online marketing published each week?
I've got you covered.
I sift through trillions (well, hundreds) of online publications to stay on top of marketing news that might affect your online business.
And I package them neatly in bite-sized chunks in my Weekly Marketing Skinnies right here at Traffic Generation Café every Saturday morning.
Between you and me, I have no idea why I bother investing hours of my time weekly reading all these marketing news just to boil them down for you in my Weekly Marketing Skinnies, other than the fact that I know you don't have the time to keep up with the fast-paced marketing industry on your own, yet you DO need to be in-the-know to remain competitive.
Plus, your enthusiastic comments and social media shares show me just how much you truly appreciate being kept in the marketing loop in just a few minutes per week.
If you appreciate what I do, share this Marketing Skinny:
THANK YOU.
Now grab your cup of coffee and let's catch up on the marketing news that matter to your business.
Social Media
Twitter's testing 'While You Were Away' recap feature.
We now know a lot more about what Twitter's YouTube rival – native Twitter videos – will look like.
Google will be adding native support for 360-degree videos to its streaming video service.
LinkedIn has reached one million member posts and expanded the ability to publish on LinkedIn to all members in English-speaking countries. It also promised to be available in all languages it supports soon.
Should Twitter buy Yahoo? Ross Levinsohn, Yahoo interim CEO passed in favor of outsider Marissa Mayer, thinks so.
Search
The French start-up search engine Qwant, released 18 months ago, is tapping into growing anger that Google has too much control over how Europeans surf the web.
On a Side Note…
If you find tremendous value in my Weekly Marketing Skinnies, like thousands of other readers of Traffic Generation Café do, you should consider joining them and sign up to receive the weekly notifications of when a fresh Skinny is published.
Plus, you'll get complimentary access to my "Mommy, Where Does My Traffic Come From?" traffic hacks report and traffic hacks newsletter: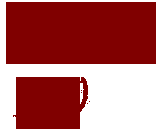 "Ana has a unique insight into running an internet business."
- Yaro Starak, Entrepreneurs-Journey.com
Needless to say, your information is completely safe with me.
See you in your inbox!
Technology
The International CES is the world's gathering place for all who thrive on the business of consumer technologies. And it certainly had everyone's attention in the past week. Here's where you can catch quick updates.
Here's something I never thought would happen: Microsoft's IE has shown a massive usage spike since November in the US market and even overtook Google Chrome.
Microsoft's new "Spartan" (code name) browser will reportedly launch with Windows 10 (not confirmed or denied by Microsoft).
Starting today, Apple is giving customers in the U.S. who want an unlocked iPhone 6 and the iPhone 6 Plus the option of getting both models without SIM cards.
Netflix announced Netflix Recommended TV program, an independent smart TV evaluation program to help consumers identify televisions built for a superior Internet TV experience.
Marketing This & That
The FTC has closed its investigation into Yelp's business practices, after 2,045 complaints were filed against the company, and decided not to take action.
The FCC says it will vote on Net Neutrality in February.
Thank You
To all of you who mentioned Traffic Generation Café in any share or form in the past week, my whole-hearted THANK YOU.
Traffic Generation Café would NOT be what it is today without you.
And I am not the only one who thinks that, by the way.
Take a look at the comment Kurt Frankenberg of Shoestring101.com (one of my favorite blogs, by the way) left on a recent Weekly Marketing Skinny: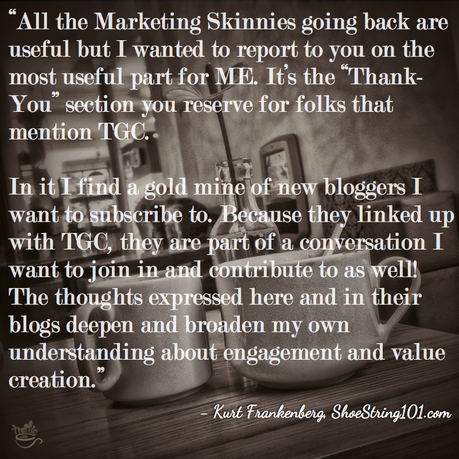 Here are just some of the mentions I came across in the past few weeks:
Top Social Media Blogs to Read in 2015 – Sarah Santacroce at simplicitysmallbiz.com
How to Get More Subscribers With SlideShare – Pam Neely at blog.getresponse.com
66 Most Important Social Media News From 2014 – #Facebook #Twitter #Pinterest #Instagram #GooglePlus – Irfan Ahmad at digitalinformationworld.com
Blogging Aimlessly – A 7 Point Plan To Get Your Blog On Target – Craig Emerson at bloggingflail.com
Free Blogger Checklist on Motivation Monday – Julie at julieinthemaking.com
19+1 Ways To Cleverly Get Natural Backlinks To Your Blog – Ankit Kumar Singla at bloggertipstricks.com
How To Find And Follow The Right People On Twitter – Thomas E. Hanna at blogphoto.tv
Driving Traffic With Content: 12 Content Marketing Leaders Reveal the Truth – Steve Faber at socialmediatoday.com
Free 2015 Beginner Blogger Planner – Julie at julieinthemaking.com
13 Supremely Actionable Lead Generation Tactics for Content Marketers – Michael Karp at copytactics.com
How To Grow Your Blog In 2015 By Making Strategic New Years Resolutions – Andrew Warner at shadeofinfo.com
27 (of the) Best Social PR Guides and Tips of 2014 – Tom Pick at webbiquity.com
Top Ten Blogging Blogs You Must Bookmark – Abhishek Bhagat at tricksvillage.com
Top Android Downloaded Apps 2014, Micro Data & Schema Ultimate Guide, SEO Expectations, Speedlink 50:2014 – Francisco Perez at iblogzone.com
Have I missed your mention? Let me know in the comments!
Want to see your name here? Mention Traffic Generation Café in your next blog post!
Subscribe to Stay Ahead
I share a lot of marketing news as well as the best posts I read throughout a week on my Google+ profile.
To read them as they come out and stay ahead of your competition, as well as become a social media star and share the best with YOUR followers (you'd be surprised how much it'll do for your credibility and online presence!), join me there:
You can also subscribe to my G+ feed through your RSS reader of choice; just add the following link like with any normal blog RSS feed: http://tgcafe.it/gplus-feed
To an even better next week,