Don't have the time to read all the marketing news, blog posts, announcements, and other content related to SEO/social media/online marketing published each week?
I've got you covered.
I sift through trillions (well, hundreds) of online publications to stay on top of marketing news that might affect your online business.
And I package them neatly in bite-sized chunks in my Weekly Marketing Skinnies right here at Traffic Generation Café every Saturday morning.
Between you and me, I have no idea why I bother investing hours of my time weekly reading all these marketing news just to boil them down for you in my Weekly Marketing Skinnies, other than the fact that I know you don't have the time to keep up with the fast-paced marketing industry on your own, yet you DO need to be in-the-know to remain competitive.
Plus, your enthusiastic comments and social media shares show me just how much you truly appreciate being kept in the marketing loop in just a few minutes per week.
If you appreciate what I do, share this Marketing Skinny:
THANK YOU.
Now grab your cup of coffee and let's catch up on the marketing news that matter to your business.
Search
Google updated their Help Center article on reconsideration requests to help those who have been hit by a Google manual action.
Good news: Google Answers now show action links directing to publishers' sites – instead of just their own help pages.
Looks like Apple's Safari default search might be up for grabs soon. Imagine what happens to Google search share if Apple was to dump them in favor of… Bing? Yahoo? their own search engine? (I was actually quite surprised to find out how BIG Safari's current mobile market share was…)
Safari is big on mobile, but Yahoo is now number two for the largest search engine in the US, overtaking Bing when looking at all searches (desktop, mobile, tablet and console).
Social Media
This is bigger than big! Google Real Time Search is coming back: Twitter will give Google access to its firehose – again.
Twitter announced Quick Promote – a faster and easier way for small and medium-sized businesses (SMBs) to get their best content in front of more people on Twitter.
Twitter now greets its new users with the Instant Timeline… and it might be better than your current one!
Oh my – more ads… Twitter starts syndicating promoted tweets to third-party apps. However, that's good news for those of you who use Twitter ads to promote your business.
Apparently, Facebook is bigger than people think they are – now that they claimed a chunk of 'dark social' links.
If you can't fight it, join it? Facebook now lets celebs share posts to Twitter from their Mentions app.
Twitter CEO Dick Costolo admits "We suck at dealing with abuse and trolls…"
Instagram has tweaked its video settings so that clips automatically replay in users' streams – this will sure to please advertisers…
Tumblr now lets you filter stories by text, photo, audio, video, and more.
On a Side Note…
If you find tremendous value in my Weekly Marketing Skinnies, like thousands of other readers of Traffic Generation Café do, you should consider joining them and sign up to receive the weekly notifications of when a fresh Skinny is published.
Plus, you'll get complimentary access to my "Mommy, Where Does My Traffic Come From?" traffic hacks report and traffic hacks newsletter: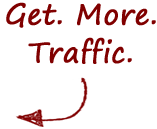 "Ana has a unique insight into running an internet business."
- Yaro Starak, Entrepreneurs-Journey.com
Needless to say, your information is completely safe with me.
See you in your inbox!
Marketing This & That
In a very surprising move, FCC Chairman Tom Wheeler comes out in support of the Internet as a utility (aka in support of the Net Neutrality).
Thank You
To all of you who mentioned Traffic Generation Café in any share or form in the past week, my whole-hearted THANK YOU.
Traffic Generation Café would NOT be what it is today without you.
And I am not the only one who thinks that, by the way.
Take a look at the comment Kurt Frankenberg of Shoestring101.com (one of my favorite blogs, by the way) left on a recent Weekly Marketing Skinny: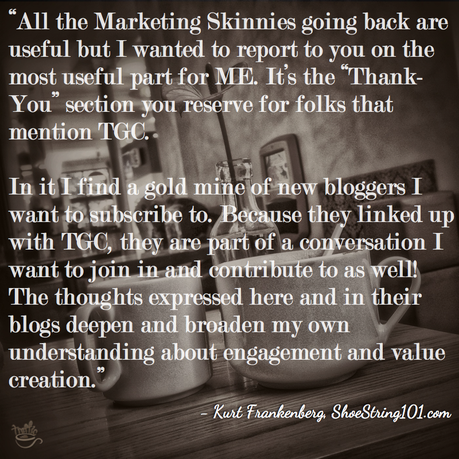 Here are just some of the mentions I came across in the past week:
5 Steps To Becoming An Overwhelmingly Successful Blogger – Thomas E. Hanna at blogphoto.tv
What Keyword Research Tools Do Professional Bloggers' Recommend in 2015? – Matthew Kaboomis Loomis at buildyourownblog.net
Blogging strategies and SEO tips I wish mom told me – Swadhin Agrawal at digitalgyd.com
41 ways to rekindle your blogging mojo – Swadhin Agrawal at digitalgyd.com
5 Practical tips to progress from depletion to scrumptious blogging success – Jane Sheeba at besthostinganddesign.com
Introducing WorthBlogger.com #Winning Posts Series – Jackson Nwachukwu at worthblogger.com
Get Backlinks Proactively, SEO Strategy Audit, Social Traffic Referrals, Speedlink 5:2015 – Francisco Perez at iblogzone.com
Have I missed your mention? Let me know in the comments!
Want to see your name here? Mention Traffic Generation Café in your next blog post!
Subscribe to Stay Ahead
I share a lot of marketing news as well as the best posts I read throughout a week on my Google+ profile.
To read them as they come out and stay ahead of your competition, as well as become a social media star and share the best with YOUR followers (you'd be surprised how much it'll do for your credibility and online presence!), join me there:
You can also subscribe to my G+ feed through your RSS reader of choice; just add the following link like with any normal blog RSS feed: http://tgcafe.it/gplus-feed
To an even better next week,