Don't have the time to read all the marketing news, blog posts, announcements, and other content related to SEO/social media/online marketing published each week?
I've got you covered.
I sift through trillions (well, hundreds) of online publications to stay on top of marketing news that might affect your online business.
And I package them neatly in bite-sized chunks in my Weekly Marketing Skinnies right here at Traffic Generation Café every Saturday morning.
Between you and me, I have no idea why I bother investing hours of my time weekly reading all these marketing news just to boil them down for you in my Weekly Marketing Skinnies, other than the fact that I know you don't have the time to keep up with the fast-paced marketing industry on your own, yet you DO need to be in-the-know to remain competitive.
Plus, your enthusiastic comments and social media shares show me just how much you truly appreciate being kept in the marketing loop in just a few minutes per week.
If you appreciate what I do, share this Marketing Skinny:
THANK YOU.
Between being sick last week (that time a year!) and not a whole lot of marketing news to report, I decided to skip last week's Weekly Marketing Skinny edition, so this week's Skinny is a bit fatter since we are doubling up on the news updates.
So grab your cup of coffee and let's catch up on the marketing news that matter to your business.
SEO
Can you believe it?… Google Panda is 4 years old. Panda 1.0 was released on February 24, 2011.
Great advice from Google's John Mueller for most webmasters: "Link building will probably going to lead to more problems for your site versus actually help your site."
Your 'become mobile-friendly' deadline: Google will be expanding the use of mobile-friendliness as a ranking signal starting April 21.
This is very relatable for most webmasters… When Google algorithm fails and there isn't much Google says/does about it.
Social Media
I am all for productivity, yet I was surprise to learn just how many social media shortcuts I had no idea existed. Here's a great and very helpful infographic to make you a lot more efficient on various social media platforms.
Could GooglePlus become GoogleMinus – with Photos and Hangouts separated into their own products?
Google+ update: Google Plus for mobile gets a redesign and a speed boost.
Just found this awesome text editor for Google Plus that allows you to add formatting such as Bold, Italic, Strikethrough & Symbols to your text, and then convert it for sharing on Google Plus.
In a major shift, Facebook photo posts are now the worst performing of all posts by Facebook brand pages. This was mind-blowing.
This is very interesting… Facebook's new Influencer Marketing patent: Facebook just took influencer marketing to a whole new level.
Facebook announced Multi-Product ad – show more images in a single ad. Pinterest is working on something similar.
Facebook introduced new features to report and support users who seem suicidal.
Even more Facebook: it now allows users to add their own gender identities.
Twitter has released an official Twitter plugin for WordPress that will allow WP sites to easily embed Twitter content and expand their reach on the social platform.
YouTube goes to show: more website traffic is far not enough… YouTube made $4 billion dollars last year and exactly $0 in profit.
And that's probably why YouTube video creators can no longer monetize their videos by prominently promoting their own sponsors due to YouTube policy change.
And yet YouTube isn't worried about competition from Facebook and Twitter? Riiiiiight…
Family-friendly YouTube is here: YouTube Kids launched on Android and iOS.
WhatsApp's web client now works on Firefox and Opera too.
Blogging
Do you like to blog from your iPhone? Good news: WordPress introduced a new HTML-free WYSIWYG visual editor for iOS.
In a surprising move, Disqus relaunched its homepage as a full-fledged social network.
Even Google Webmaster Tools now urges WordPress users to update their WP Plugins. Everyone wins from safer Internet!
Google quickly reversed their new policy to ban sexually explicit content on Blogger. Back to blogging in the nude…
Medium update: Medium made itself more accessible to casual bloggers who just want to jot down shorter thoughts.
On a Side Note…
If you find tremendous value in my Weekly Marketing Skinnies, like thousands of other readers of Traffic Generation Café do, you should consider joining them and sign up to receive the weekly notifications of when a fresh Skinny is published.
Plus, you'll get complimentary access to my "Mommy, Where Does My Traffic Come From?" traffic hacks report and traffic hacks newsletter: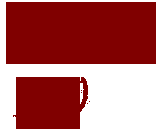 "Ana has a unique insight into running an internet business."
- Yaro Starak, Entrepreneurs-Journey.com
Needless to say, your information is completely safe with me.
See you in your inbox!
Marketing This & That
HUGE news of the week: the FCC passed Net Neutrality rules – it approved classification of the Internet as a public utility.
Don't know much about / don't understand Net Neutrality? Trust me, you are not alone. Here's what you need to know – as told by one-of-a-knd John Oliver.
Verizon's response to the FCC's Net Neutrality ruling was hilarious…
This was surprising… Meet the most vulnerable operating system of 2014: Mac OS X. Shouldn't it be Windows?… Not in 2014.
Google is working on a Chrome reading mode; here's how to try it out.
Good news: Google's Inbox now works on Firefox, Safari, iPads, and Android tablets.
Can you believe it? Photoshop is 25 years old. Here's what Photoshop looked like in the early '90s.
Did you know you can use emojis in a web address? Coca-Cola knew and has created a slew of Web addresses using emojis as domain names. And they are giving them away…
Microsoft Outlook.com drops Facebook Messenger and Google Talk and leaves you with no option but to use Microsoft's Skype for chat.
Thank You
To all of you who mentioned Traffic Generation Café in any share or form in the past week, my whole-hearted THANK YOU.
Traffic Generation Café would NOT be what it is today without you.
And I am not the only one who thinks that, by the way.
Take a look at the comment Kurt Frankenberg of Shoestring101.com (one of my favorite blogs, by the way) left on a recent Weekly Marketing Skinny: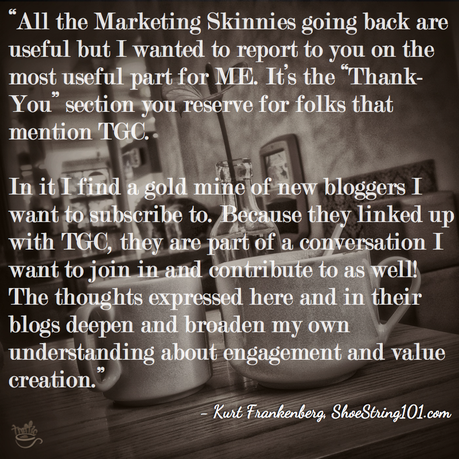 Here are just some of the mentions I came across in the past couple of weeks:
30 Experts Reveal Their #1 Tip for Blogging Growth – Matt Banner at onblastblog.com
Top Five Posts on SS101 to Start or Grow Your Business – Kurt Frankenberg at shoestring101.com
15 Ways to Get Backlinks That Won't Kill Your Search Traffic – Will Blunt at bloggersidekick.com
How to Design Stunning Podcast Cover Art That Stands Out in iTunes – Darren DeMatas at buzzsprout.com
The Fifty Shades Of Grey Guide To Wooing Readers and Dominating The Blogging World – Andrew Warner at shadeofinfo.com
If You Want Blog Readers and Sales, Give Blog Readers and Sales – Don Purdum at unveiltheweb.com
How You Can Improve Your WordPress Design Without Breaking The Bank – David Schneider at wpmayor.com
7 Traffic Generation Hacks So That You Never Worry About Traffic Again – Chris Brindamour at chrisandlori.net
Tips Tuesday – WooCommerce and Pinterest Changes, Site Build Stories – MaAnna Stephenson at blogaid.net
Advertising With SEO Value, Pinterest Bans Links, Desktop Flipboard, Speedlink 7:2015 – Francisco Perez at iblogzone.com
Have I missed your mention? Let me know in the comments!
Want to see your name here? Mention Traffic Generation Café in your next blog post!
Subscribe to Stay Ahead
I share a lot of marketing news as well as the best posts I read throughout a week on my Google+ profile.
To read them as they come out and stay ahead of your competition, as well as become a social media star and share the best with YOUR followers (you'd be surprised how much it'll do for your credibility and online presence!), join me there:
You can also subscribe to my G+ feed through your RSS reader of choice; just add the following link like with any normal blog RSS feed: http://tgcafe.it/gplus-feed
To an even better next week,