Don't have the time to read all the marketing news, blog posts, announcements, and other content related to SEO/social media/online marketing published each week?
I've got you covered.
I sift through trillions (well, hundreds) of online publications to stay on top of marketing news that might affect your online business.
And I package them neatly in bite-sized chunks in my Weekly Marketing Skinnies right here at Traffic Generation Café every Saturday morning.
If you appreciate the value you get out of these Weekly Marketing Skinnies, please share it:
Share
1
Tweet
13
+1
Pin
1
Total Shares

15
THANK YOU.
It's been a couple of weeks since I published the last Skinny (there just wasn't much news per week), so this will be a fat one.
Now grab your cup of coffee and let's catch up on the marketing news that matter to your business.
Search
AMP results are live in Google search results.
Google desktop search results change: no sidebar ads, 4 ads at the top. So what?
Social Media
Facebook Reactions go live globally.
Facebook live video-streaming comes to Android in the U.S., opens on iOS to more than 30 countries.
More Facebook: Facebook users can now invite non-Facebook users to events via email addresses or Messenger.
Facebook launched a birthday video cam feature, allowing users to record 15-second birthday videos for their friends.
Even more Facebook: Facebook launched redesigned video metrics interface in Page Insights.
Facebook's Instant Articles will be rolled out to all publishers starting April 12.
All Facebook Pages can now reply to comments with private messages.
Before posting your next Facebook update, avoid the most annoying Facebook posts in your State.
Twitter's new (partially) algorithmic timeline is here.
Twitter rolls out native GIF support.
Twitter now lets you record and share videos in Direct Messages.
YouTube now lets you blur out anything in a video.
No, Google hasn't abandoned Google+. In fact, far from abandoning it, they are in the process of totally repurposing the network, and putting some very interesting resources into it. (useful G+ resource: How to Use [the New] Google+: Tutorial)
Pinterest has launched rich data within movie and recipe pins.
Meet Being for iPhone – an app that lets you experience Instagram through someone else's eyes.
Instagram is launching video view counts.
Instagram now supports multiple accounts for some iOS and Android users.
Which photo filter is the most popular on Instagram? Find out here.
New Blab feature: this yellow button lets you share last 30s of a blab.
Over the next few weeks Twitch will be rolling out Chat Replay.
Meet Air on iOS, the 'world's first' social media keyboard.
SumAll, the social media analytics dashboard, is ditching free accounts.
On a Side Note…
If you find tremendous value in my Weekly Marketing Skinnies, like thousands of other readers of Traffic Generation Café do, you should consider joining them and sign up to receive the weekly notifications of when a fresh Skinny is published.
Plus, you'll get complimentary access to my "Mommy, Where Does My Traffic Come From?" traffic hacks report and traffic hacks newsletter: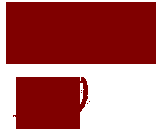 "Ana has a unique insight into running an internet business."
- Yaro Starak, Entrepreneurs-Journey.com
Needless to say, your information is completely safe with me.
See you in your inbox!
Marketing This & That
Windows 10 now shows ads on LockScreen – here's how to turn it OFF.
Google Docs now lets you edit and format text using your voice.
Google launches rich text formatting and instant RSVP in Gmail on Android.
Gmailify from Google connects Yahoo! Mail or Hotmail/Outlook email accounts to the Gmail interface.
Skype starts to roll out free group video calling on iOS and Android.
Google is shutting down Picasa on May 1, 2016.
Free Book "How to Write Copy That Sells"
Ray Edwards is giving away free copies of his new book, "How to Write Copy That Sells."
This is a book full of copy, fill in the blanks templates, and checklists.
And you have Ray's full permission to use it all as your own. To sell more of your stuff.
Click here for the details.
Ray has written copy for Tony Robbins, Jack Canfield, Mark Victor Hansen, Jeff Walker, and many more. He has helped sell an estimated $200 million (or more).
And now he has put his copywriting system into a book.
With checklists.
And templates.
For a limited time, Ray will send you a copy of the book for free – you just pay the shipping & handling ($7).
Click this link to claim your free copy before they're all gone.
Thank You
To all of you who mentioned Traffic Generation Café in any shape or form in the past week, my whole-hearted THANK YOU.
Traffic Generation Café would NOT be what it is today without you.
And I am not the only one who thinks that, by the way.
Take a look at the comment Kurt Frankenberg of Shoestring101.com (one of my favorite blogs, by the way) left on a recent Weekly Marketing Skinny: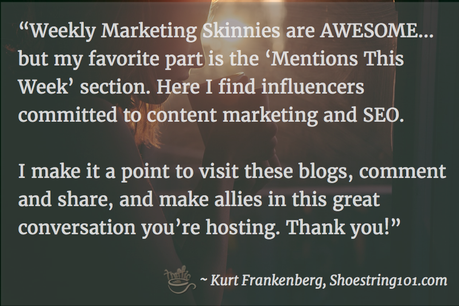 Here are just some of the mentions I came across in the past couple of weeks:
How To Sell A Business For Seven Figures – Jan 2016 Update – Tom Hunt at virtualvalley.io
The Ultimate List Of Resources For The Serious Blogger Or Website Owner – Steven J Wilson at thevisuallife.net
5 Ways to Sharpen Your Headline Writing Skills – Ileane Smith at ileanesmith.com
How to Get the Best Out of Influencer Marketing [Infographic] – Cent Muruganandam at yourescapefrom9to5.com
Why You Need a Social Media Megaphone – Sue-Ann Bubacz at kathrynaragon.com
When Blogging Actively For an Entire Year Never Brings You Any Money with Ana Hoffman – James Richman at businessmistakes.com
Savvy Content Promotion Strategies & Techniques Used by the Pros – Laura Crest at seocopywriting.com
10 Smart Ways For Generating High Quality Leads For Your Business – Yatin Khulbe at huffingtonpost.com
110 Top Bloggers And Entrepreneurs Share Their Most Successful Social Media Action – Minuca Elena at successfulblogging.com
The Definitive Guide to E-Commerce Content Marketing – Tony Messer at pickaweb.co.uk
95 (!!!) Women Who Influenced the SEO Industry – Codrut Turcanu at serped.com
Business Productivity Hack #1 – Instantly Save 28 Hours Per Month – Tor Refsland at timemanagementchef.com
25 Influencers Share Their Marketing Predictions for 2016 – Dave Schneider at ninjaoutreach.com
1 Simple Hack to Blogger Outreach, or How to Find Friends – Michael Pozdnev at iwannabeablogger.com
27 Awesome Bloggers & Tools That Changed My Life and Business – Johnson Emmanuel at koriefusion.com
13 Google Chrome Extensions That Make You More Efficient – David Hartshorne at byteofdata.com
Have I missed your mention? Let me know in the comments!
Want to see your name here? Mention Traffic Generation Café in your next blog post!
Subscribe to Stay Ahead
I share a lot of marketing news as well as the best posts I read throughout a week on my Google+ profile.
To read them as they come out and stay ahead of your competition, as well as become a social media star and share the best with YOUR followers (you'd be surprised how much it'll do for your credibility and online presence!), join me there:
You can also subscribe to my G+ feed through your RSS reader of choice; just add the following link like with any normal blog RSS feed: http://tgcafe.it/anahoffman-gplus-feed
To an even better next week,