Don't have the time to read all the marketing news, blog posts, announcements, and other content related to SEO/social media/online marketing published each week?
I've got you covered.
I sift through trillions (well, hundreds) of online publications to stay on top of marketing news that might affect your online business.
And I package them neatly in bite-sized chunks in my Weekly Marketing Skinnies right here at Traffic Generation Café every Saturday morning.
Between you and me, I have no idea why I bother investing hours of my time weekly reading all these marketing news just to boil them down for you in my Weekly Marketing Skinnies, other than the fact that I know you don't have the time to keep up with the fast-paced marketing industry on your own, yet you DO need to be in-the-know to remain competitive.
Plus, your enthusiastic comments and social media shares show me just how much you truly appreciate being kept in the marketing loop in just a few minutes per week.
If you appreciate what I do, share this Marketing Skinny:
THANK YOU.
Now grab your cup of coffee and let's catch up on the marketing news that matter to your business.
SEO
Google: The Penguin algorithm will update continuously.
What exactly does the Bing ranking algorithm consider Content Quality? Simple, but interesting insights.
Social Media
YouTube, Twitter, and Facebook have released their year in review – the most popular trends and top content from 2014. Here's the Skinny on what each network saw in 2014.
Google+ post reshares will now look better (and stand out more) in your stream – with a box around them, plus a link to comments on the original post.
Google adds more gender options on Google+.
Google Hangouts for Android gets updates: 'last seen' timestamps, smart location sharing, and video filters.
Highlights from Q&A with Mark Zuckerberg, the professional T-shirt model: he dislikes the idea of 'Dislike' button and likes the idea of real names.
Facebook announced a new option for Pages — the ability to add call-to-action buttons to the top of Pages.
Now that Yahoo powers Firefox (and Microsoft's Bing powers Yahoo), Facebook decided to go against the grain: dump Bing search on Facebook.
Why? Because Facebook launched its own Facebook Search.
And here's what Conan O'Brien thinks of the new Facebook Search…
Facebook launched Trending Topics on mobile to make it easier for people on the go to explore stories from different sources.
Instagram hit 300 million users. Huge! Although it's unclear if they are active users (see comments on the post).
YouTube for Android is updated with Material Design and gets search filtering.
You can now uncross those uploading fingers: YouTube gives creators more info about audio added to their videos.
Time to work on your Slideshare presentation skills: SlideShare launches free analytics.
And I don't mean to brag (well, maybe just a bit), but do you know of any other platform where you can see numbers like these from a handful of presentations?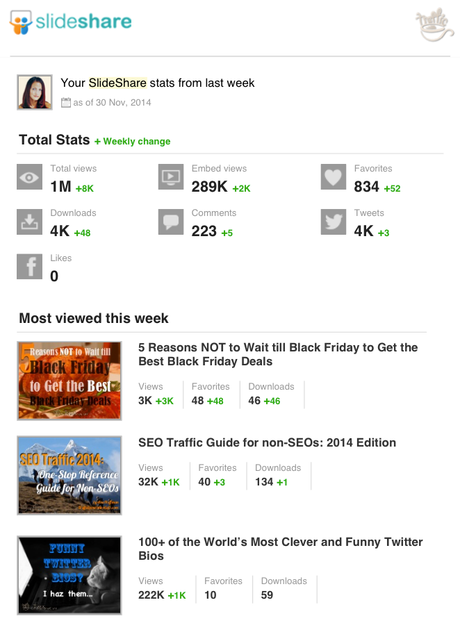 Learn more about using Slideshare to drive traffic:
Slideshare Traffic Case Study: From 0 to 243,000 Views in 30 Days
On a Side Note…
If you find tremendous value in my Weekly Marketing Skinnies, like thousands of other readers of Traffic Generation Café do, you should consider joining them and sign up to receive the weekly notifications of when a fresh Skinny is published.
Plus, you'll get complimentary access to my "Mommy, Where Does My Traffic Come From?" traffic hacks report and traffic hacks newsletter: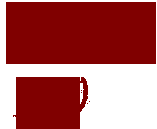 "Ana has a unique insight into running an internet business."
- Yaro Starak, Entrepreneurs-Journey.com
Needless to say, your information is completely safe with me.
See you in your inbox!
WordPress
If you use nRelate service to provide related posts at the end of your blog, you'll want to consider switching soon. They will stop delivering them on Dec. 31.
Marketing This & That
Here are a few tips from Google My Business team local businesses might benefit from this holiday season.
50 Best Places to Work in 2015: see how Google, Facebook, LinkedIn, and Twitter did. (Twitter did a lot worse than you'd think…)
Amazon has announced a new "Make an Offer" feature that lets consumers negotiate prices with merchants in certain categories.
Google to shut down Google News in Spain as a result of a new Spanish law.
Bing has introduced Insights for Office, a new way to search for the information you need while in Office Word Online – looks like a very productive way to look up some facts while working on your project.
Google Maps now shows weather and location quick facts.
Starting January 31, 2015 Google will no longer support official compatibility of Google Analytics with Microsoft Internet Explorer 9 (IE9). Time to update!
Google has released the rebuilt Google app for iOS. Looks pretty slick!
Would you like to have your photos featured on products like Chromecast or Google Fiber? Find out how.
An original fully-operational 1976 Apple-1 computer has just sold on auction at Christie's for $365,000. Want to see what it looks like?
Thank You
To all of you who mentioned Traffic Generation Café in any share or form in the past week, my whole-hearted THANK YOU.
Traffic Generation Café would NOT be what it is today without you.
And I am not the only one who thinks that, by the way.
Take a look at the comment Kurt Frankenberg of Shoestring101.com (one of my favorite blogs, by the way) left on a recent Weekly Marketing Skinny: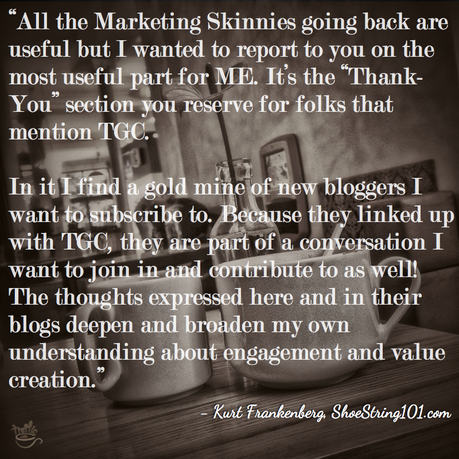 Here are just some of the mentions I came across in the past week:
Top 27 Blogs Every Email Marketer Should Follow – Mitro Patrikainen at emailab.com
Expert Blog Tips: 3 Renowned Bloggers Offer Unforgettable Advice – Greg Narayan at dearblogger.org
Top SEO Experts for Every Marketing Level – Jesse Aaron at jimdo.com
Have I missed your mention? Let me know in the comments!
Want to see your name here? Mention Traffic Generation Café in your next blog post!
Subscribe to Stay Ahead
I share a lot of marketing news as well as the best posts I read throughout a week on my Google+ profile.
To read them as they come out and stay ahead of your competition, as well as become a social media star and share the best with YOUR followers (you'd be surprised how much it'll do for your credibility and online presence!), join me there:
You can also subscribe to my G+ feed through your RSS reader of choice; just add the following link like with any normal blog RSS feed: http://tgcafe.it/gplus-feed
To an even better next week,