Don't have the time to read all the marketing news, blog posts, announcements, and other content related to SEO/social media/online marketing published each week?
I've got you covered.
I sift through trillions (well, hundreds) of online publications to stay on top of marketing news that might affect your online business.
Let's start with the news from Traffic Generation Café.
At TrafficGenerationCafe.com
I finally, finally, finally published the post I've been working on for the past couple of weeks!
Moreover, many of the examples I used in the post have actually been collected by me over the past two years as I watched other bloggers and business owners interact with me and others in the internet marketing space.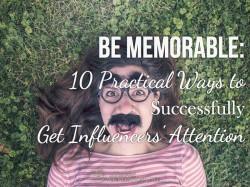 The result:
Be Memorable: 10 Practical Ways to Successfully Get Influencers' Attention
And here's a little taste:
Do you ever feel like the world is a movie with you as the main character and everyone else playing supporting roles (your family, friends) or extras (the rest of the world)?
Sure you do – you are human. You might've never thought about it in those terms, but the point is clear: each and every one of us is the axis of the universe as far as we are concerned.
So let's take that thought and apply it to the topic of today's post: how to be memorable.
By the way, in the past two days, the post raked over 700 shares plus a couple of hundred of comments – sounds like something you should definitely read.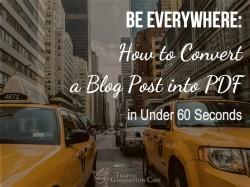 Be Everywhere: How to Convert a Blog Post into PDF in Under 60 Seconds
In this post, I shared a quick traffic hack I learned not too long ago that will increase your traffic, build links, AND create an appearance of "being everywhere".
All using what you already have: your existing blog content.
Google Search
A great way to search Google+ posts or other content from bloggers in your circles: Google Search Tool To Filter Private Content. Personally, I find it cumbersome to search for G+ posts on a specific topic – too much information and scrolling. Here's a much better solution.
Product ratings and reviews are officially rolling out on Google Product Listing Ads. Available in the U.S. only for now, consumers will begin to see the 5-star rating system appear on PLAs on Google search and Google Shopping.
Google tests a timeline view for Knowledge Graph cards that displays a chronological list of important events pertaining to the search query.
Google's quick answer results have recently added images to some of the answers.
Google Analytics
New Google Analytics feature: Bot & Spider Filtering. Selecting this option will exclude all hits that come from bots and spiders on the IAB known bots and spiders list.
Local Business
Good news: your Google My Business listings, formerly known as Google Place Listing or Google Local Business listing, can now be automatically verified if your website URL is already part of your verified sites in Google Webmaster Tools.
Also, a quick and useful local SEO tip of the day.
By the way, you should share this post right now before you forget – much appreciated!
Social Media
On Twitter, one of the biggest problems with any single hashtag can be figuring out what it actually means. Twitter hopes to clear such confusion up with one of its current experiments: hashtags that explain themselves.
More Twitter news: you can now embed tweets within tweets.
Finally. Facebook has done something right. It has introduced the Internet.org app to make the internet accessible to more people around the world by providing a set of free basic services.
Makes sense: Google may be subtracting its photo service from Google+ and offering as a standalone product. This could be more of a push at the Instagram/Snapchat/Vine user.
LinkedIn Update: a whole new look has arrived on LinkedIn mobile. It adds flair to profiles while bringing pertinent information above the fold for quick consumption.
The big reveal: Instagram officially launched Bolt outside the U.S. today after a false start last week. The app, which launched both for iOS and Android, is available in Singapore, South Africa, and New Zealand only those markets will test the product before it launches in the U.S. and the U.K.
On a Side Note…
If you find tremendous value in my Weekly Marketing Skinnies, like thousands of other readers of Traffic Generation Café do, you should consider joining them and sign up to receive the weekly notifications of when a fresh Skinny is published.
Plus, you'll get complimentary access to my "Mommy, Where Does My Traffic Come From?" traffic hacks report and traffic hacks newsletter: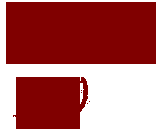 "Ana has a unique insight into running an internet business."
- Yaro Starak, Entrepreneurs-Journey.com
Needless to say, your information is completely safe with me.
See you in your inbox!
Marketing This & That
Ever heard of Inbound.org? Neither had I until +Mark Traphagen was kind enough to mention it to me the other day. The goal of Inbound.org is to enable great content and people from the world of inbound marketing to get noticed. Definitely recommend checking it out.
Bing announced they are launching a new easier to use interface for Bing Ads, as well as releasing new features.
PayPal announced that it's rebranding Bill Me Later, its credit arm that was acquired in 2008, to the much more obvious PayPal Credit as part of an overall effort to refocus its credit business.
How to get a tax break on Apple products: Apple is reminding consumers that they can receive a tax break when purchasing certain Apple products during a tax-free holiday this summer.
Yelp announced that iPhone users can now upload three- to twelve-second videos of local businesses via their Yelp mobile app.
Thank You
To all of you who mentioned Traffic Generation Café in any share or form in the past week, my whole-hearted THANK YOU.
Traffic Generation Café would NOT be what it is today without you.
Here are just some of the mentions I came across in the past week:
How To Repel Visitors Like Magnets By Making These 5 Dumb Blogging Mistakes – Andrew Warner at shadeofinfo.com
Have I missed your mention? Let me know in the comments!
Want to see your name here? Mention Traffic Generation Café in your next blog post!
Subscribe to Stay Ahead
I share a lot of marketing news as well as the best posts I read throughout a week on my Google+ profile.
To read them as they come out and stay ahead of your competition, as well as become a social media star and share the best with YOUR followers (you'd be surprised how much it'll do for your credibility and online presence!), join me there:
You can also subscribe to my G+ feed through your RSS reader of choice; just add the following link like with any normal blog RSS feed: http://tgcafe.it/gplus-feed
To an even better next week,