D
on't have the time to read all the marketing news, blog posts, announcements, and other content related to SEO/social media/online marketing published each week?
I've got you covered.
I sift through trillions (well, hundreds) of online publications to stay on top of marketing news that might affect your online business.
Fair warning: Google has been breathing hot and heavy this week, so brew another pot of coffee…
In the marketing spotlight this week:
Traffic Generation Café has a new look;
Google introduced in-depth articles (in-depth review on the topic);
Matt Cutts on unnatural links and Link Disavow tool (video);
View Manual Webspam Actions In Webmaster Tools;
2013 local SEO ranking factors;
does Google Authorship affect your rankings?
Facebook algo updates plus engagement case study;
How to cure browser tab-iarrhea;
and more.
Let's start with the news from Traffic Generation Café.
At TrafficGenerationCafe.com
First things first: yes, Traffic Generation Café is now officially running on Genesis Framework on a new responsive theme designed exclusively for TGC by the very talented Ian Belanger.
I highly recommend you give Ian a shout for your next design project, you won't regret it.

We are still ironing out some kinks here and there (we just did the migration yesterday, so not everything looks as good as it can/should).
What do you think about the new design? Leave me a comment below or, better yet, use the Google+ comment system below to let me and others know your thoughts.
Speaking of web design, seems like I wasn't the only one staying on top of it this week; there are many more I noticed across the web just this week, like
Leo Dimilo at DrunkOnLife.com
If you are thinking of making a few tweaks to your own site, check out how they did it for ideas.
Now on to the blog posts published at Traffic Generation Café in the past week.
Promote Your Blog: 10 Steps to Ultimate Blog Promotion [My Personal Cheat Sheet]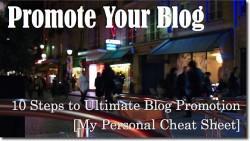 This post was epic.
I started writing it a year ago, but dropped it because it was so much work. However, it needed to be said and this time around it was even more work since so many things have changed in a year, but it's done now.
Take a look at my personal cheat sheet I use to promote every single one of my blog posts, from every day posts with shorter shelf life (like these Marketing Skinnies) or my evergreen content.
Learn how to promote your blog now.
Google In-Depth Articles: How to Rank for Them In Google Search Results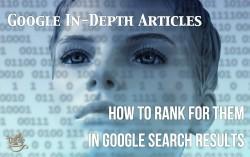 In-depth articles on Google were all the rage since the feature was announced on Tuesday.
What is it? Could it potentially benefit your rankings? Does it make any difference to smaller blogs?
I've done my research and you can find all most of the answers you need, including doing a schema markup for your site.
There's always a quick video on how to use Google Data Highlighter to do most of the markup for you.
Learn more about Google in-depth articles.
SEO
How To Rank Your Articles In In-Depth Articles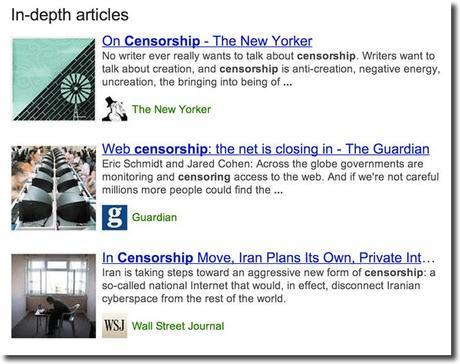 This is what in-depth articles on Google look like. As I mentioned above, you can learn more about Google in-depth articles here.
Matt Cutts on Disavow Tool and Negative SEO
Question:
Recently I found two porn websites linking to my site. I disavow[ed] those links and wrote to admins asking them to remove those links but… what can I do if someone, (my competition), is trying to harm me with bad backlinks?
Matt's response:
Basically, contacting the sites, then, if no positive response was achieved, disavowing their links is the thing to do.
View Manual Webspam Actions In Webmaster Tools
Google has introduced the manual action viewer in Webmaster Tools.
It shows information about actions taken by the manual webspam team that directly affect that site's ranking in Google's web search results. To try it out, go to Webmaster Tools and click on the "Manual Actions" link under "Search Traffic."
Lo and behold, went to check out the tool and this is what I saw: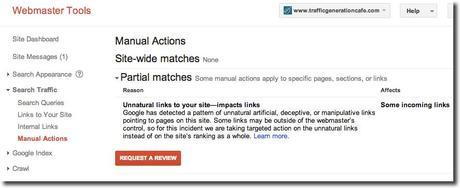 Considering I've never gotten a single "Unnatural link warning" message or intentionally built a link in over a year and a half, that was surprising.
I've got my work cut out for me.
Google has also released eleven documents (with 7 videos) on these manual spam actions:
Hacked site
Hidden text and/or keyword stuffing
Pure spam
Spammy freehosts
Thin content with little or no added value
Unnatural links from your site
Unnatural links to your site (the video is posted above)
Unnatural links to your site—impacts links
User-generated spam
And you thought you could relax this weekend, didn't you?…
UPDATE: Google has updated its original announcement to say that a "snag" will delay full launch for a couple days:
Unfortunately we've hit a snag during our feature deployment, so it will be another couple days before the feature is available to everyone. We will post another update once the feature is fully rolled out.
Moz.com: 2013 Local SEO Ranking Factors Released
http://moz.com/local-search-ranking-factors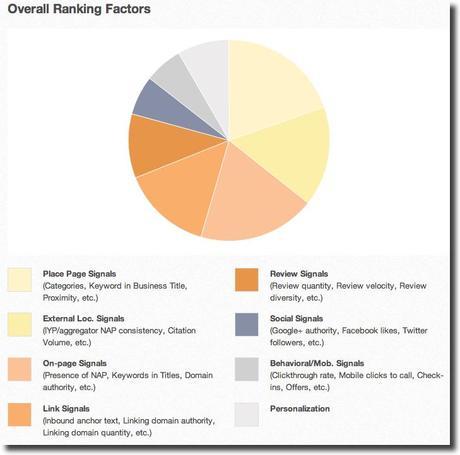 Google Authorship: Does It Affect Your Rankings?
This is not news per se, but a very important SEO point to be made.
According to this case study by Janet Driscoll Miller at Search Engine Land, authorship might have affect on your site rankings.
A quick summary:
a site publishes content and ranks for it;
then the search engine traffic goes down. Why?
turns out another site republished the content under their authorship;
THEY were the ones now ranking for that content.
after the plagiarized content is taken down, the origianl site's rankings go up.
Logical conclusion: since the offending site "claimed" content authorship through their author markup, whereas the originated site didn't have it, THAT'S what played a major role in the turn of events.
Moral of the story:
Claim your Google Authorship today
Google Mobile: Deliver Content in Less than a Second
One second.
That's about how long it took you to read the two words above, and it's also the focus of Google's latest advice for webmasters.
…the whole page doesn't have to render within this budget, instead, we must deliver and render the above the fold (ATF) content in under one second, which allows the user to begin interacting with the page as soon as possible. Then, while the user is interpreting the first page of content, the rest of the page can be delivered progressively in the background.
Google has also updated its PageSpeed Insights Tool, which now focuses on the mobile scoring and suggestions ahead of the desktop scoring and includes updates scoring and ranking criteria.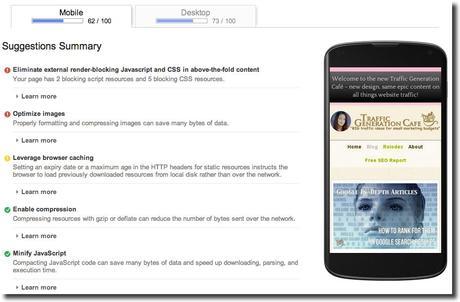 Social Media
Facebook Algorithm Update: Story Bump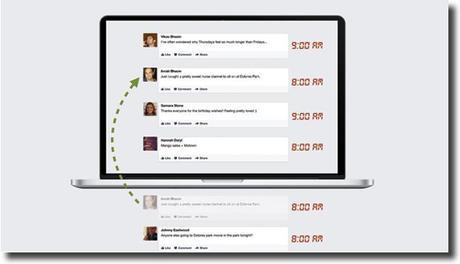 Facebook announced an update to the News Feed ranking algorithm.
Now organic stories that people did not scroll down far enough to see can reappear near the top of News Feed if the stories are still getting lots of likes and comments.
Another Facebook Update: Last Actor
Another algorithm update Facebook has introduced is referred to as "Last Actor", which takes into account the last 50 interactions a user has done, such as liking a page's post or writing on a friend's timeline.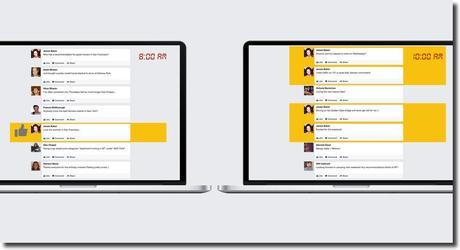 Facebook Reach Increase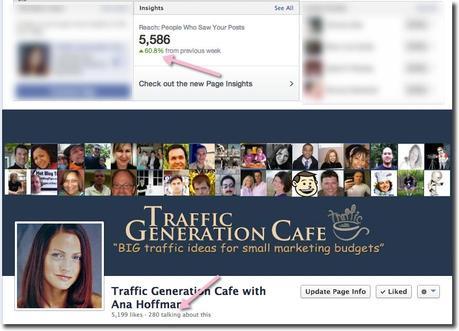 Take a look at the screenshot. 60% increase in engagement on Facebook.
And the only difference? More relevant updates.
I now publish 3-5 updates per day, as opposed to 1-2 or even none.
More stats: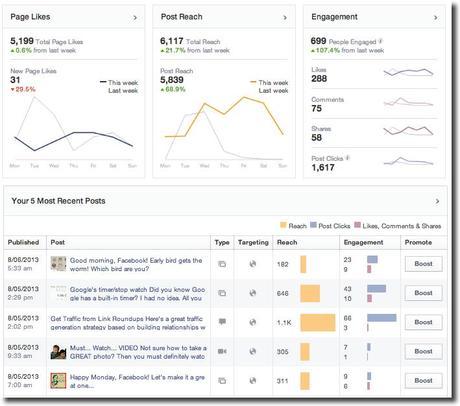 Not bad at all.
And those new Facebook insights look pretty good, don't they? Here's a great tutorial from Kim Castleberry on what's new and how it works.
Have you played with your update frequency; on Facebook or Google+? What works best?
By the way, if you are into Facebook (it's my second fave social media platform), join me there! - Traffic Generation Café on Facebook.
What's my most favorite? Google+ hands down. Discover it for yourself:
By the way:
Facebook VS Google+: One? The Other? Both
There are plenty of people who are leaning one way or another; just take a look at these two posts published at MarketingProfs: Dear Google+: Marketers Hate You (Want to Know Why?) (Google+ haters) and Four Reasons Marketers Need to Embrace Google+
by +Stephan Hovnanian  (Google+ lovers).
As an online marketer and blogger, I love to test things out to see for myself what works and what doesn't for MY specific site. Isn't that what you want to do: find YOUR OWN best way(s) to reach YOUR audience?
My audience is both on Google+ and Facebook. They are different, but they are there.
So here's my data on engagement I've been tracking both on FB and G+ – same posts published at about the same time and the engagement results they produced.
See my comparison screenshots here.
YouTube Updates
If your YouTube account is in good standing (their words), you now can:
Start live streaming if you have 100+ subscribers: All channels in good standing with at least a hundred subscribers will be able to live stream, within the next few weeks. Check your Account Features page for an "Enable" button, and click it if you're interested.
Choose your best thumbnail: Help your video stand out by using a custom thumbnail. Make sure you only upload images that are representative of what viewers will see, like prominent stills from the video.
Drive traffic to your merch: Want viewers to buy that new t-shirt you're wearing in your video? You can now use annotations to link externally to various online stores and your associated websites.
Program related videos for viewers: Help viewers watch more of your videos by placing them in a series playlist. When you group videos that belong together, we'll show viewers of your videos the next episode from the series and a link to the whole playlist. Just mark your playlist as a "series" in the playlist settings.
If you want tips on the best ways to use any of these features, learn more from the YouTube Creator Playbook.
Hat tip: Francisco Perez.
Spec Guide for Social Media Profiles: Facebook, Twitter, G+, LinkedIn, YouTube
This is awesome – every time I want to change a cover for one of my social media profiles, I scramble for sizes.
This infographic by Raidious is just what the doctor's ordered.
Instagram Now Lets You Upload Pre-recorded Videos
What the heading said.
Marketing This & That
Feedly Went Pro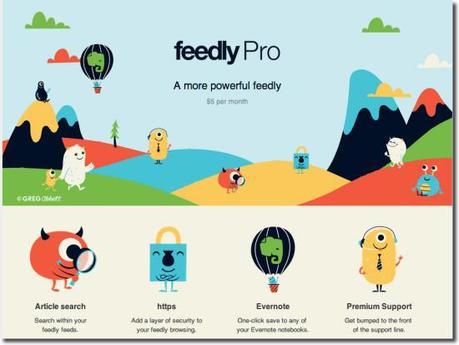 If you are using Feedly as your RSS reader, you might've noticed that they now offer a Pro plan at $5 per month or a $99 lifetime membership.
The main benefits of becoming a paid member:
search for posts within your feeds;
use secure https:// browsing;
one-click save to any of your Evernote notebooks;
get bumped to the front of the support line.
UPDATE: (yes, I have to do an update even before this post is published) The limited lifetime edition Feedly released this week sold out in 8 hours.
Marketing Tools of the Week
How to Keep Tabs on your Browser Tabs
Confession of a Taboholic: at the moment, I have 36 tabs open.
The saddest thing is I am working on clearing them/closing them out, YET I end up opening more and more, forgetting what I was doing to begin with.
Can you relate? Any remedies???
That was my call to my Facebook fans.
Boy, did they come up with tools to cure me!
My faves so far are:
#1.  Alex Whalley suggests to…
Use Firefox – because every time you have more than 10 tabs open, the stupid thing crashes!
Ahhh, now I remember why I switched to Chrome…
#2.   Nile Flores says:
Don't open so many tabs… jk . I'm being a smartass.
That's definitely the best cure.
However, not for the weak-willed people who love reading posts on Google+, visiting their readers' blogs, keeping track of the marketing news, etc.
For those kinds of people, there are tools. Lots of them. Just read the 41+ comments and counting (or make your own suggestion!).
I've tested almost all of them; here's what works best for ME.
#3.   Julieanne van Zyl suggested OneTab extension for Chrome.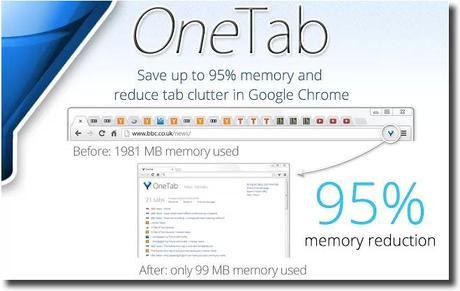 This is what my browser looks like right now: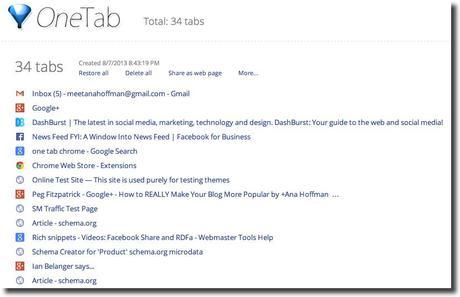 I love it! I can see everything at a glance, and the number of open tabs doesn't scare my espresso out of me.
#4.   Another solid suggestion is from Mitchell Allen:
The cure is Evernote. We keep tabs open because we are afraid that we'll forget to check it out, whatever "IT" happens to be. What I do is, click link, scan page, click Evernote Web Clipper, save the page to the appropriate notebook, adding tags and a pithy comment as a reminder.

Even if it takes weeks, I will get back to it. There are TWO bonuses: 1. no need to clutter bookmarks in your browser (which you can never find later, anyway) and 2. Google will show you if you have related notes when you do a search!!! (I forget how to set that up, but it's there!)
Great suggestion, Mitch, and I do like Evernote, but not for this. Personally, I never visit what I bookmark and keeping track of notebooks is a pain!
I am sure many of my readers would appreciate this suggestion.
By the way, do you have any idea how many tabs I had to open to check out all the suggested tools, people's profile, etc?…
How to find data (for infographics, posts, etc)
Here's a great free tool to find all sorts of data: Visual.ly - just search for the topic. Hat tip Brian Dean.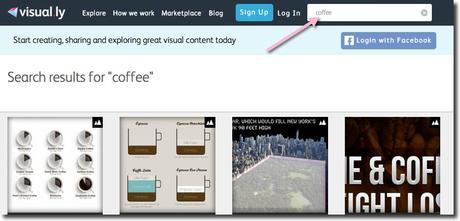 Another great tool to search the web for data and statistics is Zanran. Thanks to Ned Poulter for the heads-up on this one.

Thank You
To all of you who mentioned Traffic Generation Café in any share or form in the past week, my whole-hearted THANK YOU.
Traffic Generation Café would NOT be what it is today without you.
Here are just some of the mentions I came across in the past week:
Grab some tips for getting more eyeballs to your blog – Peg Fitzpatrick gave me a shout at holykaw.alltop.com
Tips Tuesday – Memes, Hashtags, AdWords Tool, YouTube Subscribe Button, and the Best Caching – MaAnna Stephenson at blogaid.net
TWL #37 Schema Edition – Leo Dimilo at drunkonlife.net
Effective Marketing on a Shoestring Budget: Part ONE – Kurt Frankenberg at shoestring101.com
Have I missed your mention? Let me know in the comments!
Want to see your name here? Mention Traffic Generation Café in your next blog post!
Subscribe to Stay Ahead
I share a lot of marketing news as well as the best posts I read throughout a week on my Google+ profile.
To read them as they come out and stay ahead of your competition, as well as become a social media star and share the best with YOUR followers (you'd be surprised how much it'll do for your credibility and online presence!), join me there:
You can also subscribe to my G+ feed through your RSS reader of choice; just add the following link like with any normal blog RSS feed: http://tgcafe.it/gplus-feed
To an even better next week,

Please share on Google NOW