Don't have the time to read all the marketing news, blog posts, announcements, and other content related to SEO/social media/online marketing published each week?
I've got you covered.
I sift through trillions (well, hundreds) of online publications to stay on top of marketing news that might affect your online business.
And I package them neatly in bite-sized chunks in my Weekly Marketing Skinnies right here at Traffic Generation Café every Saturday morning.
If you appreciate what I do, share this Marketing Skinny:
Share
Tweet
+1
Pin
Total Shares

0
THANK YOU.
Now grab your cup of coffee and let's catch up on the marketing news that matter to your business.
SIDE NOTE: all the links in this Weekly Marketing Skinny are to Facebook updates. To stay on top of marketing news as they happen, be sure to follow me on Facebook.
 
Search
Google: the top three ranking factors are content, links, and (maybe?) RankBrain.
Google on how to improve your local ranking on Google.
Google updated the search quality rating guidelines.
Moz has published the results of its 2016 State of Link Building Survey.
For those of you with Drupal sites, good news: the new updated version of Drupal's AMP module is now available.
Here's data-driven aftermath of Google removing right-side ads from SERPs.
Social Media
(SIDE NOTE: would you prefer to see full FB embeds in Weekly Marketing Skinnies (below) or excerpts with links leading to full FB updates? Let me know in comments!)
Here's how many people are on Facebook, Instagram, Twitter and other big social networksJustin Kerby from CaveSocial…

Posted by Ana Hoffman on Tuesday, April 5, 2016
New Social Media Inflation Index shows brand audience growth across social media networks in 20152016 Social Media…

Posted by Ana Hoffman on Tuesday, March 22, 2016
Data shows that 93 percent of all Facebook interactions are still likesSocial analytics provider Unmetric ran a little…

Posted by Ana Hoffman on Thursday, March 31, 2016
 
Facebook launched daily video metrics for publishers.
Facebook overhauls Live Video with support for groups and events, reactions, comments, filters, and a global map.
More Facebook Live: Facebook rolled out two new video metrics to give Page owners a better understanding of when people are watching their live videos.
More, more Facebook Live: Facebook Live gets video search.
Speaking of Facebook Live: Facebook confirms it's paying media companies to use Live Video. (where's FTC on that one?…)
Facebook Messenger hits 900M MAUs, adds short URLs and Snapchat-like scannable codes to connect users with brands.
Facebook plans to let people buy products in physical stores using Messenger.
KLM now uses Facebook Messenger for boarding passes, flight info, and customer service. (just the beginning of FB Messenger taking over our lives)
Facebook will allow muted video ads in Instant Articles and one additional ad unit at bottom of articles.
Speaking of Instant Articles: they are coming and here's what you need to know.
Facebook's new feature alerts you if someone is impersonating you by using your name and profile photo.
Instagram has upped its video limit to 60 seconds.
Instagram starts showing notifications on the Web for all users.
Twitter makes it easier to share tweets privately with new Message button.
You can now add ALT text as image description to your Twitter images on mobile.
Twitter will live stream the NFL's Thursday Night Football. (might finally make some money… I am all for that)
Google+ Android update: adds ability to retry sending failed posts.
Google+ iOS updates with inline commenting, quick access to Google Apps, and notification filters.
Google is building YouTube Connect, a livestreaming app to take on Periscope and Facebook Live.
98% of Periscope users are also visiting YouTube. (so no, YouTube is not too late to the live streaming party, imho)
Also, 3 in 4 Periscope users are 16-34.
Periscope launched Reddit subreddit /r/periscopes to curate most 'compelling' broadcasts.
Katch, a live video sharing and storage provider for Periscope live video streams, released a search feature.
[finally!] New Blab feature: Unlisted Blabs.
Snapchat released a significant update to its chat function – Chat 2.0. (still don't get Snapchat…)
On a Side Note…
If you find tremendous value in my Weekly Marketing Skinnies, like thousands of other readers of Traffic Generation Café do, you should consider joining them and sign up to receive the weekly notifications of when a fresh Skinny is published.
Plus, you'll get complimentary access to my "Mommy, Where Does My Traffic Come From?" traffic hacks report and traffic hacks newsletter: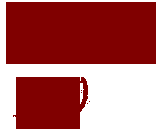 "Ana has a unique insight into running an internet business."
- Yaro Starak, Entrepreneurs-Journey.com
Needless to say, your information is completely safe with me.
See you in your inbox!
Marketing This & That
Important for any business to know: how much time is being spent on mobile vs other devices?
[huge!] Google made the entire Nik Software's photo editing suite completely FREE.
WordPress.com enabled HTTPS for new hosted sites with custom domains (will soon expand it to existing sites using custom domains.)
Do you use commenting service Disqus on your blog? You need to know this: Taboola will now be packaged with Disqus.
Disqus also released an iOS app with support for tracking comments, discussions, and more.
Google will kill its desktop Chrome app launcher for Windows, Mac, and Linux in July.
Medium wants to become a publishing powerhouse (the next WordPress?); here's its first step.
Emojis are now used in 777% more campaigns than last year.
Google Calendar on Web gets Reminders.
SoundCloud launches SoundCloud Go music subscription service for $9.99/month in US.
Yahoo is officially up for grabs.
[wow] Google has a 360-degree tour of its new data center up on YouTube.
Google Photos launched 'smarter photo albums' – curated and created for you based on a trip/event.
Thank You
To all of you who mentioned Traffic Generation Café in any shape or form in the past week, my whole-hearted THANK YOU.
Traffic Generation Café would NOT be what it is today without you.
And I am not the only one who thinks that, by the way.
Take a look at the comment Kurt Frankenberg of Shoestring101.com (one of my favorite blogs, by the way) left on a recent Weekly Marketing Skinny: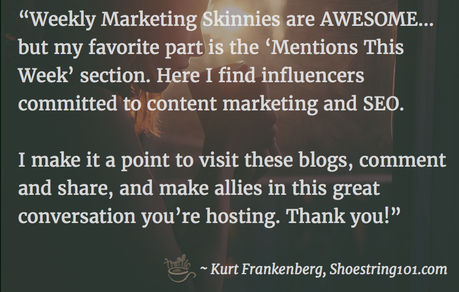 Here are just some of the mentions I came across in the past week:
How to Promote Your Website in 2016 — 70 Articles to Take You From Zero to 140,000 Monthly Visits in 12 Months – Michael Karp at copytactics.com
327+ Places to Get Traffic To Your Blog – Kim Roach at buzzblogger.com
Content Curation Grows Up: What You Need To Know – Heidi Cohen at heidicohen.com
How Does A Professional Services Firm Start Blogging? – Craig McBreen at mcbreenmedia.com
7 Proven Lead Generation Techniques That You Are Neglecting – Johnson Emmanuel at koriefusion.com
5 Elements for Crafting a Compelling Story Your Audience Will Love – Will Blunt at writetodone.com
The Best Bits and Bytes from March 2016 – David Hartshorne at byteofdata.com
Lead Generation: 11 Things You Might Be Missing – Uttoran Sen at optinmonster.com
How To Find and Fix Your Broken Links – David Hartshorne at byteofdata.com
@iamjohnsonemma @_MichaelKarp @mytrafficmentor @optinmonster @uttoransen
Have I missed your mention? Let me know in the comments!
Want to see your name here? Mention Traffic Generation Café in your next blog post!
Subscribe to Stay Ahead
Don't you hate that nagging feeling that every marketer around you knows something you don't?
Chances are they know it because they are following my updates on social media.
Here's how you can do it as well: follow me on my Facebook profile.
To an even better next week,