Somehow, my cousin Joseph and I ended up in Germany at the same time through our Dad's respective jobs. This after we would only see each other once a year while living in the States for the first fourteen years of our lives.
One of the main things that brings the two of us together is our daily banter over our two favorite basketball teams, the Philadelphia 76ers, and Indiana Pacers. Whenever the Pacers lose, seldom though it is, I can always expect to hear it in the morning; whenever the Sixers lose, which is close to everyday at this point, I dish it right on back to J.C.
So when I received an update that Danny Granger had been traded to Philly for Evan Turner and Lavoy Allen, my first thought was to call J.C, which I did. We were both shocked, and for very different reasons.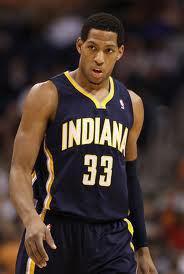 Danny Granger may be missed in the Pacers locker-room
How does the trade benefit the 76ers? They basically traded one good rental for a washed up, older rental in Danny Granger. Couldn't they have at least gotten a first-rounder from someone like the Spurs? Philly's strategy is odd. The franchise gave up two of their three best players in Turner and Spencer Hawes, and received a yield of four second round draft picks, Danny Granger, Earl Clark, Eric Maynor and Henry Simms. Talk about an island of misfit toys. If the Sixers are trying to lose, then they're doing a pretty damn good job. But couldn't they have gotten some better value?
As for the Pacers; where to begin? First off, they are in full fledged "Win Now" mode. There are two ways to look at Evan Turner. You can either admire the season he's put together in Philly, (17 PPG, six boards, four assists per) or you can be a bit speculative on why he hasn't managed to average better numbers on an atrocious Sixers team. The former Buckeye is very explosive offensively and is money from 10 to 20 feet out, but he doesn't always put in the effort needed when it comes to the defensive side of things. That will need to change if he wants any playing time with the Pacers second unit.
As demonstrated Thursday, the Association isn't for the keen of heart, and I'd be lying if I thought my Dad and I were the only two Pacer fans disappointed that our local team had just traded a player who stuck with the club when they were the laughing stock of the league and a threat to relocate out of Indy. Sure, Danny Granger is no where near the player he used to be, and he likely never will be that guy again in his career. Maybe Granger talked to the Larry Bird and Kevin Pritchard and asked for the trade, as being on a talent starved 6ers squad will improve his stock when free agency comes around this summer. Right now, it's all "he said, she said", so we'll have to get reactions from both parties before making any other assumptions.
On a deeper scale, a friend told me Philadelphia may release Granger within the next few days, opening up the possibility for a few teams to pounce on what would be a free agent. If you had to guess one team who would be the first to contact Granger, who would you choose? Yup, Miami. The plot thickens. How awful would that be if you were a Pacer fan, to see Granger donning a Heat jersey and coming off the bench with Ray Allen and Chris Andersen?
Truth be told, it would have been great if Granger would've been able to stay with the Pacers and won at title before heading off somewhere else. That's what I was hoping for personally as a Pacer fan. Will I care if we win a championship this season? Hell no. I guess that makes me just as much of a sellout as Larry Bird and the rest of the Pacers board. The fact is, sports is a win now business. If you have a chance to win in the current season, you had better do what you can to capitalize on that opportunity. If Larry Bird and the rest of the suits in the Pacers front office think this will make Indy grab a championship this season, so be it. Loyalty be damned.