The World Cup has come and gone, and with its departure, club football has resumed. That means fans drooling over meaningless preseason friendlies and endless transfer rumors. And who can blame them. Sure, the World Cup was awesome to say the least, but not being able to see one's team play week in and week out takes its toll on the diehards every summer.
I'm American, and I love watching the US Men's National Team play on the world stage; but it's not comparable to watching Chelsea in midweek against Europe's elite. In the absence of competitive matches, there are dozens of things to talk about during preseason. Will Diego Costa finally break Chelsea's curse of signing useless strikers? Will Robert Lewandowski provide Bayern the goals they were lacking in the late stages of the Champions League? Are Toni Kroos and James Rodriguez the players Real needs to become the first club to win successive Champions League trophies? When, and who will Luis Suarez next bite?
The hype is non-stop. For instance, Chelsea were playing measly Slovenian side Olimpiaj on a Sunday morning US time while I was out at breakfast with my family. Despite the low level of quality in the match, I was glued to my Twitter feed to see how new signings Diego Costa and Cesc Fabregas fared (they were brilliant, much to the chagrin of United, City, and in particular Arsenal).
It's stuff like that that keeps everyone buzzing for the new season to begin. The transfer talk, the unimportant games against RZ Pellets and everyone other Eastern European side; and most importantly, the prospect of a fresh start with better things to come. Rest easy sports fans, club football is back.
Here's a rundown of how Europe's top teams have looked in the summer, as well as some possibilities for the season. I'll make an attempt at honesty, but take the predictions with a dash of salt; this is coming from the most biased of Chelsea fans.
We'll start in Germany, where both Bayern Munich and Borussia Dortmund are well on their way. In Bavaria, Robert Lewandowski has been hard at work with his new squad, scoring four goals in three games. Lewandowski hasn't been the only new signing impressing his boss, as Sebastian Röde has been a solid performer in midfield for last season's domestic Champions. Despite the early signs of success, Pep Guardiola will find himself in a tight spot this season with a stacked roster of players who are all expecting frequent first team action. Positional battles cloud the pitch, with Manuel Neuer, Arjen Robben and Philipp Lahm the only players guaranteed a spot on the starting sheet. Jerome Boateng and Dante will face competition from Holger Badstuber who returns from injury, while Juan Bernat will challenge David Alaba at left back. Bastian Schweinsteiger, Thiago, Javi Martinez, Mario Götze and Röde will all be looking for a place in midfield, while Xherdan Shaqiri, Thomas Müller, Franck Ribery and Lewandowski will compete for spots alongside Arjen Robben in attack. It's not the worst problem to have, but with a few prima donna's in the side, Guardiola will face his share of tough decisions. All things withstanding, Bayern remains a heavy favorite in Germany, while being considered one of, if not the best team in the world.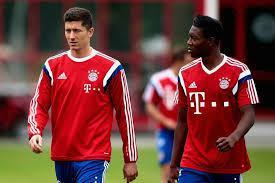 Robert Lewandowski will give Bayern an added edge in the final third this season
Dortmund haven't been too busy in the transfer market, but they will certainly benefit from having five regular starters return from long term injuries in Illkay Gündogan, Sven Bender, Neven Subotic, Marcel Schmelzer and Jakub Blaszczykowski. Losing Lewandowski to Bayern will be a tough pill to swallow for the Northerners, but the addition of Adrian Ramos and Ciro Immobile will help offset the loss. As long as Roman Weidenfeller, Marco Reus and Mats Hummel's are in the side, the team will remain one of Europe's finest.
Things are wide open in Italy after Juventus's boss, Antonio Conte left unexpectedly following disappointment in the transfer market. The man replacing him, Massimo Allegri faces doom on the horizon, as both Paul Pogba and Arturo Vidal are potential runaways to England. A league that was once Juve's to rule now comes under threat from various Italian teams, most notably Roma and Napoli, both of whom have improved by holding onto their most prized possessions. Look for one of the two teams to snatch the Scudetto away from Juventus for the first time since 2011.
In Spain, last years Champions Atletico Madrid have been gutted following an exodus of star players to bigger and potentially brighter pastures. At the top of the list are Thibaut Courtois, Diego Costa, Filipe Luis and David Villa, with the former three moving to Chelsea. That said, Diego Godin, Gabi, Miranda and Tiago all remain to round out the club's core, while welcoming another star striker in Mario Mandzukic. The team may have lost four of their best, but Diego Simeone remains, and the mastermind of last year's domestic title may yet have more tricks up his sleeve.
Atletico's cross town rival, Real Madrid, comes into the new season a whole lot richer and a whole lot stronger after lifting their tenth Champions League trophy. World Cup stars James Rodriguez and Toni Kroos come into a team that already includes Gareth Bale, Sergio Ramos, Luka Modric and greatest of all time candidate Cristiano Ronaldo (one of the greatest big game chokers in recent memory, see Champs. League Final 2014). While the team have added some firepower, Angel Di Maria, a player who was awarded Man of the Match in the Champions League win, looks set to depart for Paris. Madrid spent 88 million dollars buying a player with the same traits as Di Maria, one of the most important cogs in last year's team. In my eyes, this is a massive mistake, and one that will play a large part in why Real don't repeat as European champions. The talent is there, but will the stars collide again for Real? Don't count on it.
To the east, along the Catalan Coast, Barcelona has attempted to restructure a new team under Luis Enrique. Ivan Rakitic, Marc-Andre Ter-Stegen and Luis Suarez were the first three players to be purchased under Enrique, and they won't likely be the last. Rakitic will take up position alongside Sergio Busquets as well as Xavi, who was recently convinced to stay with the club. Ter-Stegen replaces Victor Valdes in goal, while Suarez will be the third wheel in a trio involving Lionel Messi and Neymar. There are a few problems with this Barcelona team. The first is Luis Suarez who aside from being a PR nightmare will serve a four-month suspension. The second is that the club still hasn't replaced Carles Puyol. Gerard Pique hasn't been in good form since 2011, Marc Bartra might not be ready, and Javier Mascherano is a much better midfielder than he is a defender. The team recently signed Jeremy Mathieu from Valencia, a 33 year old who quite frankly isn't the answer at center back. If Mathieu could be a decent rate center back and allow Javier Mascherano to shift back into midfield, Barca would find themselves in a strong position. That however, may be wishful thinking. The third and final variable holding Barcelona back is the decline of tiki-taka. Pep Guardiola made his mark on a Barca team that won two Champions League's averaging more than 500 passes a game. That tactic is dated, and Messi and co. haven't come up with a replacement. Maybe Luis Enrique starts a revolution in the south of Spain and Barcelona go on to win La Liga. I just don't think they have enough defense to keep both Madrid clubs at bay.
Lastly, we find ourselves in England, where there are four teams with a legitimate shot at winning the Premiership this season. The odd team out here is Liverpool, who lost their target man in Luis Suarez. The Scousers may have brought in Rickie Lambert and possibly Divock Origi to try and patch up the holes left by the Uruguayan (literally), but Liverpool will need a stingier defense and better play from Daniel Agger and Mamadou Sakho if they want play in the Champions League in 2015-16. Lazar Markovic and Adam Lallana present interesting options in midfield, but there's no telling whether players of their caliber will be able to deal with the Yaya Toure's and Nemanja Matic's of the League. Don't get your hopes up Reds fans.
In North London, the same story bangs on every year. Arsenal fans predict a League title in August, followed by doom and gloom in January, with a guaranteed fourth place finish at the end of May. Alexis Sanchez may have been a decent signing, but one man alone isn't going to fire a team that lost away games 6-3, 5-1, 3-0 and 6-0 (a glorious day), to the top. Look at the current Arsenal side and ask yourself how many of the players in Red would make it into the current team at City or Chelsea. Not many. It's true, every year, Arsenal gets stronger. The fact is, United, City and Chelsea are all getting stronger as well. Two big questions remain around the Emirates that will decide the Gunners season. Can Mesut Özil bounce back, and will Aaron Ramsey build on a career year a season ago? The juries are out on both players. Expect a lengthier European campaign this year.
Things are looking up in the red half of Manchester. Louis Van Gaal was simply superb at the World Cup, and will look to build on the campaign with the likes of Robin Van Persie and Wayne Rooney. This Manchester team is much, much more likely to succeed this season with Van Gaal employing five defenders at the back, while Rooney and Van Persie bang in the goals from up top. One thing that could change the team entirely? Signing Juventus star Arturo Vidal. Vidal's box to box ability and skill would be the final ingredient to a team that will have one objective next season: getting back in the Champions League.
Across town, Manchester City will look to expand their success to a continental level after exiting twice the group stage twice and round of 16 once in the last three years. As is every season, health and fitness will be the key for City this time round. For the last three years, the Citizens have had a crux of four players; Joe Hart, Vincent Kompany, Yaya Toure and Sergio Aguero. Toure is my pick of the bunch, with his lung bursting runs and tactical intellect stabilizing City's midfield each and every game. As long as those four stay fit, the club can accomplish anything. Look for Toure and Aguero to be contenders for the Player of the Year award in England.
And how could we forget about Chelsea, pride of London. Yes, I may be a homer, but the club will be winning trophies this season. First and foremost, Jose Mourinho is a winner. When he doesn't win, he does everything necessary to make sure that he's back at it the next season. Last year, the team didn't have a striker, so Mourinho bought Diego Costa. A lack of playmaking curtailed Chelsea's campaign last time around, so Cesc Fabregas was brought in. A left back was needed; enter Filipe Luis, a tireless performer in both attack and defense. Last year the team had a mix of stars past their prime, and youngsters who hadn't quite made it as the best. This year, there are fewer elderly statesmen and more world-beaters. Eden Hazard returns amid rumors about a transfer to Paris. Fabregas was brought in to be Mourinho's main man, and his vision and passing range will be vital in all competitions. And what about Andre Schürrle, Germany's super-sub, who must be ready for a starting berth alongside Hazard. Willian, Oscar and Ramires return as part of Chelsea's Brazilian contingent. All are expected to play big roles both domestically and on the continental stage. The addition of Nemanja Matic and his defensive ability in Champions League fixtures will be crucial in determining how far the Blues progress in this years campaign. The rock solid defense from last season returns all starters from last year, while Petr Cech and Courtois will battle it out for the starting spot in goal. And last but certainly not least, Didier Drogba is back, and when Drogba is wearing a Blue shirt, the team is winning titles. He may only play in a handful of games, but when the pressure's on Drogba is a sure thing. Mark my words, Mourinho's boys will be champions this year.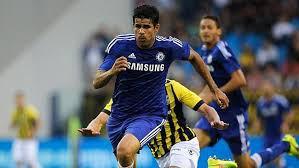 Diego Costa will give Chelsea the one thing they were lacking last season-goals
Predicted finishes-
Champions League Semis-
Chelsea over Arsenal
Bayern Munich over Real Madrid
CL Final-
Chelsea over Bayern
Germany-
1. Bayern Munich
2. Borussia Dortmund
3. Schalke 04
4. Wolfsburg
Italy-
1. Roma
2. Napoli
3. Juventus
Spain-
1. Real Madrid
2. Atletico Madrid
3. FC Barcelona
4. Sevilla
England-
1. Chelsea
2. Manchester City
3. Manchester United
4. Arsenal