I'm on vacation, and don't have access to the Bleacher Report  updates that come in the second something big happens in sports. I was about to go to bed before I made the decision to check the computer at my grandparents house. As usual, I went straight to Twitter. I was in the midst of an argument with my brother before I glanced back at the computer screen.
#PrayForPaulGeorge? What? It took about a half second before it hit me. No.
I started saying "No" out loud to my brother. No, no, no. Before I could read anything on Twitter or even scroll down I typed in another site on the browser. ESPN.
Headline- George Suffers Gruesome Leg Injury.
And that's a wrap on the Pacers 2014-15 season. That was my first thought. Unfortunately, I was thinking like a fan rather than a human being. I was thinking about the fact that the Pacers were probably going to suck instead of the fact that Paul George's leg had snapped in half and he needed prayers. I sat there for about ten minutes. This was a life altering moment for a lot of people.
Paul George was a fantastic NBA player. I say "was" because we don't know what he'll be like when he gets back. But he "was" amazing, no one can deny that. He was a hard worker on both sides of the ball, with a nice shooting touch from deep and an explosive ability getting to the hoop unparalleled in todays league. He's got a long road ahead of him, but fortunately there wasn't any ligament damage involved in the injury, something that could speed up the recovery process.
It's also a franchise altering ordeal. A healthy Paul George could have kept the Pacers in contention for the East for years to come. Now, there are question marks. "Ifs" will fill the mind of guys like Larry Bird, Kevin Pritchard and the rest of Indiana's brain trust. Giving Lance Stephenson that extra million or two might not have been the best decision then, but it sure looks like it would've helped now.
The most important thing right now is that George gets back on his feet and has a full, swift recovery. Basketball takes a backseat in times like this.
That said, the Pacers will be scrambling right now and evaluating their options. As far as I'm concerned, there are two possible routes here.
The Pacers could tank, which would likely involve finding a trade partner for either David West and/or Roy Hibbert, both of whom are tied to big money. That could also include packaging George Hill with the deal and making it so that only Ian Mahini, CJ Miles and Paul George were under contract for 2015-16, if in fact the Hill, Hibbert and West are all gone. This scenario would give the Pacers a lottery pick for 2015, and a superstar returning from injury. It would also give the franchise a lot of financial flexibility going forward.
The alternative is standing pat with what the team has. Despite the loss of Lance Stephenson and PG's injury, the Pacers would still maintain the cornerstone of their team, hard-nosed defense. While offense will be tough to come by, Indy's heavy on three point shooters this season and could also sign a veteran like Shawn Marion or dare I say it, Ron Artest (I still refuse to call him MWP) to help offset the loss. Frank Vogel's a good NBA coach with a leader in David West, a talented defensive rock who's offensive game is maturing in Roy Hibbert, and a host of three point shooters: Chris Copeland, C.J. Miles, Damjan Rudez, CJ Watson and George Hill. This team could potentially scrap together 40 or 45 wins in an Eastern Conference that is still weak from the five or six seed down.
Dare I say it, the Ewing Theory could take effect? The Ewing Theory is the "law" that says when a teams best player departs or gets hurt, the team actually does better. The theory was created by Bill Simmons and a friend of his who realized that whenever Patrick Ewing was injured, whether he was at Georgetown or playing pro ball for the Knicks, his teams would play better.
Think Butler after Gordon Hayward left in 2010, the team made a surprising follow up run to their second consecutive National Championship Game. Nine months after Peyton Manning left Tennessee, they won the BCS Title. Of course the theory isn't without its failures; we all remember what happened when Peyton Manning was absent from the Colts in 2011-12. Maybe that's a bad omen, the city of Indianapolis doesn't exactly have a good track record when its star player goes down. For more info on the Ewing Theory visit the following URL.
http://proxy.espn.go.com/espn/page2/story?id=1193711
Regardless of what the Pacers decide to do, this is a crushing moment for all parties involved. US Basketball, the NBA, the Pacers and Paul George especially will all suffer as a result of the ordeal.
Pacer fans will also take a massive hit after seeing the Pacers cruise to three successful seasons in a row behind George and co. That said, people like me get lost in the major part of it all. Paul George's health is the most important thing that should be talked about. But it's not going to be. Not for guys like me who live in die with how many W's get put up on the schedule by the end of the season.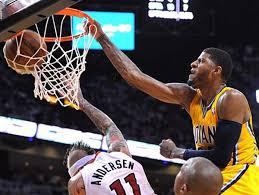 Paul George will be back. Watch out Birdman
Kevin Ware is a man who knows what it feels like to hit rock bottom in terms of sports injuries. After he saw what happened to his fellow athlete he wrote this on Twitter: "Minor setback for a major comeback PG".
Get well soon and help us get back to where we belong, Paul.
#PrayForPaulGeorge