At the conclusion of the 2012 Champions League Final, in the midst of celebration I thought of two individuals who had appeared on the losing side that night. Bastian Schweinsteiger and Philipp Lahm. The right back and central midfielder were known as the heart and soul of not only their club Bayern Munich, but also the German National team itself.  After 120 minutes of a hard fought battle that Bayern looked destined to win, a missed penalty from Schweinsteiger gave Chelsea Football Club their first ever European Cup. For Lahm and Schweinsteiger, it was just another heartbreak in a major tournament.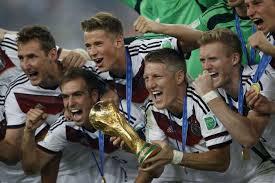 Philipp Lahm and Bastian Schweinsteiger at the forefront of their nations success
Germany lost a semifinal to Italy 2-0 in their backyard during the 2006 World Cup, followed by a 1-0 loss in the Euro 2008 Final to Spain. Two years later the Germans fell 1-0 to Spain in South Africa, and while Schweinsteiger and Lahm didn't know it on the podium in Munich, they were bound to lose 2-1 to Italy four weeks later in the Euro 2012 semifinal. Neither player had ever won a Champions League, or a World Cup, the two most coveted trophies in all of football.
Fast forward to July 13th, 2014. Schweinsteiger and Lahm are two of the most decorated players in German football history, and have installed what may be remembered as German football's golden generation.
Over the last three years German football, and two teams in particular have dominated the European landscape. Bayern Munich and Borussia Dortmund have played attractive football while managing to best the likes of Real Madrid, Barcelona, Arsenal, Manchester United and Juventus. Jürgen Klopp and Jupp Heynckes battled one another for two years before Pep Guardiola arrived at Bayern and furthered the rivalry. The respective backbones of the two sides have been German stars, players like Mario Götze, Mats Hummels, Marco Reus; Schweinsteiger, Lahm and Manuel Neuer.
After the all-German Champions League Final of 2013, we should have known that the Germans were on their way to global domination. Both teams had dispatched the two Spanish giants in spectacular fashion on their way to the Final. Despite eventual champions Real Madrid beating both Bayern and Dortmund in 2014, one can accredit the defeat to the fact that Guardiola forced his tiki-taka upon the Bavarians; as well as some bad luck for the Northerners, as well as a few horrifying misses from Henrikh Mkhitaryan. Sure, Madrid may have been the better side, but they're more of a collection of foreign talents than a club that resembles the national team. This can be seen by the Spaniards failure to exit the group stage in the 2014 World Cup.
Over the course of the tournament, there was an interesting mix of past, present and future stars of German football. Miroslav Klose was on hand to score two more World Cup goals, bringing his tally to 16, a record. Schweinsteiger, Lahm and Per Mertesacker made up more of the old guard that had brought close to success in recent years. And then there were faces from the 2010 World Cup, stars such as Thomas Müller, Mesut Özil and Sami Khedira. All three were in demand players who had prospered in South Africa, only to come up with a third place medal.
Muller was the hero yet again for his country, scoring five goals in seven games, while Khedira formed a vital partnership with Schweinsteiger in the middle of the park. While Özil was somewhat disappointing during the early stages of the tournament, his movement was fantastic in the Final.
Finally, there were future faces and some unsung heroes that provided the extra push that gave Germany the trophy. Jerome Boateng put in a man of the match display against Argentina, shackling Lio Messi and making a goal line clearance in the first half to deny Gonzalo Higuain from pouncing on a loose ball. Andre Schürrle performed the role of super-sub and provided the assist for Mario Götze's winner. And of course there was Götze himself, subbed on in the 88th minute to score the winner just eight minutes from penalties. While Götze didn't start the proceedings Germany's final three games, he will undoubtedly be labeled the hero, and the star of the future generation.
On top of all the starlets who were actually there in Rio on Sunday night, there is also a cadre of future German stars who missed out on the tournament due to injury. Marco Reus, Illkay Gündogan and the Bender brothers all might have played a role in the German success if not for injury. Reus and Gündogan especially can expect to hear their names called for Euro 2012.
One can look at Sunday's match two ways. On one hand, an era of German football ended with the World Cup victory. Klose won't ever feature in another World Cup, while Lahm, Schweinsteiger and Mertesacker will likely see their roles reduced by 2018. That said, the tournament was the start of a new era of success, with stars such as Götze, Schürrle, Müller and Özil leading the way forward.
While the players will continue to garner the praise for Sunday's victory, we mustn't forget of Jogi Löw. The master tactician came under heavy scrutiny following Germany's surprise loss to Italy in the European Championships; however he stayed the course and reached the pinnacle of footballing success. Löw will go down as one of the modern day professors of the sport, always setting up his team in a organized manner that achieves results.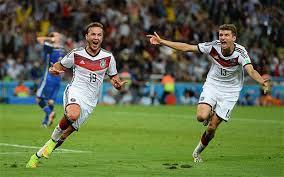 Mario Götze celebrating his moment in history with Thomas Müller
Before the German victory Sunday, the goal I had seen most during my time in Europe was one from the famous Spanish triumph in Vienna at Euro 2008. Fernando Torres muscled past Philipp Lahm and provided the crucial touch with a chip over a diving Jens Lehmann to give the Spanish their first major trophy that would start an incredible run. Now, that moment may have been replaced with Mario Götze's strike in the 112th minute, a goal that has both sparked, and concluded a German reign of brilliance.