The Pacers are done. Finished. And what a shame it is.
Just days removed from a gritty team win against the defending champions, the Pacers have collapsed with three straight losses. Three dismal performances at Washington, against a Kyrie Irving-less team in Cleveland, and finally a blowout against the Spurs. in those three games, the Pacers failed to score more 80 points.
What's happened in Indy? What can be done?
The most obvious answer is that the Pacers have abandoned their values. They aren't playing good defense, and their offense is worse than abysmal. This is coming from a team that only needed about 90 points a game to have a good chance at a victory on any given night.
Paul George's jumper isn't falling. Lance Stephenson looks erratic. Roy Hibbert and David West aren't getting touches. George Hill can hardly muster up five shots a night. The bench that looked like such an improvement over last year's atrocity has now faltered at an alarming rate. C.J. Watson and Andrew Bynum, both of whom could be key rotation players in the postseason, haven't dressed for weeks. Evan Turner has been a flop on both sides of the ball since arriving in Indy. When Rasual Butler is your best option off the bench, you're in trouble. Butler has proved a very valuable voice in the locker room, but the youngsters need to start showing up and give the veteran a break. This is not his time.
To add insult to injury, it appears as though the relationship between George Hill and Lance Stephenson has gone sour. The two apparently were close to coming to blows in the huddle last night.
Does the Danny Granger trade have any place in all this? Maybe. Danny wasn't giving much help numbers wise to the offense, but his defense on bigger players like Lebron off the bench would have been valuable; and it's something that Evan Turner can't match. On top of that, Granger was the presiding statesman of the team, the one who had been on the squad for the longest. Granger's impact in the locker room would have proved invaluable in a rough time like this. Leaders are eith nowhere to be found in today's locker room, or they aren't speaking loud enough.
A fan at last night's home loss to the Spurs sat two rows behind Larry Bird and said all he did was shake his head in the fourth quarter. At this point there's little Bird can do for the team. You can take a horse to water, but you can't make it drink.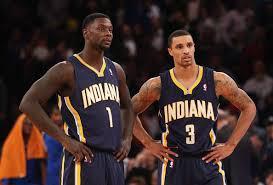 Lance Stephenson and George Hill had better make it work sooner than later
What's Frank Vogel doing during this mess? Who knows, but whatever it is, it's not inspiring enough to crack 80 points on a nightly basis.
So the recent collapse begs the question, what can the Pacers do? Time is running out, and as things stand, Miami has a possible Game 7 in their building. Indy needs to stop worrying about the one seed, and rather focus on the tough opponents ahead. The list of the Pacers seven final opponents are Detroit, @Toronto, Atlanta, @Milwaulkee, @Miami, OKC, @Orlando. Those are some winnable games, with the matchup in Miami that will likely decide who gets home-court in the playoffs.
Mentally, the Pacers have been a disaster for about a month now. Simply put, the Pacers are the most talented team in the East, if not the league with a starting lineup that goes unmatched.
A good kick up the backside would do Indy a whole lot of good right now. If you asked me who was going to rep the East in the NBA Finals right now, I would say Miami without hesitation. That being said, the Pacers may be wound, but they can still fight. I don't want to pin their hopes on one player but Lance Stephenson may well be the x-factor in the teams playoff run. If Lance is going full throttle and hitting his jump shots, he's nearly un-guardable, but that doesn't always happen. Roy Hibbert and Paul George are the other two key pieces on this team that need to step up their game if they want to advance to the Finals.
Furthermore, the Pacers don't look like their having fun anymore. When they're having fun (i.e. the game against Miami last Wednesday), they look unstoppable. When they aren't bad things happen (see 103-77 walloping against Spurs, March 30th).
The Pacers motto from last season stretching into the current one was Blue Collar, Gold Swagger. Blue Collar has gone out the window; Gold Swagger alone won't get you anywhere.